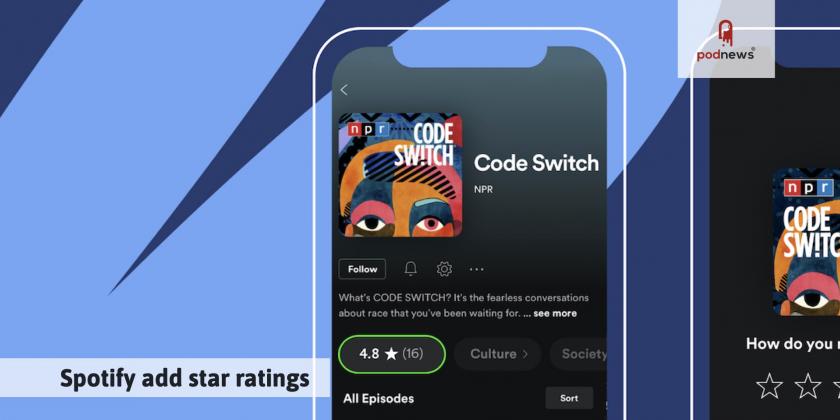 Spotify add star ratings; buy another podcast host
LISTEN
· · 3.3 minutes to read
Spotify has added star ratings to its app for podcasts; rolling out in their apps from today. Anchor has more details on how to use it.

If listeners try to rate a show they haven't listened-to (for at least thirty seconds), they'll be told to listen first. You can rate a show on Apple Podcasts without listening at all.
Ratings are shown once a show has ten ratings or more. The number for Apple Podcasts is five.
Ratings are global; Apple Podcasts has separate ratings for each country. (Spotify hasn't launched ratings in Russia or Turkey, however - both countries with tight media laws).
Could you please rate us?

Spotify has purchased another podcast hosting company: Australia's Whooshkaa. The first non-US podcast host to achieve IAB certification, Whooshkaa also has technology that automatically makes podcasts from radio broadcasts. It will be integrated into Megaphone.

Podland co-host Sam Sethi uses Whooshkaa for River Radio. In the latest episode of Podland, our Editor, James Cridland, asks Sam how it works and what Spotify could see in it.

Data: Why would Spotify want to bring more radio shows to their platform by buying Whooshkaa? Some numbers: 92% of US adults listen to radio every week; 28% listen to podcasts. 46% of all US audio listening (by time) is to AM/FM/satellite radio; 6% is to podcasts. US AM/FM radio brings in $14.1bn of yearly ad revenue (in 2019); US podcasting is around $824m (2020).
Moves and hires - with Pod People
Tips and tricks
Podcast News - with Memberful

We Stay Looking
, a satirical true-crime podcast, discovers that US prisoners make 26 cents per hour working for billion dollar companies. The episode sheds light on a serious issue of prisons wages in America - and the exploitation of prison labor by widely large and successful Fortune 500 companies.

Station Eleven: The Podcast
is new from HBO Max: a companion podcast to the new post-apocalyptic saga running on the platform. It's produced by iHeart and HBO Max, and allows fans to experience the show on an entirely new level with behind-the-scenes insights and deep dives into storylines, themes, and characters.
Pod Events
Getting
the
five
latest
events
This section is continually updated. Data: Podevents. See more and add yours, free
Latest Pod Jobs
This section is continually updated. Data: Podjobs. See more and add yours, free