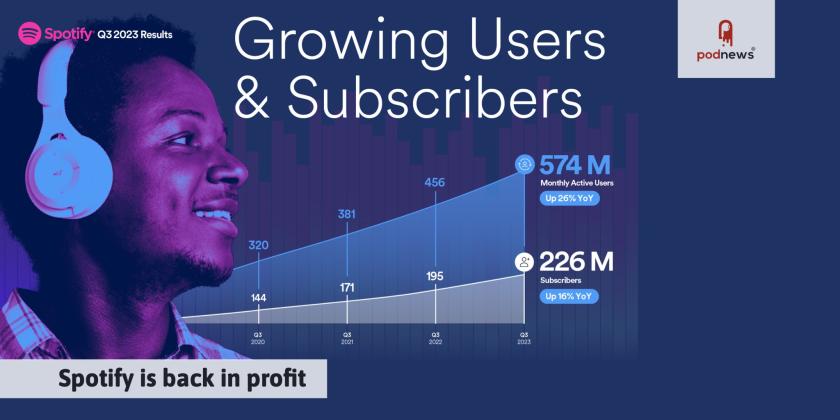 Spotify is back in profit
LISTEN
· · 5.2 minutes to read
Spotify is in profit again (PDF); surprising analysts who were expecting the company to lose money this quarter. Revenue was up 11%; operating expenses were down 13%.

Spotify

Ad revenue was up 16%. Spotify said: "Podcast advertising revenue growth remained in the healthy double-digit range, driven by significant year-over-year growth in sold impressions across original and licensed podcasts and the Spotify Audience Network, which was partially offset by softer pricing." Podcasting will still lose money for the company for the next 12-24 months, according to CFO Paul Vogel.Spotify
Total monthly active users reached 574mn (up 26% on the year). The company has 226mn paid subscribers (up 16%). By way of comparison, Google announced late last year that they had 80mn YouTube Music and Premium subscribers; and YouTube Shorts, alone, reach 2bn MAUs.Google YouTube YouTube Music

We hear that Spotify is testing public comments for podcasts. For select shows, all listener responses from the proprietary Q&A feature will be made available on the show's episode page on Spotify, as long as they meet Spotify's content guidelines. Spotify tells Podnews that "Participating creators will continue to have full control over questions and responses — they can publish or unpublish any response, or edit or remove Q&A prompts, through the interact tab of the Spotify for Podcasters dashboard." (By way of comparison, reviews left on Apple Podcasts are not editable by creators.)

Apple Spotify Apple Podcasts Podnews

Spotify is currently sponsoring this newsletter, but in common with all advertisers, gets no editorial oversight.Spotify

Audacy released its State of Audio: Level Up guide. The free download is designed to be "a modern blueprint for audio advertising, designed to provide a go-to playbook – including planning tips, creative how-to's and innovative trends – to help advertisers level up the performance of their audio investments"

Audacy
Google
Tips and tricks - with Spotify for Podcasters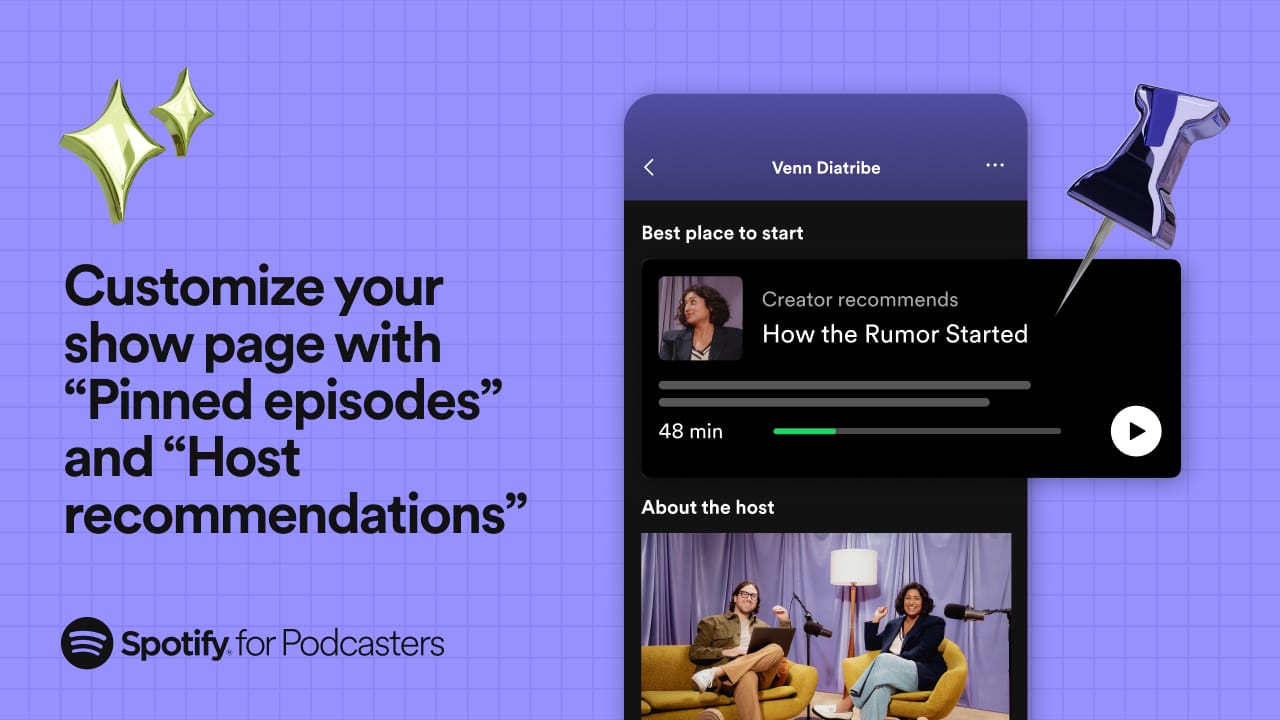 Spotify
Wherever your podcast is hosted, Spotify has free tools to help you find new fans and grow your show. And our latest updates give you even more ways to personalize your presence on one of the most important surfaces on our platform: your show page. This is where many of your fans began their listening journey, and now you can customize that experience to help turn more visitors into loyal fans. Guide first-time listeners to your favorite content by pinning a "Best place to start" episode. Then add up to two "Host recommendations" to cross-promote with another show or just share some of your favorite content on Spotify. Start curating your show page, and check out all the ways Spotify for Podcasters can help your show stand out.
Spotify
Podcast News
Enter The Webbys. Stand out on a global stage
Paid content
The Webby Awards have been honoring the very best of the Internet since 1996. Winners range from iconic early Web throwbacks, to recent viral sensations, to powerhouse digital icons that have withstood the test of time.
By participating, you can place your work on the same stage as boundary-pushing talent, like past Webby Winners The Meteor, Audible, HBO, Apple, The Washington Post, The Daily, Crimetown, The New York Times, Pivot, California Love and Lemonada Media, to name a few. Help them continue celebrating the most innovative, creative, and transformative work that shapes the online zeitgeist.
Apple
The New York Times
Audible
Learn more, and enter the 28th Annual Webby Awards by our Early Entry Deadline of October 27th, 2023.
Podcast data for Oct 25
#1 in Apple Podcasts

Ghost Story (Wondery | Pineapple Street Studios)

Global News Podcast (BBC World Service)
#1 in Spotify

The Joe Rogan Experience (Joe Rogan)

Rotten Mango (Stephanie Soo & Ramble)
Over the last week, 207,447 podcasts published at least one new episode (up 0.1%). source
Events
Getting
the
five
latest
events
This section is continually updated. See more and add yours, free
Latest Jobs
This section is continually updated. See more and add your vacancies, free