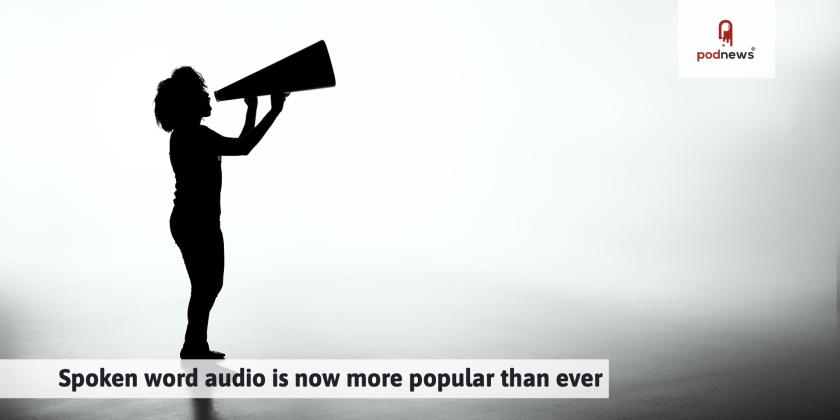 Spoken Word audio is now more popular than ever
LISTEN
· · 3.5 minutes to read
Spoken Word audio is now more popular than ever. Data from NPR and Edison Research suggests that both audience size and listening time are the highest they've ever been for spoken word content.

Edison Research

Exclusive: On Android and the web, the YouTube Music app is rolling out support for adding a podcast using an RSS URL. This lets you listen to any RSS-based podcast within the YouTube Music app; it works as passthrough direct to the podcast host. So, even if your favourite podcast isn't on YouTube… you can still listen, on YouTube Music. (The app is pre-installed on most new Android phones).

YouTube YouTube Music

Podtrac released its top rankers for October. reVolver Podcasts were new in the publisher list at #19: president Jack Hobbs tells us it's the first Latino platform to make the Podtrac listings. It measures participating publishers only.
In the UK and Ireland, The Athletic has signed a deal with Global for podcast ad sales.

The Athletic

iHeartMedia released its Q3/23 financial results. Podcast revenue was $102.7mn, up 12.5% year-on-year. Total revenue is down 3.6%; podcasting represents 10.7% of the company's revenue.

iHeartMedia

Audacy released its Q3/23 financial results. Digital revenue, including podcasting, was $64.7mn, up 3.3% year-on-year. Total revenue is down 9.4%.

Audacy

Low-latency recording tool Cleanfeed's new markers are now supported by Adobe Audition and Reaper.

Creators using Buzzsprout, including the Podnews Weekly Review, saw delays in stats from last week following an outage at Cloudflare. The company says all stats are now updated; and listeners were not affected.

Podnews Buzzsprout

Business Insider covers the story of Brian Luebben, who started the Action Academy podcast in October 2021, and was earning "up to $19,000 a month" from affiliate revenue (based on only 5,000 downloads), allowing him to quit his job. Coincidentally, his podcast explains how to quit your job and do work you love; and also coincidentally you'll have to pay to read the story.
People News
Ryan Hatoum is now Global Thought Leadership Communications for Dolby. He was Comms Lead at Acast for more than three years.
Acast
Podcast News - with Airwave
Podcast data for Nov 10
#1 in Apple Podcasts

Dark Arenas (audiochuck)

A Book with Legs (Smead Capital Management)
#1 in Spotify

The Joe Rogan Experience (Joe Rogan)

Rotten Mango (Stephanie Soo & Ramble)
Over the last week, 208,120 podcasts published at least one new episode (down 2.0%). source
Events
Getting
the
five
latest
events
This section is continually updated. See more and add yours, free
Latest Jobs
This section is continually updated. See more and add your vacancies, free