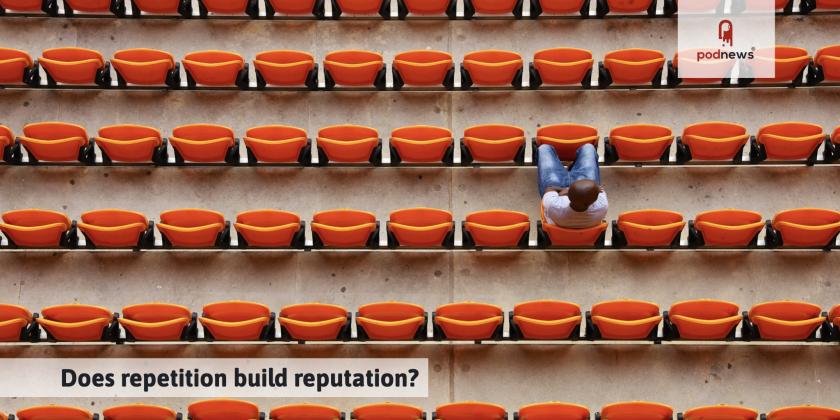 Does repetition build reputation?
LISTEN
· · Updated · 3.9 minutes to read
How many times should someone hear your ad on a podcast? Between 2-5 times, says a new Podcast Advertising Benchmark Report, published by Spotify's Podsights. The data also says that brands should aim for at least 200,000 impressions when advertising on podcasts.

Want more people to know about your podcast? Pocket Casts sends out a regular newsletter to podcast creators, highlighting how to get featured in the popular podcast app. Here's the latest edition, and here's where to sign up for it. The company was bought by Automattic last year, and say they are "working on a rather large update at the moment".

It's less than a month to go until The Podcast Show 2022 in London, on May 25-26. The website currently lists 196 speakers (more on the way). Speaking to the Podland podcast yesterday, Tom Billington said that YouTube will be a partner at the event, sponsoring the "Talking Podcasts" stages. YouTube say it will "facilitate conversations with Podcasters who have found success on YouTube, while also leaning on other platform experts to help delegates understand best practices and the various podcast trends emerging on and off-YouTube."

As we're a media partner, you can use promo code PODNEWS to save 20% off day tickets for a limited time. Prices increase on May 3.
How much did Spotify pay for Podsights and Chartable in February? €83m (US $87.5m), says its SEC report - but the company didn't split out how much was paid for each.

The company will also make an additional €18m payment related to its acquisition of Parcast in 2019, after Parcast hit some engagement targets.
Spotify's share price hit an all-time low this week.

Lemonada Media is launching a brand-new genre that's so distinct they're trademarking it. Audio Reality™ - billed as reality TV for your ears - is being used for a new show launched yesterday, called BEING Trans. "Each episode would cost about $100,000", says a New York Times report, "double the amount of a typical Lemonada show, but somewhere between a quarter and an eighth of a typical reality hour."

The Radio Advertising Summit took place yesterday in Köln, Germany. James Cridland, Podnews's Editor, told delegates that podcast advertising is growing because "for brands, it's a much more human and personal way of marketing than press or radio. It's literally marketing by word of mouth."

Mobile network Vodafone has produced a "podcast map of the UK", working with research company OnePoll. It claims listeners in Scotland listen the most to politics podcasts, while listeners in Northern Ireland listen most to true crime.

What is a podcast? And why does it matter? Matt Hird writes for Pacific Content. (Here's our take).
Moves and hires
Charlie Gibson is returning to ABC News to launch The Book Case, a podcast about books. He was an anchor for Good Morning America and ABC World News; he'll co-present with Kate Gibson, his daughter.
Tips and tricks - with SoundStack
Podcast News - with Acast

From Acast:
Kasich & Klepper
features two rather different people - John Kasich, former Governor of Ohio and 2016 Republican presidential candidate; and Jordan Klepper, a liberal comedian best known for his viral videos interviewing MAGA supporters for The Daily Show with Trevor Noah. In this weekly talk show podcast, the pair will come together to scream their differing political opinions at each other for an hour… just kidding. They'll dive into conversations about parenting, leadership, pop culture, mental health, and more — all with a good sense of humor and a whole lot of jokes at each other's expense.

Pod Chat
this week has special guest Bryan Barletta from Sounds Profitable. He thinks podcasters are our own worst enemy at monetisation: "I think that the closer you are to the podcast space, the more you hear negatives about ads and about the industry. But I think the general public understands that ads are how things go around."

ARN's iHeartPodcast Network Australia has partnered with
The Daily Aus
, a fast-growing news outlet for millennials. Bringing stories that matter for young Aussies, ARN will help them reach a wider audience.
Pod Events
Getting
the
five
latest
events
This section is continually updated. Data: Podevents. See more and add yours, free
Latest Pod Jobs
This section is continually updated. Data: Podjobs. See more and add yours, free
Comments via boostagram
To send us a comment, listen to this episode on a supported podcast app, and send a message using a "boost". It will appear here within ten minutes.