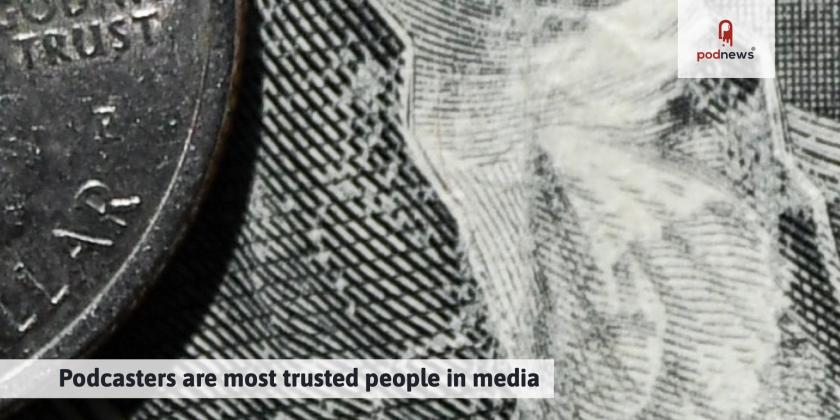 Podcasters are most trusted people in media
LISTEN
· · 4.8 minutes to read
Do us a favour - if you like what we do, please tell your colleagues and friends to subscribe, or post about us on your socials. The generosity of our supporters means we're here for everyone - no paid plan needed to get the most out of our newsletter, jobs or events boards. We're nice and close to 30,000, and would like to get there before Christmas!
Google
Descript has rebuilt its Overdub feature, allowing podcasters to generate AI voice clone to fix issues in production. The company says it's part of a set of new AI features to be added over the next few months.

Descript

Ever had a podcast guest bail on you at the last minute? Spotting a growing issue, PodMatch is adding a 'reliability score' to its guest booking service.

Membership platform Patreon has acquired Moment, a digital events platform used by companies such as Pod Save America and the Good For You podcast with Whitney Cummings.

The Latin Podcast Awards winners were announced. The winner of Podcast of the Year was Cuentos infantiles con La Tía Botas; we have all the winners, with links, host information and trailer audio, and you can watch the ceremony in full.

In Australia, the owner of iHeartPodcast Network Australia ARN Media has made a hostile bid to take over its competitor, SCA (which owns LiSTNR). The radio market is worth AUD $1.7bn (US $1.1bn): ARN and SCA are the two largest companies. If successful, the broadcast radio business would be split into two companies for regulatory reasons; however, the podcast businesses aren't subject to the same ownership regulation.

ARN SCA

The Australian Podcast Ranker for September was released. Shows repped by SCA achieved 28mn downloads vs ARN's 25.9mn downloads: a company representing ARN+SCA would represent 69% of all podcast downloads in the ranker. The ABC, which has announced twice that it is joining the ranker, is still absent: but is not funded by commercials.SCA

In Germany, Digital Publishing Report published a free 80-page magazine about podcasting, audiobooks and audio AI. (Our Editor is, fleetingly, in Munich next week for Medientage München).

Further reading: Pod The North looks at the Canadian government now regulating podcasts and what it means, saying it all seems to be a bit of a mystery … Tony Doe looks back at the Spotify for Podcasters Workshop in Lagos, Nigeria.

Spotify
Tips and tricks - with Spotify for Podcasters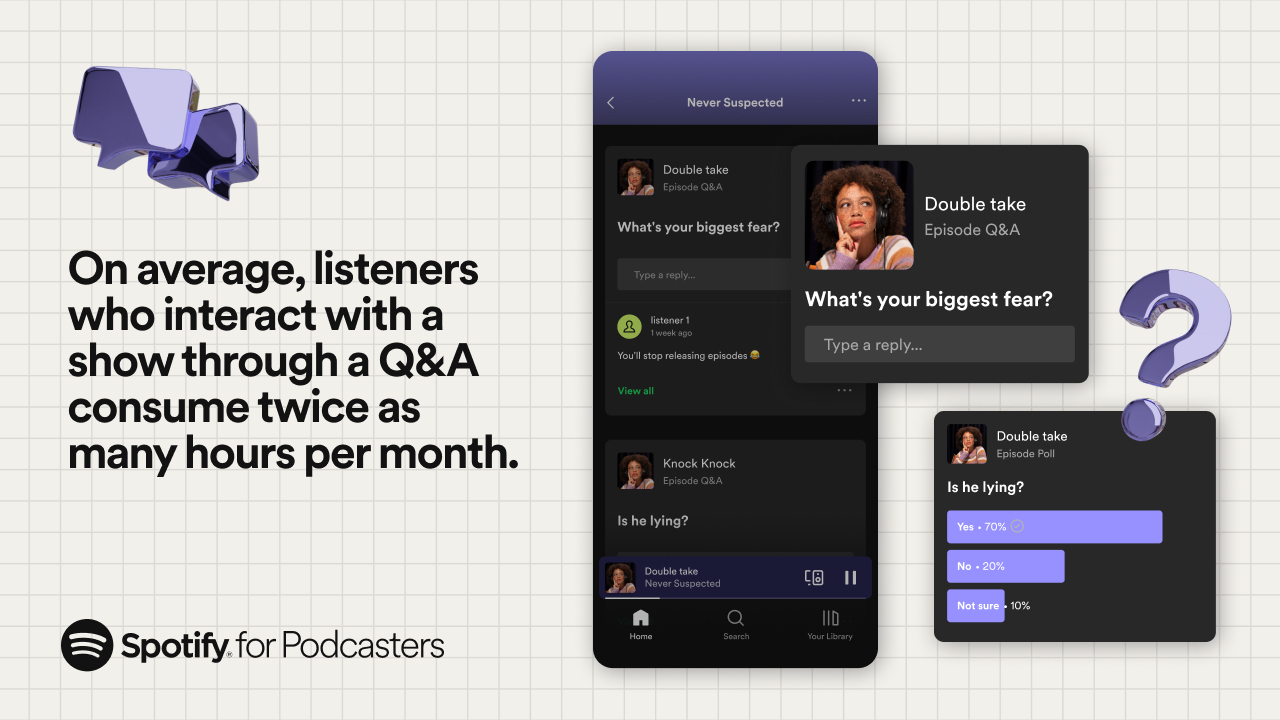 Spotify
Only Spotify lets you create Q&A and polls on every episode to engage fans where they're already listening, helping you continue making content they'll love. You can also use these tools to drive even more engagement: share questions and responses across social, ask for feedback on your content, and get suggestions for new topics or guests. And all that engagement really adds up. On average, listeners who interact with a show through a Q&A consume twice as many hours per month. Discover more tools to help you turn your listeners into fans — no matter where your show is hosted.
Spotify
Podcast News
Podcast data for Oct 18
#1 in Apple Podcasts

Morrison Mysteries (NBC News)

The Imperfects (Hugh van Cuylenburg, Ryan Shelton & Josh van Cuylenburg)
#1 in Spotify

The Joe Rogan Experience (Joe Rogan)

The Joe Rogan Experience (Joe Rogan)
Over the last week, 207,563 podcasts published at least one new episode (down 0.3%). source
Events
Getting
the
five
latest
events
This section is continually updated. See more and add yours, free
Latest Jobs
This section is continually updated. See more and add your vacancies, free