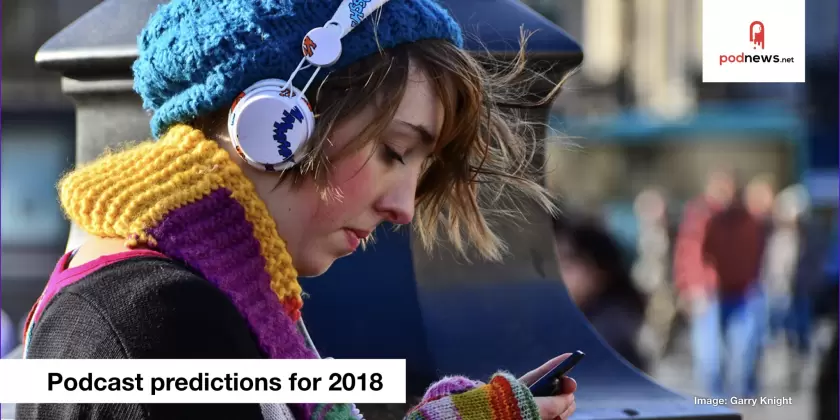 Podcast predictions for 2018
· 2.1 minutes to read
This article is at least a year old
A well-sourced article from Pacific Content gives their eight major podcast predictions for 2018.

Pacific Content

Also from Canada, The Tyee focuses on Canada's podcast makers; and the political podcasts you should be listening to right now from ipolitics: a mix of North American podcasts.

Richard Miron from Earshot Strategies looks at 2017's year in podcasting. "The sheer numbers of programmes staking a claim in the new world of online audio, has created some chaos and confusion."

The fall-out of Apple Podcast Analytics continues. Fast Company calls it a good start, but we need more data, pointing out that much listening occurs away from Apple's measured platforms.


Jul 28 2023: This broken link now points to the Internet Archive.Apple

Yesterday, I asked about why 'consumption' figures sometimes show that listeners have enjoyed 107% of a podcast. Responses, including one from Gimlet Media no less, says that it is "re-listens". "I'm assuming that with a show the length of yours, there are few people who do not make it through and so listeners who replay the episode bring it up to 107%", one respondent tells me. (The podcast we spotted 107% on is normally four minutes long; podnews's own is always under two). We've since seen a podcast with a consumption figure of 440%. If it is people rewinding and re-listening, it skews the consumption figure enough to make it entirely useless. You'd have thought that a more useful stat would be capped at 100% per device. As it is, it could be that everyone stops listening after ten seconds, apart from the one person who puts the podcast on repeat for the whole day.Gimlet

AudioBoom shares slid 17% yesterday on news of its projected £4.5 million loss. The shares are down 23% since Friday.
For technology companies: Radioplayer is re-tendering its technology and support contract. The service powers radio-owned aggregators for live and on-demand audio in the UK, Canada, Belgium, Norway, Germany, Austria, Peru and others.
An article about a local podcaster in Shoalhaven NSW, Australia, who has produced Self Starter, "to inspire, motivate, reassure and become a resource for anyone who's self employed or looking to become self employed."
There'll be more training from PRX next year: they've got a US$465,000 grant to expand their current offering.
PRX
NYC-based podcast producer Midroll announces a Make-A-Wish podcast mini-series. Audible is donating US$1 per listener, up to US$25,000, to the charity, which helps children with critical illnesses.
Audible
Midroll