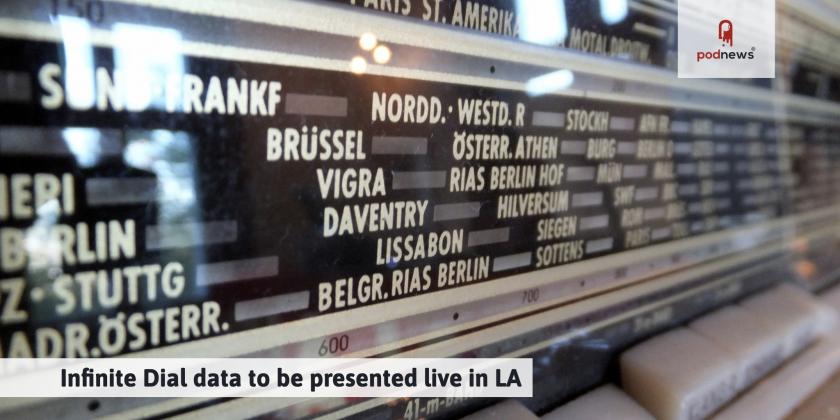 Infinite Dial data to be presented live in LA
LISTEN
· · 2.1 minutes to read
This year's Edison Research Infinite Dial will be presented at Podcast Movement Evolutions on Mar 23. The research shows the total number of US adults who listen to podcasts, among other things. It's sponsored this year by Wondery and ART19; and you'll also be able to watch online.

The Podcast Hall of Fame 2022 honorees were announced, including Evo Terra, Molly Wood, Dr Emily Morse and Dave Slusher, who, as our 'history of the word podcasts' discusses, was the first podcaster to mention the word "podcast" on his, um, podcast. Congratulations to them all; the ceremony is on Mar 25 at Podcast Movement Evolutions.

Google Podcasts appears to have quietly removed their googleplay:block tag from their documentation (and, indeed, the entire googleplay RSS namespace). You're told to use <itunes:block> to remove your podcast from all Google platforms too.
Evergreen Podcasts is partnering with Sound Talent Media's 25 shows. Evergreen now has over 130 podcasts over four branded networks.
Podnews will be at Podcast Movement Evolutions in Los Angeles in mid-March. We're looking forward to meeting you!
Tips and tricks
Podcast News - with Quill

Produced by Quill:
Contributors
features provoking conversations about how to take your organization one step further by prioritizing more than just the bottom line. Hosts Marnie Niemi Hood and Russell Evans from the CAAT Pension Plan sit down with leaders who are contributing to the well-being of the country and global stage by innovating industries and leading change.

Poscar
is a new podcast about podcasting, mainly targeting productions in Spanish from Latin America and Spain. A fortnightly podcast, it has just launched with an introduction and an episode all about podcast awards. It's hosted by Pablo Fisher.
Pod Events
Getting
the
five
latest
events
This section is continually updated. Data: Podevents. See more and add yours, free
Latest Pod Jobs
This section is continually updated. Data: Podjobs. See more and add yours, free