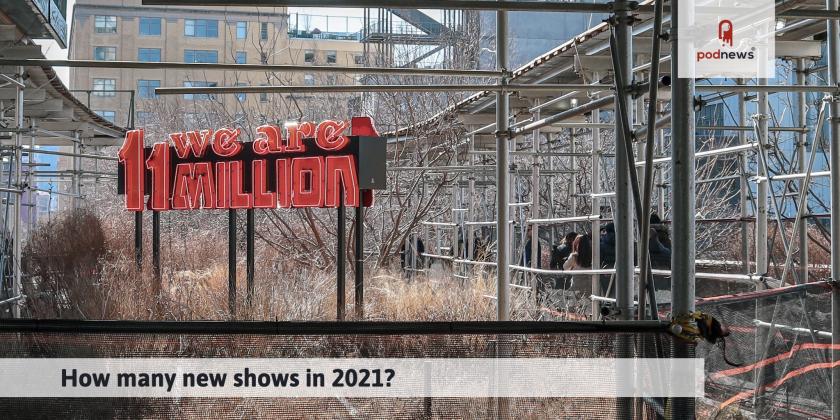 How many new shows in 2021?
LISTEN
· · 1.8 minutes to read
Spotify says that it added 1.2m new podcasts to Spotify's catalogue in 2021. "Anchor continues to drive 80% of the new podcasts being published to Spotify every year", the company says.

Meanwhile, Daniel J Lewis's Podcast Industry Insights suggests Apple Podcasts has grown by half that: just 570,000 new shows. There's a big slow-down in June when Anchor stopped automatically adding shows to Apple Podcasts. Only 17,000 new shows have been added in December; 81,900 were added in December 2020.

Podcast Index added 466,000 shows in the past six months. It added 3.1m this year, but that's not that surprising, given the index launched in September 2020. Unlike the above two, shows are mainly added automatically: either discovered from open RSS feeds or submitted by podcasters or others.
Moves and hires - with Pod People
Looking for something new, as we start 2022?
Podjobs is where to be: you can post new jobs for free.
If you can't find your next move, tell us how we can improve.
There's no need for a costly imposition, if you're looking for a new position.
Podcast News - with Memberful

It's all going on at KCRW tomorrow - forty years after Deirdre O'Donoghue debuted her show Bent Music, KCRW invites listeners and fans to tune in to hear that 1/2/82 episode as well as the entire run of the Bent By Nature podcast: the new, rave-reviewed podcast that documents Deirdre's musical life. You can hear
Bent By Nature
from noon tomorrow on Santa Monica's KCRW on 89.9, and then a rerun of the first show. -
read more

Get A Better Broadcast, Podcast and Video Voice
from Peter Stewart has published an episode every day in 2021: five-minute episodes helping you with breathing and reading, inflection and scripting. He tells us season 2 starts tomorrow, possibly because he realises Podnews only promotes shows once per season. Nicely done.
Pod Events
Getting
the
five
latest
events
This section is continually updated. Data: Podevents. See more and add yours, free
Latest Pod Jobs
This section is continually updated. Data: Podjobs. See more and add yours, free