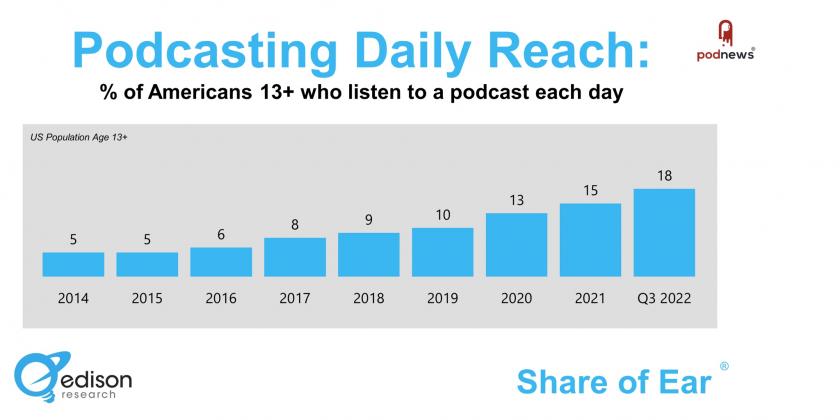 Podcasting listening up in the US
LISTEN
· · Updated · 3.6 minutes to read
Podcasting's daily reach continues to rise: Edison Research posts a 20% y-on-y increase in their latest Share of Ear survey; now, 18% of people in the US aged 13+ listen every day. "This graph shows that more people are listening to podcasts, which means content creators have the opportunity to grow time spent listening with those people."

Correction: Following our piece about the IAB now requiring annual re-certification for podcast measurement, the IAB's PR company has clarified pricing has changed, "to make certification more accessible to the wide Podcast measurement community". Rather than being $45,000 for certification for an IAB member, new certification costs $12,500, with renewals costing $6,250. We've updated the original piece.

Podcastpage has released a major update to its website builder for podcasters: the service now has a drag and drop page builder, and nine new website templates. You can also import your YouTube channels and playlists; and the system is now multi-user to allow members of your team to control the pages.
The Tech Stuff - with RSS.com
Podcast News - with CBC Podcasts

From CBC Podcasts
We're pausing our countdown to introduce
Run, Hide, Repeat
- a new series hosted by best-selling author Pauline Dakin, about her childhood on the run. This mind-bending five-part memoir will leave you questioning what's real, and who you can trust.


A popular newsletter launches as a podcast today:
The 7
, from the
Washington Post
, is hosted by Jeffrey Pierre, giving listeners an essential digest of the stories they need to know to start their day in under seven minutes. The flagship newsletter has more than a million subscribers. It'll be available
every day by 7am
.
Podcast data for Nov 14
Pod Events
Getting
the
five
latest
events
This section is continually updated. Data: Podevents. See more and add yours, free
Latest Pod Jobs
This section is continually updated. Data: Podjobs. See more and add yours, free