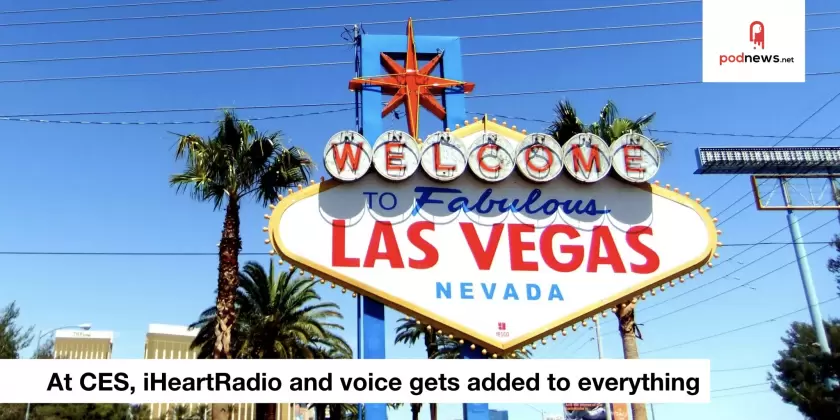 At CES, voice and iHeartMedia gets added to everything
· 1.9 minutes to read
This article is at least a year old
At CES, iHeartMedia announces lots of integrations for iHeartRadio - including cars, Facebook Messenger, TV sticks and robots. iHeartRadio is a music, live radio and podcasting service, and carries third-party podcasts; many podcast hosts have direct integration to get yours listed.

iHeartMedia iHeartRadio

Also at CES, lots of activity around Google Assistant, which also allows podcast listening. Android Auto will finally get proper Google Assistant support "starting this week in the US"; Google Home devices with screens from LG, Sony, JBL and Lenovo; more Android TVs with Google Assistant; more headphones (as we mentioned yesterday); and lots of smart speakers from all kinds of good names.

Google

And at CES, media server Plex apparently plans to add podcasts to its service.

James Clement, Claire Tonti and Nick Mason make it to Australian Media Week's 'top 25 media people in 2017' list: they're the founders of Planet Broadcasting, a podcast network.

BBC Radio 5 Live, a UK news and sport network, announce some new podcast-only programmes - programming including arts, sports interviews, and health/fitness.
New numbers: Spotify has 70 million global subscribers according to a release by the company. Apple Music has 30 million. Spotify have added 10 million since July.
Apple
Spotify
In St Paul MI, USA, American Public Media announces The Summer Podcast Institute, a two-week "learning experience" for high-school students.
Dave Winer, who invented the RSS enclosure standard, shares how difficult it can be to find an RSS feed for a podcast or website. (Here's ours, Dave.)
Corey Layton from Whooshkaa, an Australian podcast company, writes that 2018 is the year branded podcasts will finally go global.
Whooshkaa
Yesterday we linked to an article suggesting that churches shouldn't podcast. Here's a response from a religion and spirituality website, using words like "ignorant", "baffling", "simply not true", and "full-throated Luddism".
Doing research is difficult - just ask these plant scientists, who've made a podcast saying so in St Louis MO, USA.
Something we're subscribing to: Darknet Diaries, 'true stories from the dark side of the internet'.
Press releases can be sent to updates@podnews.net (and, as you may have spotted, we're now able to reproduce them).
Thank you to Geller Media International, Simplecast and TopPodcast.com who join our great list of supporters.
Simplecast