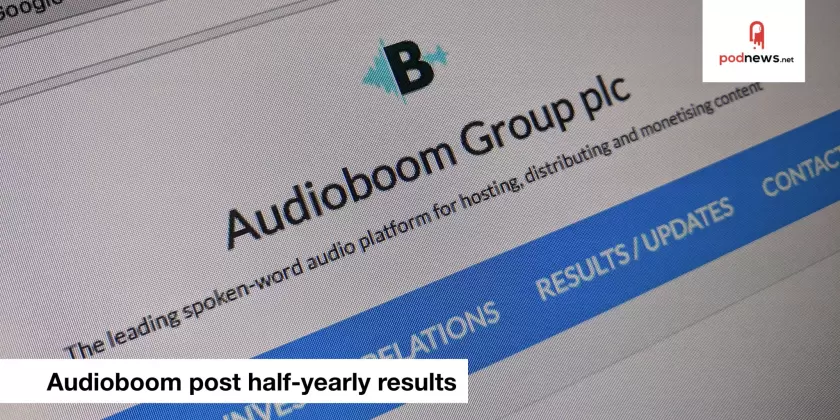 Audioboom release half-yearly results; the US's biggest podcast advertisers
LISTEN
· · 2.6 minutes to read
This article is at least a year old
Audioboom have published positive half-year results, showing that revenue is 43% up vs this time last year; operating loss has reduced by 18%; total downloads have increased by 14%. The Board also claims that they have enough funding to see the company through to profit.

Audioboom

Their COO, Stuart Last, has also posted a detailed piece highlighting where their growth is coming from. Their profit contribution from their own 'Originals' is 11% of total gross profit (up from 2% a year ago); and non-US revenue has nearly doubled.

Magellan release the top 15 advertisers on US podcasts in June. ZipRecruiter remains at #1, but there's another recruitment company in the list. It also includes audio examples for each advertiser.

Pacific Content's Steve Pratt notes: Podcasts don't "go viral." Is that worth celebrating? - a point about a lack of clickbaity podcasts.
Omny Studio
Things we like not only because they are Podnews Patreon supporters (you can be too): the podcast Futility Closet - forgotten stories from the pages of history.
Podnews
A free e-book: Intro To Podcasting Manual. Intended for teaching and community radio workshops, it was designed in collaboration with Pacific Island broadcasters, and also contains some examples of podcasts from the region.
An article from Current analyses the most popular podcast formats in the iTunes trending chart.
How do I get a job in podcasting? Matthew McLean posts a guide to finding work in the podcast industry.
Delaware businesses are slow to adopt podcasting, says an article in the Delaware Business Times.
Payne Lindsay, creator of Up and Vanished and Atlanta Monster, says in an interview that in two years, podcasting will be too saturated to successfully launch a podcast.
Wondery have launched Business Wars Daily, "a quick 1-2 minute briefing on the latest wars between the world's biggest companies." It's a spinoff from business podcast Business Wars.
Wondery
Event: the Paris Podcast Festival, 19-21 October
Listicle: Podcasts Created by Women You Need to Be Listening To Right Now (Forbes)
Thank you to Auscast, Australia's coolest podcast network, and Alitu, the podcast maker app, for becoming supporters of Podnews. I appreciate your support.
Podnews