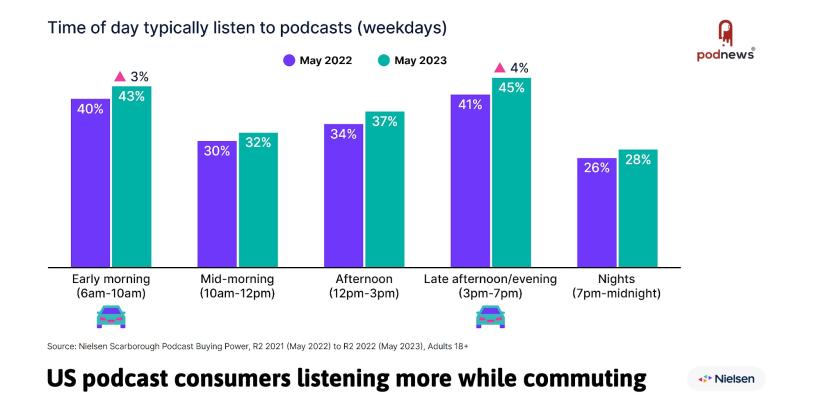 US podcast consumers listening more while commuting
LISTEN
· · 2.9 minutes to read
Nielsen's latest Audio Today report suggests that US podcast consumers are listening more while travelling, with numbers increasing the most at commuting times. Today, we also learn that commuters are significantly more likely to listen to business podcasts than the average listener; and at-work listeners are more likely to enjoy shows about leisure and fiction.

In the US, Oprah Winfrey has been guest-hosting The Starbucks Daily in the Starbucks app for the last five weeks. The show features a genius podcast moment, and helps promote podcasts to the 30mn people who use the app every month. It's made with podcast discovery app Hark, and you can hear her appearances (and other shows) on this Harklist.

Oprah's Super Soul, which she plays excerpts from in the Starbucks app, focuses on Abraham Verghese's work and is a six part series.

Riverside has teased a set of updates being launched on Monday. Expect an AI-powered tool called "Magic Clips"; and awkwardly-long-silence detection. The company has also released a test of its transcription service.

Riverside
Google
Blubrry
Moves and hires
Enter the 2nd Annual Signal Awards!
Paid content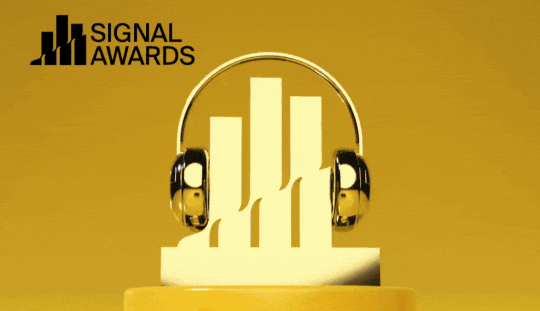 There is still time to participate in the 2nd Annual Signal Awards: due to demand from our podcasting community, we extended the entry deadline to August 11, 2023. We encourage you to enter your podcasts across the following categories: Shows, Limited Series & Specials, Individual Episodes and Branded Shows & Advertising, with comprehensive honors ranging from Most Innovative Audio Experience to Best Conversation Starter, News & Politics and Best Commute Podcast.
Our Signal Judging Academy is made up of a panel of esteemed industry leaders and podcasting pros. We are beyond proud to announce that our judging academy this year includes the President of Podcast Movement Dan Franks, Reductress Co-Founder and Editor SarahPodcast Movement Pappalardo, Head of Audio at the LA Times Jazmin Aguilera, Executive Producer at iHeartRadio Anna Hossnieh, Co-host of Add-to-Cart SuChin Pak, Global Sciences LeadiHeartRadio Trevor McNeal of Podcasts at Amazon Music, and Vice President, The Podglomerate Joni Deutsch.
Amazon
Amazon Music
The Podglomerate
Submit your work before our Extended Entry Deadline next month, Friday, August 11th to showcase your talent to the world!
For more updates and deadlines subscribe to our Signal Newsletter here!
Tips and tricks
Podcast News - with the Radioinfo Asia Podcast Awards


New Podcast Trailers
features… just that: new podcast trailers of shows as seen in the Podnews newsletter. Keep it in your podcast app for inspiration next time your listen queue runs dry.
Podnews

Wonkybot has launched the company's first show for adult audiences:
Treacherous Tales
is part of Stewart St John's Sinister Universe, and is an anthology series featuring distinct characters immersed in supernatural, sci-fi and horror situations. In the first episode, a traveling salesman's encounter with a small town sheriff leads to a deadly game in an abandoned psychiatric hospital rumored to be haunted.
Wonkybot
Podcast data for Jul 21
#1 in Apple Podcasts

The Retrievals (Serial Productions & The New York Times)

The Retrievals (Serial Productions & The New York Times)
#1 in Spotify

The Joe Rogan Experience (Joe Rogan)

The Joe Rogan Experience (Joe Rogan)
Over the last week, 196,066 podcasts published at least one new episode (down 100.7%). source
Events
Getting
the
five
latest
events
This section is continually updated. See more and add yours, free
Latest Jobs
This section is continually updated. See more and add your vacancies, free