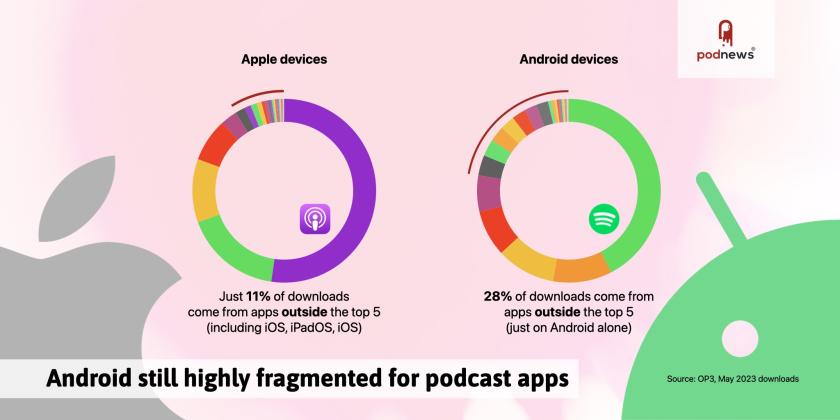 Android still highly fragmented for podcast apps
Android still highly fragmented for podcast apps
Android is still highly fragmented for podcast apps, according to data from the Open Podcast Prefix Project, analysed by Podnews. Data from 4.75mn downloads in May suggests that, while Spotify is the clear leader, the app ecosystem on Android remains significantly more fragmented than that of Apple - even when combining downloads from iOS, iPadOS and macOS.

Apple Spotify Podnews

By way of illustration, the #10 podcast app for Android devices has 2.42% of all downloads; the #10 podcast app for Apple devices has four times less, at 0.6%. (The #10 podcast app for Android was Stitcher, which announced its closure this week).Apple Stitcher
The data also highlights the advantage Spotify gains from having an Android app, with a 42% share of all downloads on Android: 2.5x the market share it gets on Apple. The Apple Podcasts app is not (yet?) available on Android.Apple Spotify Apple Podcasts
OP3, the Open Podcast Prefix Project, measures download data for over 600 different shows; find a sample of its data on the Podcast Business Journal, and add your podcast to the service for free.

The Podcast Host has published the IndiePod Manifesto – based on a census of independent podcasters earlier in the year. How do you guarantee success for indie podcasters? "Playing the long game", say most creators.
Google
Thank you to Bjørn Barfoed Vestergaard, who has become our latest personal supporter. Based in Denmark, he hosts the Rollemodellerne podcast, - which he (well, Google Translate) describes as "an attempt to demystify success; to get to the human behind and create a collection of concrete tools, habits and strategies that you and I will be able to use today to kick-start our dreams". Nice. Our dream is that you, too, support our journalism.
Google
Tips and tricks
Podcast News

Small Town Dicks
will be covering the 1981 Carmel, CA Sonia Stone / Michael Glazebrook case in a new season which started today. The 2-part episode comes on the heels of Glazebrook's sentencing to life in prison earlier this month.

The F1 season makes it to Silverstone shortly. Matt Gallagher and Tom Bellingham are two die-hard fans of Formula 1 and in February they turned their passion into a project, launching their first podcast
P1 with Matt and Tommy
. On launch, the show went straight to the top of the Apple and Spotify podcast charts and has since amassed over 4 million listens and a social following of 1.5 million.
Apple
Spotify
Podcast Newsletter Promotion In The Wild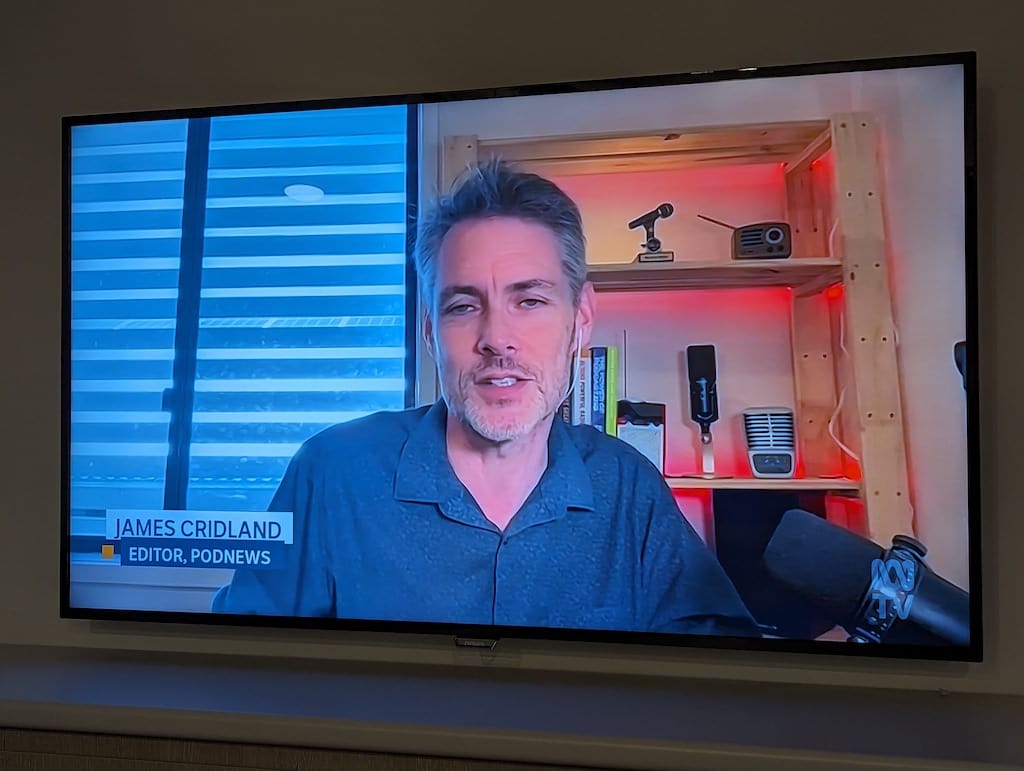 Our Editor was on national television in Australia, on ABC tv's The Drum. Find him at 49 minutes in: although it's probably geo-locked. And yes, that's Podnews red on the shelves.
Podnews
Podcast data for Jun 30
Pod Events
Getting
the
five
latest
events
This section is continually updated. Data: Podevents. See more and add yours, free
Latest Pod Jobs
This section is continually updated. Data: Podjobs. See more and add yours, free