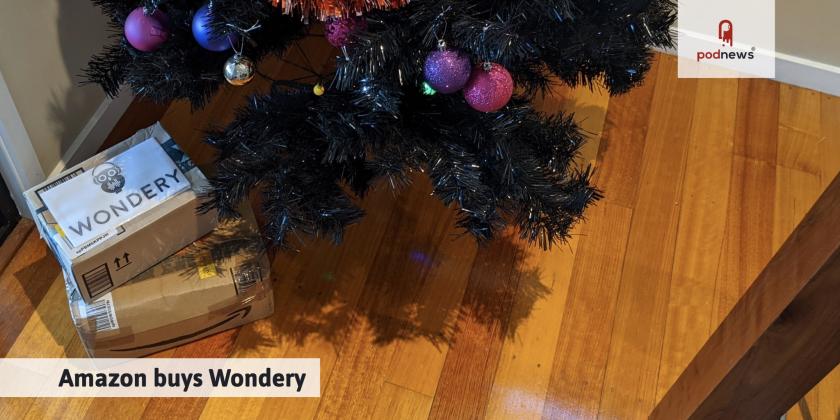 Amazon buys Wondery
LISTEN
· · 4.6 minutes to read
This article is at least a year old
Amazon has delivered a deal to buy podcast producer Wondery. Terms weren't disclosed, but the deal is likely to be worth around $300m, says a New York Times report. Amazon says that Wondery shows will not become exclusive to the Amazon platform. "This is a pivotal moment to expand the Amazon Music offering beyond music," the announcement reads.
Amazon
Wondery
Amazon Music
Hernan Lopez will step down as Wondery CEO, and Jen Sargent, Wondery's COO, will take over running the company when the deal takes place. Lopez is currently charged with wire fraud and money laundering as part of an unrelated US government investigation into corruption. He denies the charges.

Wondery

Adam Curry calls Amazon's purchase "clearing the decks for more independent and free voices". Austin Rief, a co-founder of newsletter Morning Brew, suggests in a thread that this is further evidence that media companies do not provide the scale and returns needed for VCs.

The Podcast Movement Facebook group has reached 50,000 members. The group adds around 500 members every two weeks, according to statistics shared by Jared Easley.

Podcast Movement
According to reports made to the SEC, Libsyn's President, COO and Principal Executive Officer Laurie Sims was awarded $917,000 in Libsyn shares on Monday. She'll also be entitled to receive at least $500,000 in cash at midnight tonight - a bonus for completing three years of her employment contract with the company.

Libsyn
Tips and tricks - with Podpage
Podcast News - with Fable & Folly

Visionaries
is a fantasy podcast about racism and human evolution. Nearing extinction in 2185, the remaining human race opens rebellion against their slave masters, the superior visionary race.
Ad sales by Fable & Folly
.

Podyssey has combined all the other 'best podcasts of 2020' lists into their own
ultimate list of lists
. Chosen at random,
Floodlines
from The Atlantic focuses on New Orleans, and a tale of rumours and betrayal.
Analysis
Wondery has shown itself as a powerhouse for podcast publishing, especially launching new shows. Podtrac's top 25 new podcasts of 2020 had eleven shows from Wondery, easily the largest publisher of new shows this year. Jen Sargent, who'll take over management of the company, outlined her strategy last year.


This link is no longer available, as at Aug 30 2023Wondery

However, unlike Gimlet or The Ringer, Wondery's success has been international in scope, reaching agreements with a variety of advertising partners outside the US, like Canada, Australia and the UK, where it launched a joint venture with Stitcher.

Gimlet The Ringer Stitcher

Wondery was on track to bring in more than $40m in revenue this year; but crucially, 25% of this revenue is from licensing deals to TV, companies like Stitcher Premium and Amazon's Audible, as well as its own Wondery Plus service and licensing with overseas partners.

Audible Wondery Stitcher

Wonder has particularly spent considerable time adapting and translating its shows into other languages. Dr Death made it to the #1 slot simultaneously in five countries when it was translated, and the company has worked with local partners to launch their shows in other countries - here's Business Wars in Japanese and in Arabic - and made an agreement with Universal Music Group to develop music podcasts. Wondery has been particularly active in Latin America - where Amazon, too, is strong.

Amazon Wondery

Wondery has also spent time ensuring its business is more than just podcasts. Dirty John became a TV show for Bravo, Dr Death is under production for Universal, and The Shrink Next Door is to be made for Apple TV among many others that have been optioned for television.

Apple Wondery

Amazon is a good fit for Wondery. Amazon has a large international footprint, but also is in need of good, cheap content for Amazon Prime, their subscription video offering: content that Wondery is well-equipped to incubate. Amazon's nascent podcasting platform appears to be growing well, though Amazon Podcasts' limited international availability is one reason, perhaps, why the company is keen to stress that Wondery content will continue to be available across all podcasting platforms.

Amazon Wondery

Amazon don't get Wondery's current CEO, Hernan Lopez: a charismatic leader, he'll step down as the deal is done, saying "I will be transitioning out of the company to focus my attention on my recently announced Hernan Lopez Family Foundation, which is committed to addressing diversity in leadership both from the demand side as well as the supply side." Lopez has been keen to add Hollywood-style razamatazz to the industry, working to launch The Podcast Academy earlier this year, which is focusing on their own awards ceremony The Ambies.

Amazon

Is this the last big piece of M&A activity in podcasting? It was certainly the largest company still available: but there will be more acquisitions on the horizon. In particular, Amazon lacks the long tail that a consumer podcast host can give them - just as Acast bought Pippa, Spotify bought Anchor and SiriusXM bought Simplecast, Amazon could own a host of its own as a way to reach other platforms and to incubate new talent. Amazon also lacks any podcasting ad-tech companies; ART19, which hosts a number of the largest podcasts in the world, remains privately-owned. Let's watch this space.

Acast Amazon Spotify Pippa ART19 Anchor Simplecast SiriusXM

Discuss this edition of Podnews in our subreddit - or to have your say, just reply to this email: we'll publish a number of comments tomorrow.

Podnews