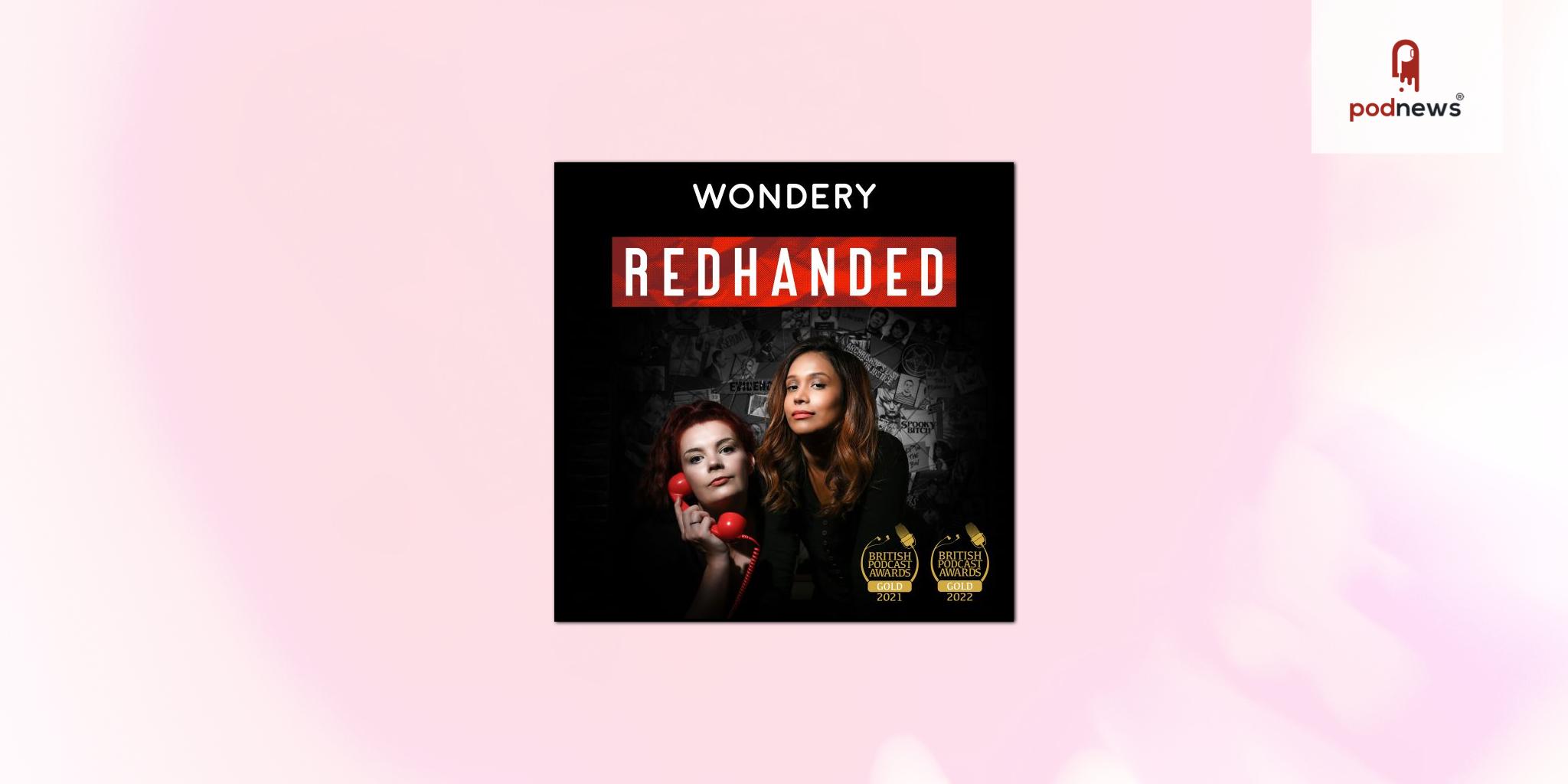 Wondery and Amazon Music Announce Distribution Deal with Award-winning Podcast RedHanded
Press Release · London, UK · via indie house ·
Wondery and Amazon Music close podcast distribution and ad-sales rep deal with Suruthi Bala and Hannah Maguire, the duo behind the multi award-winning true crime podcast RedHanded. The deal will see episodes of the internationally renowned hit show publish one week early and ad-free on Amazon Music and Wondery+ starting on April 6th. RedHanded will continue to be available on all podcast services after the one-week exclusivity window.
The agreement also sees weekly episodes of ShortHand, the special bonus content from the team behind RedHanded, publish exclusively only on Amazon Music and Wondery+ starting on 4th April.
With thousands of devoted followers across the globe – affectionately known in the podcast world as "Spooky Bitches" - the critically-acclaimed series has evolved the true crime genre, offering a weekly blend of mysterious murders and laugh-out-loud moments, underpinned by meticulous research, laced with societal scrutiny and delivered with a British cultural flavour. RedHanded has explored numerous cases, ranging from Jeffrey Epstein to Josef Mengele, since launching in 2017.
This deal follows on from the recent release of a run of standout, binge-worthy UK-centric podcast stories including Stolen Hearts, Harsh Reality: The Story of Miriam Rivera, Who Killed Daphne?, British Scandal: Jeremy Thorpe, and British Scandal: The Great Train Robbery.
James Cator, Head of Commerical, Europe at Wondery said: "Suruthi Bala and Hannah Maguire's unique storytelling skills, razor-sharp wit and audio alchemy has generated a huge and devoted following of hyper-engaged and highly enthusiastic fans across the globe. With the combination of an engaged fanbase, premium storytelling, and our innovative advertising products, we'll deliver unique and impactful results for UK ad customers. With RedHanded joining the Amazon Music/Wondery podcast network, it expands the breadth and range of our podcast offerings for global listeners, as well as further audio ad-sales solutions in the UK."
RedHanded hosts Suruthi Bala and Hannah Maguire say: "We've finally found a partner that's as ambitious about our growth and world podcast domination potential, as we are! Having started as a totally self-taught, bedroom, indie podcast - we are so excited to have the opportunity to work with the podcasting powerhouse that is Wondery! To be the first European business to collaborate with Wondery and Amazon Music is an incredible opportunity for us at RedHanded to show the world the podcasting talent bubbling away this side of the pond!"
Marshall Lewy, Chief Content Officer, Wondery, commented: "By collaborating with Suritha and Hannah on Redhanded, we get to work with some of the best podcast talent in the UK who are also able to cross international boundaries with their content. We've been fans of Redhanded for a long time because their show is both entertaining and accessible thanks to their unique style and pin-sharp political lens. We look forward to working with this talented duo to reach even greater heights together."
From a small indie podcast launched out of a cupboard under the stairs in an East London flat, RedHanded has enjoyed meteoric growth to become an international chart-topping success. The team has been responsible for a Sunday Times best-selling book; a sold-out UK, European and North American tour; and multiple industry accolades including most recently Listeners' Choice Awards for both 2021 and 2022 at The Podcast Awards, and a nomination for Best International Podcast at the iHeartRadio Podcast Awards earlier this year.
Listen
This is a press release from indie house which we link to from Podnews, our daily newsletter about podcasting and on-demand. This is reprinted verbatim; we may rewrite headlines and descriptions.
This page contains automated links to Apple Podcasts. We may receive a commission for any purchases made.