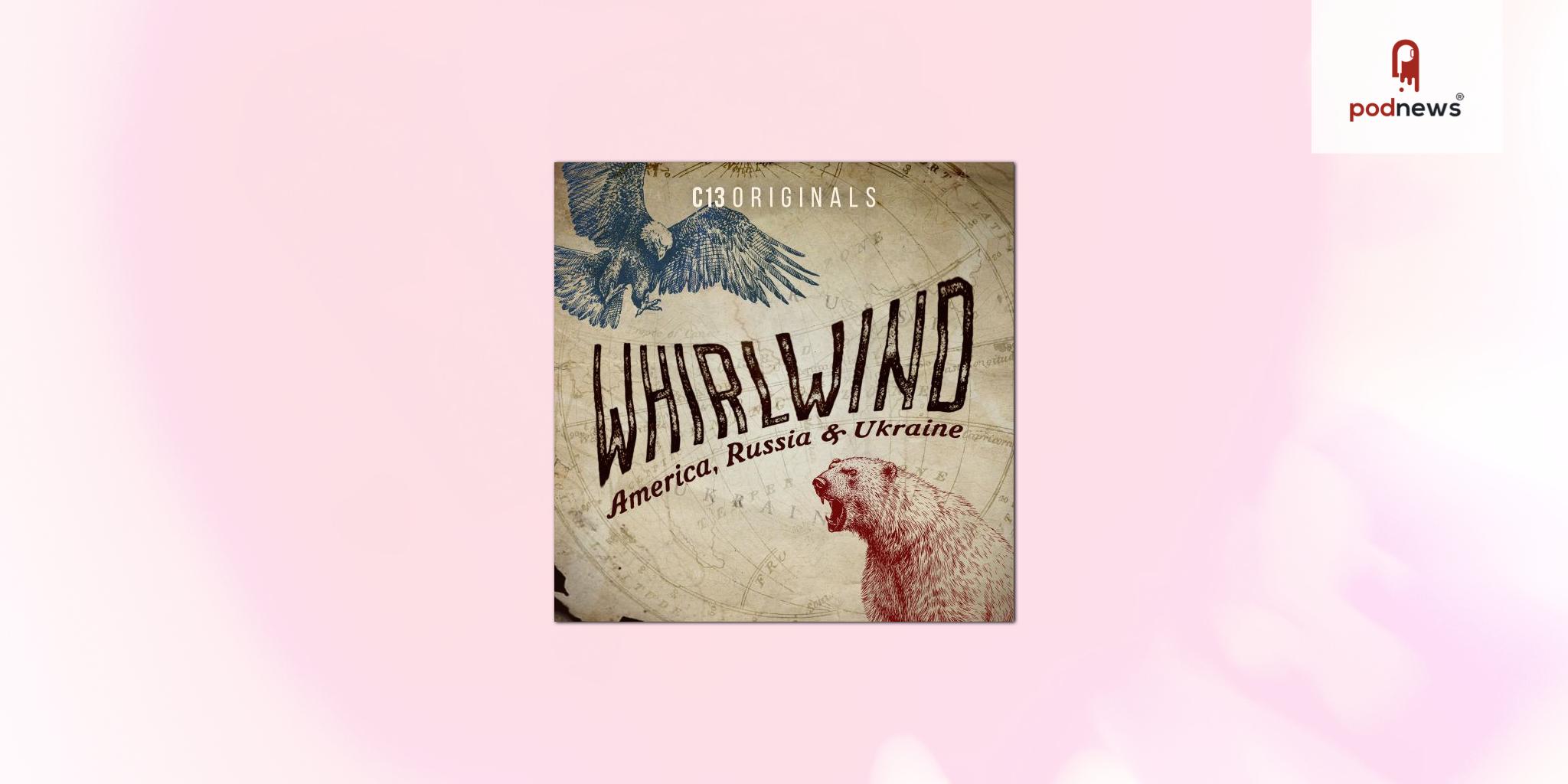 C13Originals Teams with Pulitzer Prize-Winning Author Tim Weiner for Podcast with New Focus on Ukraine
Press Release · New York, NY, USA ·
C13Originals, the Peabody Award-nominated documentary division of leading premium podcast studio Cadence13, an Audacy company, today announced that it will release two new episodes of Whirlwind, the acclaimed documentary podcast series written and narrated by Pulitzer Prize-winning and New York Times bestselling author Tim Weiner. The new episodes provide critical insight on the war in Ukraine, Russia's threat to democracy, and the roles intelligence and disinformation play in 21st-century political warfare, in interviews with high-ranking CIA veterans who have led the American intelligence war with Russia for decades.
In Whirlwind, originally released in September 2020, Weiner told the story of the 75-year battle between the US and Russia that led to the election and impeachment of an American president, exploring the long history of political warfare between Russia and the United States, with Ukraine as a key element in that conflict.
Now, Whirlwind: America, Russia & Ukraine explains:
How Putin laid the groundwork for attacking Ukraine by using deception and disinformation

How the CIA counterattacked by exposing Putin's lies

How American political warfare can undermine Putin and the Kremlin

How Russian disinformation about the war is amplified by American media figures and politicians like Donald Trump, Tucker Carlson, and Madison Cawthorn (R-N.C.)

The information and intelligence operations of 21st century political warfare
Both new episodes of Whirlwind: America, Russia & Ukraine will launch on April 13, 2022 everywhere podcasts are available.
"The war in Ukraine is a battle for democracy against autocracy. The United States is engaged in the same war here at home. The autocrats' weapon is the big lie. Democracy's superpower is the truth," said Tim Weiner. "'Whirlwind' takes its listeners into the battlefield."
"With the horrors unfolding in Ukraine and the impact of Russian disinformation at an all-time high, we're proud to work with Tim to update this incisive and important series," said Chris Corcoran, Chief Content Officer and Founding Partner, Cadence13. "'Whirlwind' is a must-listen to understand and navigate the state of 21st-century political warfare, and the history that led to this tragic moment."
Guests on Whirlwind: America, Russia & Ukraine include Chris Bort, former national intelligence officer for Russia and chief Kremlinologist for the American intelligence community; Beth Sanner, former Deputy Director of National Intelligence; CIA veteran Mark Polymeropoulos, former Deputy Chief for the CIA's covert operations in Russia; Gregory Sims, 30-year CIA veteran; Douglas London, longtime CIA Senior Operations Officer; Julia Davis, Russian Media Monitor; David Corn, Washington Bureau Chief, Mother Jones, and co-author of "Russian Roulette."
Tim Weiner has won the Pulitzer Prize and the National Book Award for his reporting and writing on national security and intelligence. He covered the CIA, the war on Afghanistan, and crises and conflicts in fourteen nations for The New York Times. Weiner has taught history and writing at Princeton and Columbia. The FOLLY AND THE GLORY (Henry Holt & Co.) is his sixth book.
Follow Tim Weiner on Twitter @Folly_and_Glory. Follow C13Originals on Twitter @C13Originals and Instagram @C13Originals. For more information, visit www.cadence13.com.
Listen
This is a press release which we link to from our daily newsletter about podcasting and on-demand. This is reprinted verbatim; we may rewrite headlines and descriptions.
This page contains automated links to Apple Podcasts. We may receive a commission for any purchases made.