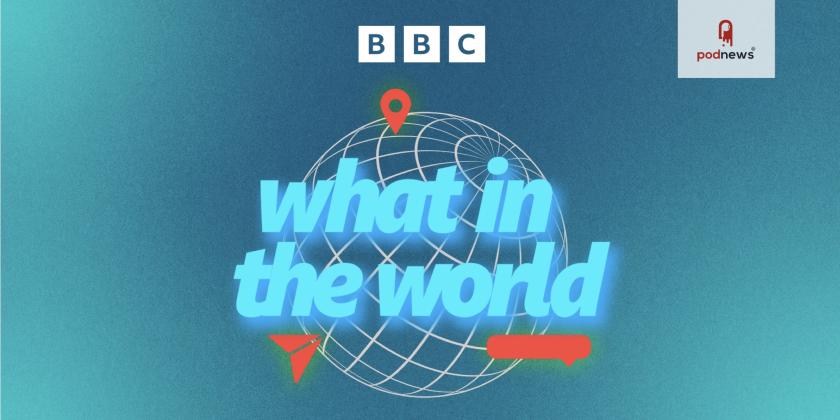 BBC World Service launches new daily news podcast, What in the World
Press Release · London, UK · via BBC · · Updated
The BBC World Service today announces the launch of a new daily news podcast primarily aimed at 16 to 24 year olds across the globe. The podcast, titled What in the World, launches on 31 July.
The podcast will be available daily, Mondays to Fridays, and each episode will ask "What in the world is going on?"
Hosted by Hannah Gelbart, What in the World will explain global news stories and events for those with curious minds, helping listeners to make sense of what's happening. It will explore news stories with the aim of increasing listeners' understanding and knowledge across a range of topics. For example, episodes might ask, "What can we learn from the extreme weather in India?" or "What is happening with migrants in Tunisia?".
Around a quarter of the BBC World Service English audience is aged between 16 to 24 and, according to the UN, 16% of the world's population (around 1.2 billion people) are in this age bracket. When it comes to getting information, young people have more choices than ever, but distinguishing the facts - especially with the increasing amount of misinformation online – is a challenge.
With the BBC as the world's most trusted news provider, the podcast will feature BBC journalists from our 42 language services around the world as frequent guests, providing a view of the world from where they live, the stories they're covering and the questions they keep getting asked.
Episodes will be shaped by the questions our audience are asking and the content they are sharing and will also explore possible solutions. They will be easily accessible, at 9 to 15 minutes long, and available each weekday.
Before signing up to present the podcast, Hannah was the BBC's global disinformation reporter.
Hannah Gelbart says: "I'm excited to be working with a top team for this podcast, helping our listeners to understand, and feel a bit better, about the world around them. I am looking forward to chatting each day with our BBC reporters across the globe, giving you what you need to make sense of the information out there."
Jon Zilkha, Controller, World Service English, says: "What in the World is tailored to young audiences and will provide a source of trusted news and information for these listeners globally. Using the expertise of our journalists around the world, we will examine the stories that matter most and focus on positive solutions, something we know young audiences are longing to hear."
What in the World will be available on BBC Sounds and on most podcast apps, every afternoon GMT.
Listen
This is a press release which we link to from Podnews, our daily newsletter about podcasting and on-demand. We may make small edits for editorial reasons.
This page contains automated links to Apple Podcasts. We may receive a commission for any purchases made.