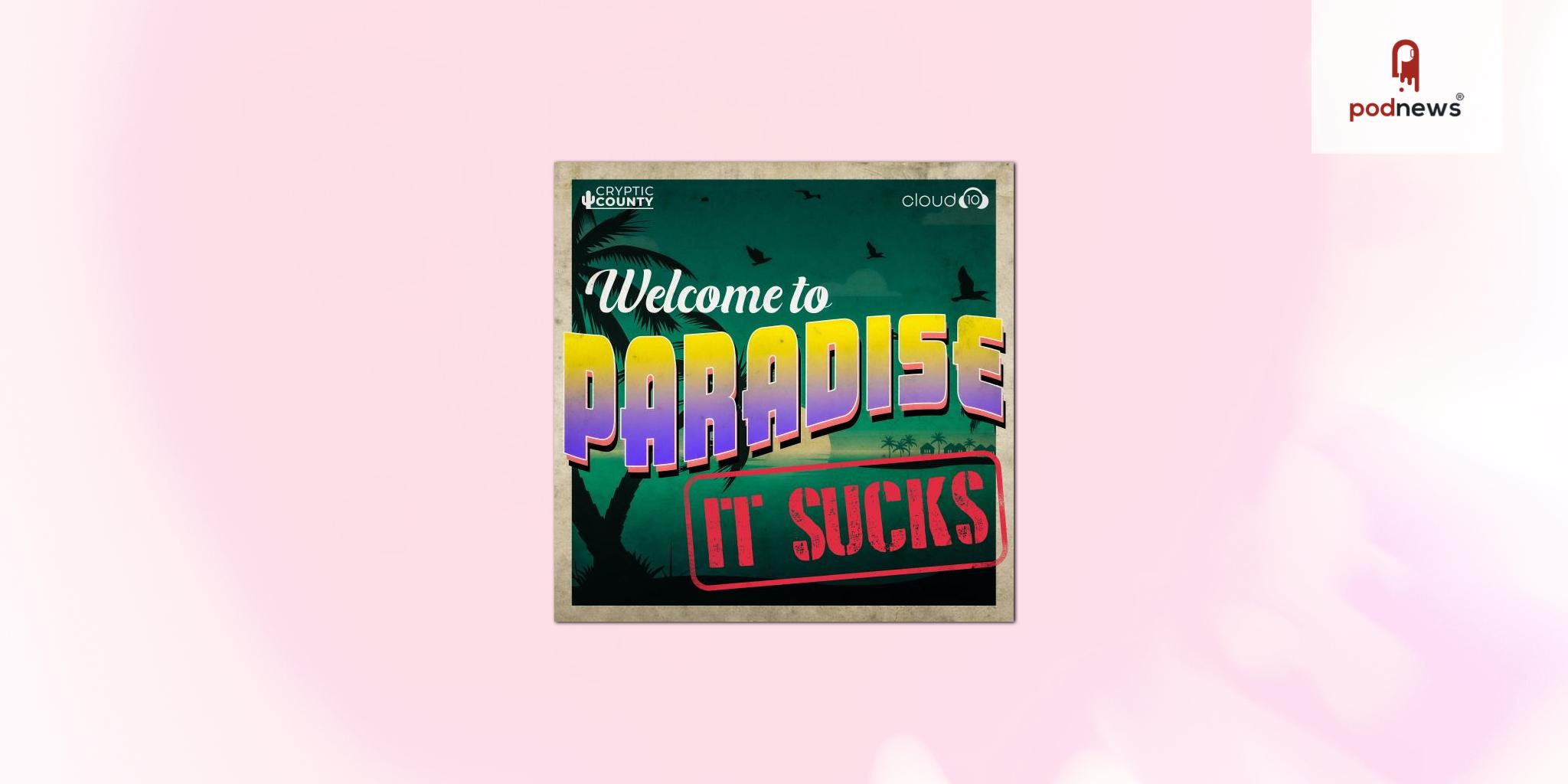 Cloud10 Media and Andrew Tate of Let's Not Meet Podcast Launch Welcome to Paradise (It Sucks)
Press Release · Los Angeles, CA, USA · via Cloud10 ·
Cloud10 Media and Cryptic County launch the new true storytelling podcast Welcome to Paradise (It Sucks).
Almost everyone who has taken a vacation or a trip knows that things don't always go exactly as planned. That anticipated trip to Heaven can take a wrong turn into the horrific and unbelievable… and wind up in Hell. On Welcome to Paradise (It Sucks), Andrew Tate interviews real people about their harrowing vacation stories, allowing them to tell their tales — sometimes hilarious, sometimes shocking, always compelling — as he crafts their remarkable stories. If you've ever missed a flight, or gotten on the wrong train, or wound up in a sleazy motel room that wasn't the one you booked, Welcome to Paradise (It Sucks) understands, and feels your pain.
Millions of listeners are drawn to Andrew Tate and his signature podcasting format — narrating and shaping the absurd and unsettling stories of people who found themselves in unfortunate situations. On Let's Not Meet, Andrew delivers tales of dates and romance gone wrong, and on Odd Trails, he relates unexplained encounters with possible paranormal entities. Welcome to Paradise (It Sucks) completes the trilogy as a podcast about all the strange things that can go wrong when we're far from home, on vacation, and just trying to have a good time.
"Taking a trip is kind of a weird thing — a break from your day-to-day reality that becomes a completely different temporary reality," Tate says. "Coupled with how many moving parts there are on a vacation, and the level of unpredictability? That's a recipe for trouble, and Welcome to Paradise (It Sucks) is the right place to talk about these awful things that happened to actual people. Enough time has passed where it's all just so fascinating and amusing."
Sim Sarna, executive producer of Welcome to Paradise (It Sucks) and CEO of Cloud10 Media says, "I love Andrew's shows about horrible dates and spooky paranormal encounters, and I'm thrilled to bring him into the Cloud10 network with this hilarious and unpredictable podcast about vacation nightmares."
About Andrew Tate
Andrew Tate is the creator of the Cryptic County podcast network, home of Let's Not Meet: A True Horror Podcast. Andrew has hosted and produced the hit show since its launch in 2017, sharing true life horror stories with the people who lived through them. He also hosts Odd Trails: A True Paranormal Podcast, where listeners relate their terrifying tales of interactions with the supernatural and unexplained. Andrew has created more than 250 podcast episodes that have been downloaded more than 75 million times, and which ranked as high as #2 on Apple's U.S. Podcast charts.
About Cloud10 Media
Cloud10 Media is a podcast network that provides listeners with best-in-class podcasts, while offering creators support in every step of the process, including development, promotion, marketing and sales. Cloud10 Media currently has a multi-year creative partnership with iHeartMedia's digital audio group, the world's number one publisher of podcasts. This growing network has over 75 top-ranked podcasts, amassing millions of downloads across all categories including True Crime, Comedy, Wellness, Society & Culture, Entertainment and more, and is ranked by Triton in the Top 15 US Podcast Networks.
Listen
This is a press release from Cloud10 which we link to from Podnews, our daily newsletter about podcasting and on-demand. This is reprinted verbatim; we may rewrite headlines and descriptions.
This page contains automated links to Apple Podcasts. We may receive a commission for any purchases made.