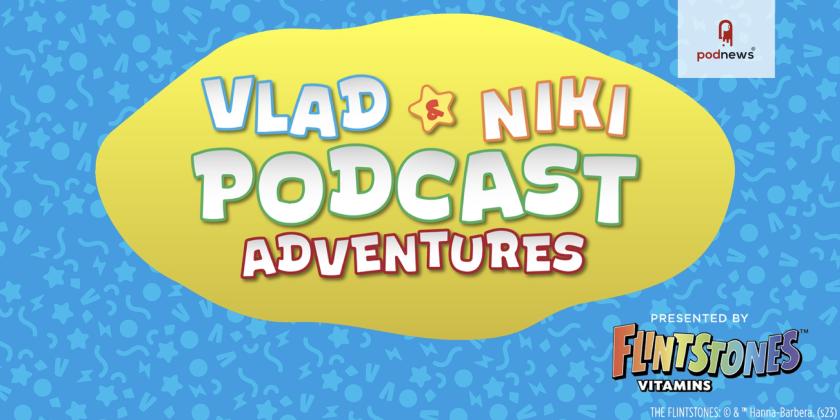 Global YouTube Sensation 'Vlad & Niki' To Launch Preschool Podcast 'Vlad & Niki Podcast Adventures'
Press Release · Philadelphia, PA, USA · via Audacy ·
Audacy today announced that global kids content superstars "Vlad & Niki'' are moving into audio content with their new preschooler-focused podcast series Vlad & Niki Podcast Adventures, produced by Atomic Entertainment, distributed by Audacy, and presented by Flintstones™ Vitamins, the #1 Pediatrician recommended children's vitamin brand.
The new series will launch on August 29, 2023, on the Audacy app and everywhere podcasts are available. Listen and follow the show here.
The new podcast is inspired by the "Vlad & Niki'' live-action preschool series on YouTube that showcases the everyday antics of young brothers Vlad, Niki, and Christian Vashtekov. With more than 96 million subscribers on their English-language channel and 330 million subscribers worldwide, "Vlad & Niki'' is localized on 21 channels and translated into 18 languages with 180 billion views across all channels. The "Vlad & Niki'' series also streams on Max's Cartoonito channel.
In support of the "Vlad and Niki Podcast Adventures" launch, a holistic advertising campaign, in partnership with Flintstones™ Vitamins, will be executed. The advertising campaign will have the episodes of Vlad & Niki's Podcast Adventures as the focal point, but will also have paid promotion on social channels and YouTube.
Every episode of "Vlad & Niki Podcast Adventures" features fun, games, and laughs for kids aged three to six, an educational STEM-focused component, and a meaningful moral to each story. Themes of sharing, cooperation, selflessness, empathy, forgiveness, and strong family bonding are a core part of each episode. Featuring characters inspired by Vlad, Niki, and parents Sergey and Victoria, the series adds a new character named Oopsie Daisy to the mix. Oopsie Daisy is a magical pink llama and Vlad and Niki's imaginary sidekick.
"We couldn't be more excited to expand the world of Vlad and Niki into this new format," said Sergey and Victoria Vashketov, parents of Vlad and Niki. "Podcasts and the world of audio provide us with the opportunity to tell different kinds of stories with new and exciting characters and to expand our brand to new audiences, and we're very thankful to our wonderful partners at Audacy and Bayer for joining us on this magical journey!"
"We're thrilled to welcome Vlad & Niki to the Audacy family," said Ken Lagana, Executive Vice President of Digital Sales, Audacy. "As soon as we partnered with Atomic Entertainment, we immediately thought of our client partners at Bayer to help us bring this to market in a meaningful way."
"We're excited to partner with Audacy and Vlad & Niki on their new podcast. With Vlad and Niki's boundless energy, creativity, and commitment to spreading fun, this partnership aligns perfectly with our values as a brand. And their stories inspire kids to grow up strong, which is also our goal as we provide nutritional support to kids," says Lisa Perez, General Manager and Vice President of Bayer's Nutritionals business.
"Vlad & Niki Podcast Adventures" is produced by Jerry Kolber and Adam "Tex" Davis of Atomic Entertainment, who previously produced Nat Geo's Emmy-nominated series "Brain Games," Netflix's kid science show, "Brainchild," and "Who Smarted?" the popular kid's podcast. The deal was brokered by Dan Weinstein, co-founder and co-CEO of Underscore Talent.
The new podcast joins a cadre of "Vlad & Niki" branded media, merchandise, and toys, which includes a variety of online game apps that have received more than 100,000 downloads and successful toy lines with Zuru Toys and Playmates Toys. "Vlad & Niki" toys include playsets, vehicles, interactive figurines, watches, and more. They are available at retail and online in 25 countries. The "Vlad & Niki" Superhero Surprise Toy Eggs from Zuru Toys won a License of the Year Award at Toy Shop's U.K.'s 2021 Independent Toy Award.
Listen
This is a press release which we link to from Podnews, our daily newsletter about podcasting and on-demand. We may make small edits for editorial reasons.
This page contains automated links to Apple Podcasts. We may receive a commission for any purchases made.