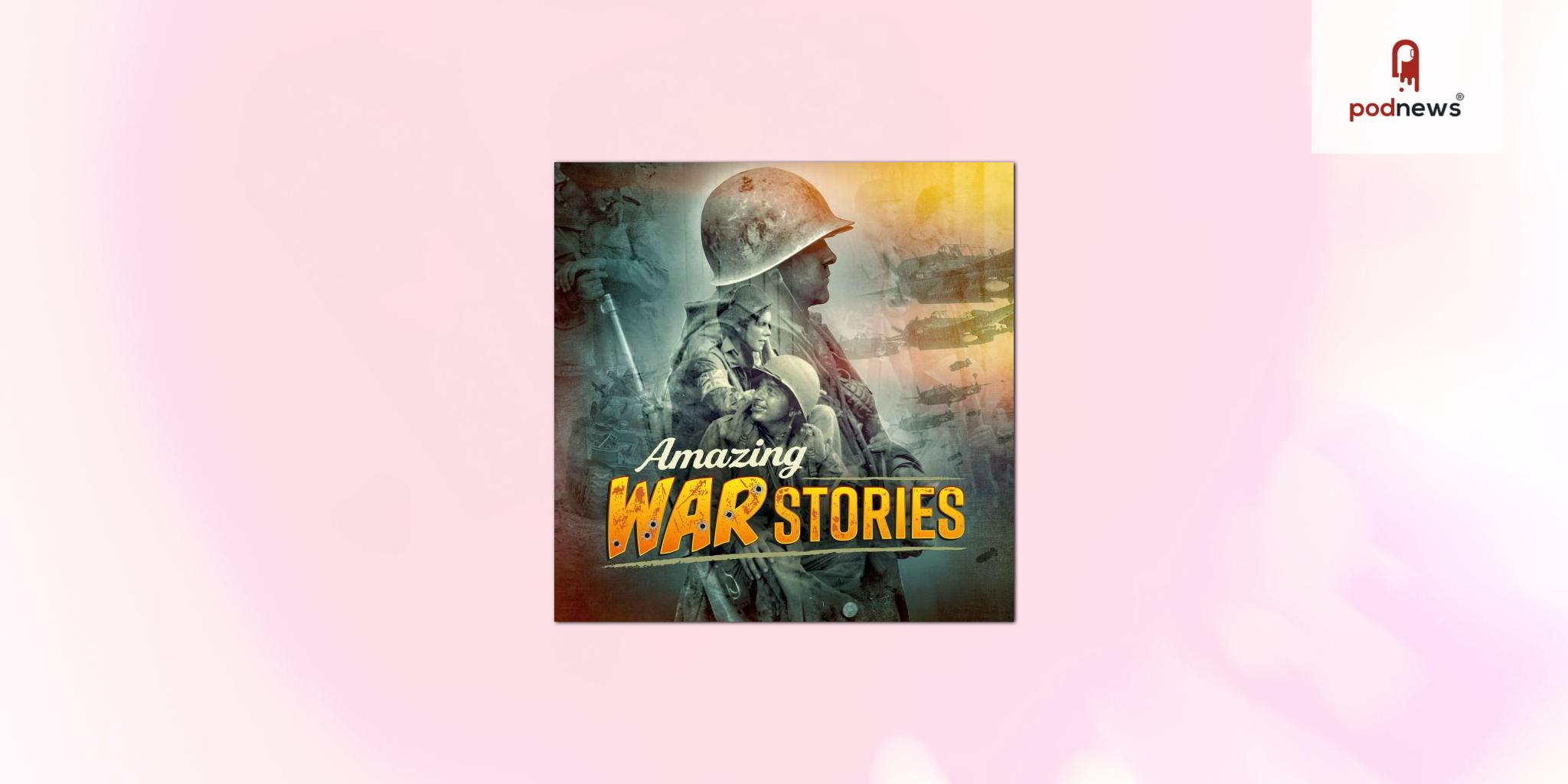 Vaudeville Sound Group provides immersive audio for Amazing War Stories podcast
Press Release · London, UK ·
Vaudeville Sound Group, a leading global audio design, production, and post-production group, today announced that it has delivered enhanced immersive audio for the popular Amazing War Stories podcast, which is currently in its second season. Vaudeville's stunning work enables listeners to find themselves literally in scenes, with hyper realistic sound effects and scene design.
The complete design, mix, and mastering of 'Amazing War Stories' was performed in Dolby Atmos, created in a 9.1.4 configuration studio environment with binaural delivery. The podcast has tripled its download figures in season 2 and has propelled itself into the top 5% of podcasts worldwide. Featuring noted Second World War expert Bruce Compton, 'Amazing War Stories' recounts remarkable true stories of heroism and bravery, all taken from museum collections worldwide. With official endorsement from military museums, organizations, and armed services, the story-driven show aims to inspire listeners to support veterans charities and visit their local military institutions.
"What really sets our show apart from other military podcasts is the incredible immersive sound design. Since the inception of our brand, we have worked closely with Vaudeville Sound Group to produce a show like no other – far beyond great storytelling and next-level research," said Ed Sayer, producer of 'Amazing War Stories' and former head of original commissioning at Discovery International. "With 3D sound design, Dolby Atmos and meticulously designed, authentic soundscapes, we used genuine audio from period weapons and vehicles to create a podcast that places the listener right in the heart of the action."
Sonically, the show initially let stories be led by Compton and his guests, with a few sections of sound design, mostly at the end of chapters, to bring key moments to life. Gradually, the production team wove more engaging audio elements through the story and under Compton's dialogue. Cold openings are used for each episode, throwing listeners straight into action. In series 1, the 'A For Apple' scene is set in a quiet country field, and a Lancaster plane's engine fires up, followed by two more Lancasters, culminating in take-offs over the listener's head, with fully immersive effect.
"We wanted to recreate the cinema experience without any visuals. So, we referenced fast-cut, close and intimate action sequences of the likes of 'Band of Brothers,' '1917,' and 'All Quiet on the Western Front,'" said Luke Hatfield, group head of sound for Vaudeville Sound. "We used large dynamics changes to effectively cut from scene to scene – to ensure the listener really 'pictures' the scene. Our sound brief quickly became 'cinematic,' engaging and immersive.'"
Hatfield details the 'Kings of Kokoda' episode in Series 2, where – at the end of the episode – Bruce Kingsbury and Alan Avery are in the jungle, being overrun by the Japanese. They take on heavy fire and Alan gets hit by a bullet through his belt. The narrator describe his world going into slow motion, and a sound effect of a deep hit with an echoey stinger starts the moment, as low drones and slowed down Atmos are pushed into every speaker. As time has slowed down, listeners can hear bullets whizzing by, albeit more slowly, perfectly enhanced by extra speakers in the Dolby Atmos set-up. "We are very proud to be part of the 'Amazing War Stories' journey. Our team has approached this unique podcast with all the latest sound design technology from our award-winning studios worldwide," said Dan Jones, CEO of Vaudeville Sound Group. "We find the podcast medium ideal for immersive experiences; when and if podcast platforms start accepting Dolby Atmos as a delivery standard, we plan to release both seasons of 'Amazing War Stories' in Atmos."
Jones, together with Sayer and Lois Crompton, are a producing team that collectively believe in the critical role that history programming across all genres represents to society. 'Amazing War Stories' is one way to reach new and different audiences and introduce them to amazing content that drives significant cultural stories.
Vaudeville Sound has developed an industry-leading expertise in sound objects, which are speaker-agnostic 360 sound fields that contain all the spatially accurate information that a scene or object contains, giving the user the feeling of being physically present within the asset itself. 3D sound objects are completely interoperable between sound reproduction environments, including Dolby Atmos, 5.1, Aura 3D, IMAX, HOA as well as traditional Stereo and Binaural outputs.
ABOUT VAUDEVILLE SOUND
Vaudeville Sound Group is a leading global creative sound design and mixing firm for broadcast, streaming platforms, AR/VR, gaming and events. The company has one of the leading immersive and spatial sound production and development units and has pioneered the development of in-house audio post-production studios, providing full management, supervision, staffing for all types of audio post-production projects. Vaudeville's award-winning talent works across its studios in the UK, USA, and Canada. The company has won many awards and nominations, including BAFTA, Emmy's, LIA, Clio, RTS, British Arrows, Cannes Lions, New York Festival, D&AD, and many others. For more information, visit www.vaudeville.tv.
Listen
This is a press release which we link to from Podnews, our daily newsletter about podcasting and on-demand. We may make small edits for editorial reasons.
This page contains automated links to Apple Podcasts. We may receive a commission for any purchases made.