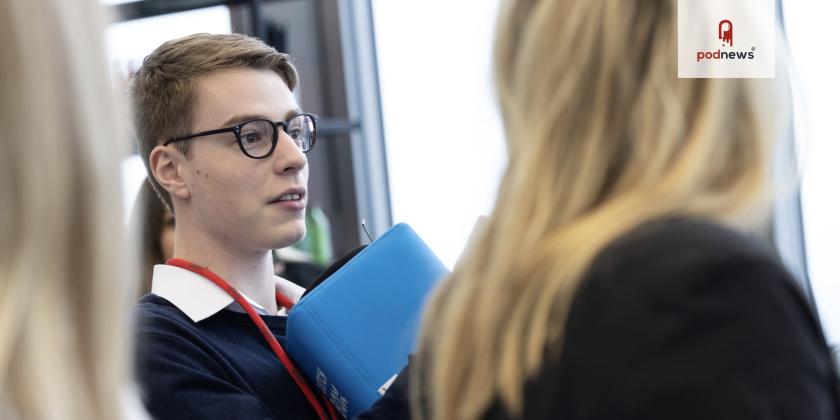 Up Next Podcast Launch: Candid Conversations about Life, Career, and Success
Press Release · Frankfurt, Germany ·
Today marks the official launch of Up Next, a new weekly podcast hosted by 19-year-old Paul Elijas Scherer, a successful growth marketer in the US start-up scene.
Up Next offers candid conversations with today's trailblazers, diving deep into the stories of successful individuals discussing career, money, investing, and company-building. Targeting young and ambitious students and professionals, Up Next offers mind-blowing stories and unapologetic conversations about novel paths, inspiring takes, and what it takes to be successful.
Each one-hour episode is meticulously crafted, featuring in-depth research, fearless questioning, and high production quality.
Noteworthy guests in the first episodes include Andrew Gazdecki (CEO @ Acquire.com; Founder BiznessApps (sold)), Landon Campbell (GM @ Drive Capital, Host @ inTheir20s podcast), Michael Fritz (Co-Founder @ Viva con Agua), and Avni Barman (Founder @ GenerationShe, ex. LinkedIn, ex. Atlassian).
"We don't settle for average," says Scherer, "This podcast is designed to empower and inspire the next generation of achievers by sharing the unfiltered experiences of those who've made it."
New episodes come out every Wednesday. To learn more, visit upnext.is, and follow Up Next on social media for updates and announcements.
Listen
This is a press release which we link to from Podnews, our daily newsletter about podcasting and on-demand. This is reprinted verbatim; we may rewrite headlines and descriptions.
This page contains automated links to Apple Podcasts. We may receive a commission for any purchases made.