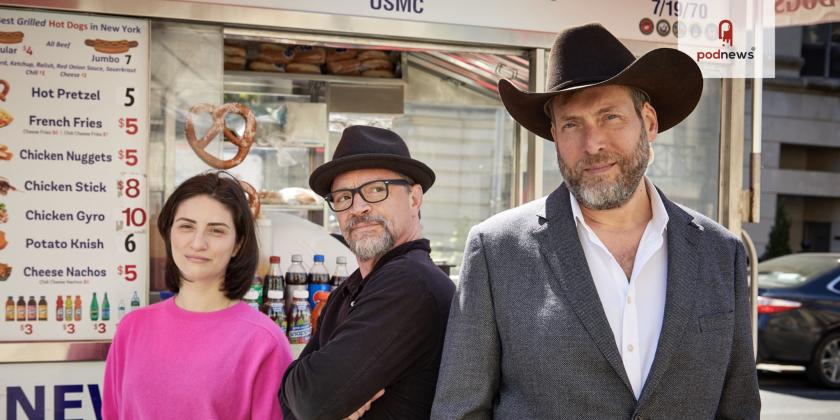 West Wing and Scandal star Joshua Malina to join #1 Jewish podcast Unorthodox
Press Release · New York, NY, USA ·
Tablet Magazine announced today that Joshua Malina, whose breakout role in the beloved presidential television drama "The West Wing" made him one of the most respected actors working today, will be joining the Jewish publication's wildly popular podcast, Unorthodox. He will join current hosts Stephanie Butnick and Liel Leibovitz. Malina's first episode as co-host will be available to stream and download from Thursday, May 25, 2023, wherever you get your podcasts, and on the Unorthodox website.
Unorthodox, which has been airing weekly since 2015, has a passionate audience of tens of thousands of listeners, who call themselves the J-Crew. Each episode features a segment called News of the Jews, as well as interviews with both a Jewish guest and Gentile of the Week.
Previous guests have included actors Nick Kroll, Kathryn Hahn, David Duchovny, and Clive Owen; food personalities Molly Yeh, Jake Cohen, and Adeena Sussman; spiritual leaders Rabbi Lord Jonathan Sacks, Father James Martin, Swami Tyaganada; designers Jonathan Adler, Isaac Mizrahi, and Rebecca Minkoff; comedians Judy Gold, Alex Edelman, and Zarna Garg; writers Gabrielle Zevin, Nick Hornby, and Zibby Owens; elected officials including Joe Lieberman, Jared Polis, and Katie Porter, and many others.
Over the years, Unorthodox has become required listening across diverse Jewish communities worldwide, and has also become assigned listening in rabbi-led conversion classes. Building on their reputation as conveners of thoughtful and fun Jewish conversation, the show's co-hosts published a best-selling book in 2019, titled The Newish Jewish Encyclopedia: From Abraham to Zabar's and Everything In Between. Responding to calls for high-quality Jewish audio content, the team behind Unorthodox launched Tablet Studios in 2020, producing such acclaimed podcasts as Dara Horn's Adventures With Dead Jews; Radioactive: The Father Charles Coughlin Story, produced in association with WNET; and Gatecrashers, a podcast about the history of Jews in the Ivy League.
This is not Malina's first foray into podcasting: Together with Hrishikesh Hirway, he hosted the hit PRX show The West Wing Weekly. More recently, he was the co-host, with Rabbi Shira Stutman, of PRX's Chutzpod!
"There's a term in linguistics called cooperative overlapping, which basically means excitedly interrupting each other," said Butnick and Leibovitz. "It's how Jews speak, and we very much look forward to cooperatively overlapping with Joshua Malina. We've been his fans for years, and think that his passion and commitment to being a loud and proud Jew will bring a new and joyful spirit to the show." New episodes of Unorthodox are released every Thursday on all platforms where you listen to podcasts. You can learn more about Unorthodox and Tablet Magazine by visiting TabletMag.com.
Listen
This is a press release which we link to from Podnews, our daily newsletter about podcasting and on-demand. This is reprinted verbatim; we may rewrite headlines and descriptions.
This page contains automated links to Apple Podcasts. We may receive a commission for any purchases made.