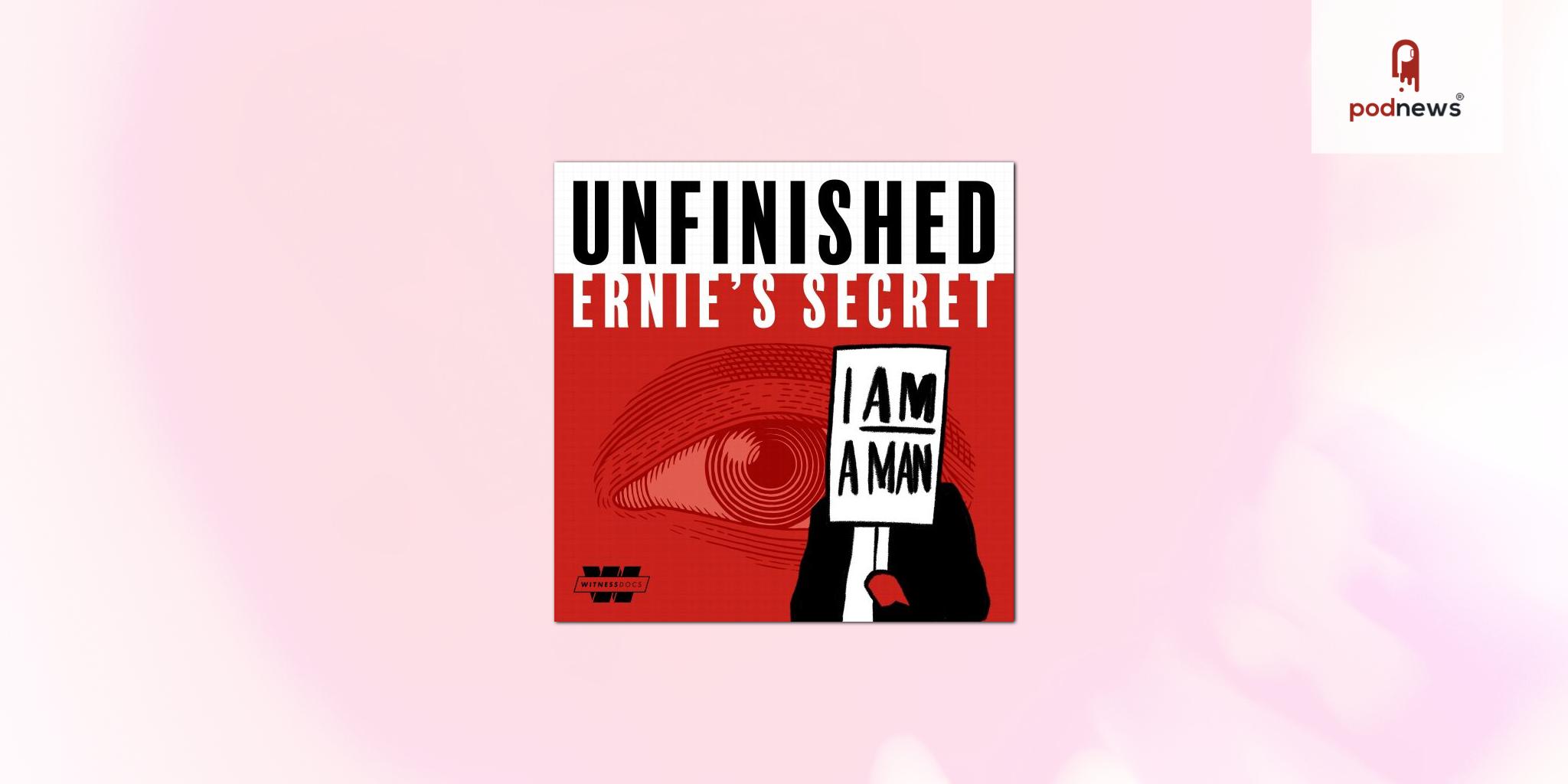 Stitcher announces Ernie's Secret, the newest instalment of its critically acclaimed Unfinished series
Press Release · New York, NY, USA ·
Stitcher today announced the third season of its critically-acclaimed, award-winning series Unfinished. Co-produced by Stitcher's Witness Docs and The E.W. Scripps Company, Ernie's Secret tells the story of the double life of Ernest C. Withers, an African American journalist dubbed the "original civil rights photographer." The ten-episode season premieres on June 29.
Ernest Withers covered the civil rights movement from start to finish, capturing some of its most iconic moments. He was the only African American photographer to attend the trial for Emmett Till's murder in Mississippi in 1955. In 1956, he shot the image of Dr. Martin Luther King Jr. and Ralph Abernathy riding one of the first integrated buses in Montgomery, Alabama, which circulated the world over. Twelve years later, he took the first pictures of Dr. King in his coffin following his assassination in Memphis. He marched with the movement's leaders, put himself in the middle of protests and took enormous risks to document the struggle. As such, he was a trusted civil rights insider whose iconic photography helped propel the movement forward.
After his death, however, it was revealed that Ernest was secretly a "racial informant," helping J. Edgar Hoover's FBI to keep tabs on and even, at times, undermine the struggle for equal rights in the South. In Unfinished: Ernie's Secret, journalist Wesley Lowery (CBS News, Washington Post) provides a new perspective and insights on government overreach and whether Withers was coerced and simply caught up in FBI surveillance during the Civil Rights Movement.
In a statement, Wesley Lowery says: "Ernest Withers was one of the nation's most important black photographers. He was also an FBI informant. There could be no better time than now – as civil rights activists take to the streets to demand a more just and equitable nation – to revisit forgotten chapters of the Civil Rights Movement, to remember the remarkable lengths our government has been, at times, willing to take to disrupt social change, and to consider the ethical, personal and historical implications of Ernie's secret."
"This series explores America's unfinished business, giving new perspective to parts of our history long-thought closed," says Kameel Stanley, Executive Producer of Witness Docs. "Our third season is no exception, and we're excited to work with the team at Scripps to tell the story of Ernest Withers, a man caught between two seemingly incompatible worlds."
Unfinished: Ernie's Secret is inspired by the book A Spy in Canaan by Marc Perrusquia, who also consulted on the making of the podcast. The series is Executive Produced by Witness Docs' Kameel Stanley (Toxic: The Britney Spears Story, Unfinished: Short Creek), and E.W. Scripps' Ellen Weiss (Verified, Sold in America). Additional production support by Senior Producer Roy Hurst, editing by Tracey Samuelson, mixing by Casey Halford. The show's music is composed by Edward "Tex" Miller.
SXM Media, the combined advertising revenue organization of Sirius XM Holdings Inc., has exclusive global ad sales rights for Unfinished: Ernie's Secret. SXM Media is the gateway for marketers to the #1 U.S. podcast advertising network in reaching weekly podcast listeners, per Edison Research.
The series joins an already impressive lineup of prestigious documentary and narrative projects at Witness Docs, which includes, among others, Heaven's Gate, the Verified series, and the Webby-Award winning Toxic: The Britney Spears Story.
Listen
This is a press release which we link to from our daily newsletter about podcasting and on-demand. This is reprinted verbatim; we may rewrite headlines and descriptions.
This page contains automated links to Apple Podcasts. We may receive a commission for any purchases made.