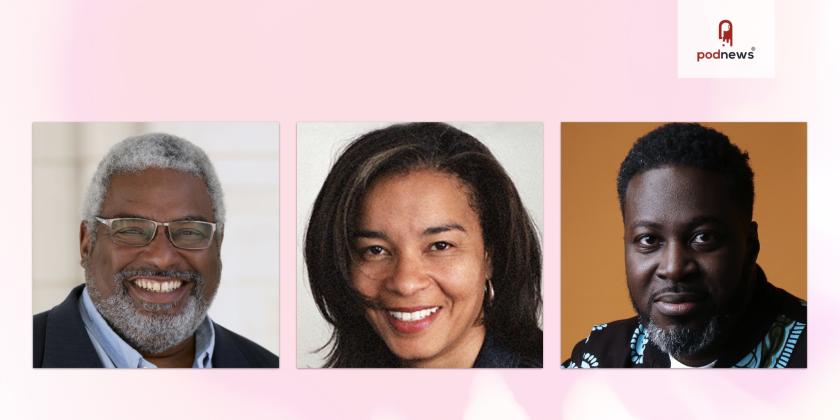 Unedited appoints industry heavyweights to fuel its growth in formats and IP
Press Release ·
Award winning Exec Maxine Watson joins to bolster creative development
Industry veteran Pat Younge invests to support IP push
Company's first formats initiative - Pilot Season - launches on 13 March
Award-winning audio powerhouse Unedited has announced the appointment of two UK industry heavyweights to help fuel its growth into audio formats and the creation of its own IP. The announcement comes as the Unedited prepares to launch Pilot Season, the inaugural showcase of its new formats.
Maxine Watson, MD of Black Ruby Pictures (above, centre) will be Unedited's **Creative Executive, supporting their push into original documentaries and formats. Multi-award-winning Watson, who led BBC Documentaries Commissioning, has been responsible for a host of high-profile programmes across documentary, drama and factual entertainment. A former Head of Production for Warner Brothers' indie, Twenty Twenty, and currently Executive Producer for Nutopia's upcomingNetflix series African Queens, her credits include: formats such as BAFTA-winning Who Do You Think You Are?, A House Through Time and The Great Pottery Throw Down; high-profile documentaries Long Way Round and Tough Young Teachers; and dramas including The Scandalous Lady W, Shirley Bassey and Mrs Mandela. Watson will collaborate with Unedited alongside her continuing work in television and takes up her role in March.
Award-winning journalist and creative leader Pat Younge (above, left) has joined the board of Unedited, following an investment to support the company's push into the creation of its own IP. A Former Chief Creative Officer at the BBC and President/General Manager of US cable network, Travel Channel Media, Younge is currently a Non Executive Director at ITV Studios Ltd, Chair of the Cardiff University governing body and has his own label, Skin In The Game Studios Ltd. He also co-founded award-winning independent production companies, Sugar Films and Cardiff Productions.
Bernard Achampong, Founder, Unedited (above, right), says: "Our recent success with the Sounds of Black Britain podcast and 1Xtra's _Throwback Party_show that formats really work for audio audiences. Our creative ambitions span all genres particularly formats - a hot-bed of IP development across the broadcast industry. Our shift to originals is also about creating space for new voices and ideas and we have the creative crossover between audio and television very much in our sights.
"We are thrilled to have both Maxine and Pat on board. Maxine has been responsible for some of Britain's most popular documentary formats. She has built an outstanding network of talent and her reputation for storytelling and innovation makes her a very exciting addition to our senior team. Pat is one of the most well-connected leaders in the industry, and his investment to develop our original IP slate speaks to the growing potential of the podcast world for showcasing new talent and ideas. The launch of Pilot Season demonstrates our commitment - both financially and creatively - in this area."
Pilot Season, Unedited's format showcase sees the launch of five new audio formats, including:
In Facts That Matter, academic, author and journalist Professor Gary Younge applies his inquisitive analysis to a controversial statistic and unpacks the facts with first-person witnesses. "Sometimes one fact can really shift our understanding of how the world works and our place in it," says Younge. "But in this period of fake news and mass misinformation it is not enough for reporters and academics to simply insist that facts matter. In this show we take one mind blowing fact and then show how and why it matters by relating it to real people's lives."

The Last Set is a clever global interview format that previews a well-known DJ's final dream gig. It leverages the hyper-local celebrity status of DJs, artists and music creators to drive audiences for music streaming platforms.

_Sneakerists,_ a new sub-culture format is hosted by Joelah Noble (1Xtra's Throwback Party) and Ade Oladipo (DAZN & talkSPORT), who look through their guests' prized sport shoe collections.

In The Values Compass, a podcast treatment of Mandeep Rai's New York Times bestseller, she will talk with figures including the Dalai Lama and Prime Minister Mia Mottley of Barbados to distil the essential characteristics of their home countries. The pilot features CCN's political analyst, David Gergen.

Best Summer Ever is a self-told, sound design-rich format that reunites three friends to spill the beans on the good, the bad and the awkward from their memorable group holiday.
Pilot Season launches on Monday 13 March, and will be available on all major podcast platforms. A #PilotSeason social media campaign will also run on Instagram, TikTok, Twitter and Facebook from 12 March to 9 April 2023.
Maxine Watsonadds: "I have known the guys at Unedited for some time now so can say with certainty that they are best in class. They are also perfectly placed to take advantage of the boom in interest in audio, not only as a creative force in its own right, but as an incubator of standout ideas for the screen and stage.It's a very exciting time for the company and I look forward to the creative and commercial opportunities that lie ahead."
Pat Younge comments: "Unedited is a trailblazing podcast company that's black-owned and black-led with a reputation for top quality, award-winning work. I'm backing their shift into original podcasts and formats because, despite all the diversity initiatives, we need a much bigger shift in the stories being told and the people empowered to tell them. This is a great way to achieve that."
This is a press release which we link to from Podnews, our daily newsletter about podcasting and on-demand. This is reprinted verbatim; we may rewrite headlines and descriptions.