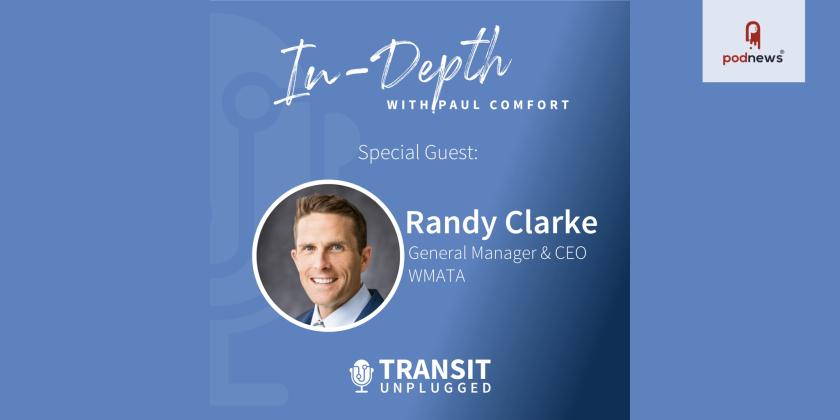 Transit Unplugged Kicks Off Season 7 with Randy Clarke, CEO of WMATA, Discussing His First Year on the Job
Press Release · Mississauga, ON, Canada · via Transit Unplugged ·
Transit Unplugged, the leading podcast for transit executives who want to advance their careers that delves into the world of public transit through interviews with its leaders, is back with an exciting and insightful Season 7 premiere featuring Randy Clarke, CEO of the Washington Metropolitan Area Transit Authority (WMATA). In this exclusive interview, Randy Clarke discusses the remarkable strides he's made at WMATA during his first year on the job addressing safety and reliability issues, all the while facing a financial cliff larger than many transit agencies entire budgets that threatens all the improvements made on the system.
Transit Unplugged host and producer, Paul Comfort, welcomes Randy Clarke for a candid conversation that takes listeners on a journey through the transformation of WMATA under Clarke's visionary leadership. Clarke quickly addressed safety issues and reversed declining ridership trends to reach nearly 90% of pre-pandemic levels. Clarke has spearheaded a series of innovative initiatives that have significantly improved the quality of service provided by WMATA, earning praise and recognition from transit professionals and riders alike.
However, the conversation doesn't stop at Clarke and WMATA's recent achievements and successes. Clarke also opens up about the imminent challenges the agency faces. With a looming $750 million funding cliff, WMATA is at a critical juncture. Clarke explores the complex political realities of transit funding and the strategies WMATA is considering to bridge this financial gap without reducing service or layoffs.
Comfort remarks, "Randy Clarke's leadership at WMATA is nothing short of remarkable. This episode showcases how a visionary approach to transit management can drive incredible transformations. At the same time, it offers a sobering glimpse into the challenges that transit agencies like WMATA face in securing the funding necessary to maintain these improvements. It's a must-listen for anyone interested in the future of public transit."
Transit Unplugged Season 7, Episode 1 featuring Randy Clarke, CEO of WMATA, is a must-listen for transit professionals, transit vendors, and podcast enthusiasts. The episode is available on all major podcast platforms and on the website.
For more information on Transit Unplugged and to listen to the episode, visit the website
Listen
This is a press release which we link to from Podnews, our daily newsletter about podcasting and on-demand. We may make small edits for editorial reasons.
This page contains automated links to Apple Podcasts. We may receive a commission for any purchases made.