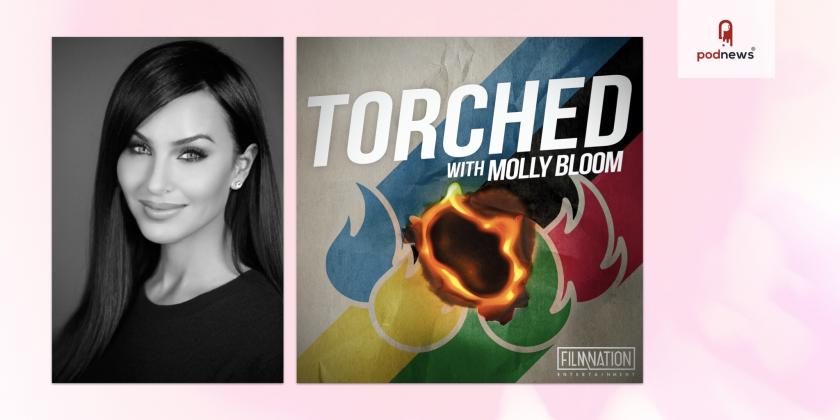 FilmNation Entertainment's new podcast Torched dives into the biggest Olympic controversies
Press Release · New York, United States ·
FilmNation Entertainment, the leading independent entertainment company behind the true crime podcast Murder on the Towpath and critically acclaimed films Arrival, Promising Young Woman, and The Big Sick, today launches the trailer for, a new podcast exploring scandals and controversies on the biggest world stage: the Olympics. Torched is hosted and narrated by Molly Bloom, a former professional skier and author of Molly's Game, which was adapted into an Oscar-nominated film by Aaron Sorkin. The show is being distributed by Stitcher and sold exclusively by SXM Media, SiriusXM's combined sales organization. It will be available free on all podcast apps.
Premiering on January 18th, just a few weeks before the Beijing winter games, weekly episodes of TORCHED will explore the most poignant, heart-racing Olympic moments in figure skating, basketball, bobsledding, fencing, and even badminton. Through narration, interviews, found audio and extensive research, revisit some of the most shocking and memorable sports moments with the athletes themselves - plus, delve deeper into the historical context behind the headlines.
This season's stories include now U.S. citizen bobsledder Kaillie Humphries' decision to leave Team Canada, snowboarding gold medalist Ross Rebagliati who found himself in a Japanese prison after a failed THC test at the 1998 Nagano games, the infamous 2002 Salt Lake City figure skating judging scandal, and of course, the iconic raised fists of Tommie Smith and John Carlos at the 1968 Mexico City games.
"I am endlessly fascinated by the intersection of sports, ambition, and the human condition. It's a space that draws directly from my own personal experience training to compete as an Olympic skier, and later, running high stakes poker games," says Bloom. "I launched Torched to get to the core of what makes the greatest Olympians tick, and to acknowledge how the pursuit of greatness often leads them to crash and burn. My hope is that the podcast brings fans back into that adrenaline-pumping, edge-of-your-seat feeling of watching the best Olympic moments."
"We are beyond thrilled to work with Molly Bloom, who completely embodies the spirit of this show. Molly is a pro at getting athletes to be vulnerable – they see her as both a peer and ally who understands what it's like to compete and be in the public eye," says Alyssa Martino, VP of Podcasting at FilmNation Entertainment. "We felt there was a tremendous opportunity to pair iconic sports moments with the urgency of the 2022 Beijing Games, covering timely issues like mental health, citizenship, and sports protests."
Other stories in this season include:
U.S. Diver Greg Louganis who hit his head on his way to Gold at the 1988 Seoul games
1972 U.S. Olympic basketball teammates Tom McMillen and Kenny Davis, who refused to accept their silver medals after a controversial finish against the Soviet Union
1968 Olympic decathlete Dr. Tom Waddell who founded the Gay Games
Olympic skier and NFL player Jeremy Bloom on the Bloom family ethos and retiring from an elite athletic career
TORCHED is produced by FilmNation Entertainment in association with Gilded Audio. The production is led by Alyssa Martino for FilmNation, and Whitney Donaldson and Nicki Stein for Gilded Audio.
FilmNation recently produced MURDER ON THE TOWPATH, a true crime series hosted by Soledad O'Brien that quickly became one of the top narrative series on Luminary. They are also behind the genre-bending science-fiction anthology HYPER-THETICAL, hosted by actress Kerry Bishé. Gilded Audio is the production studio behind recent Spotify original REVELATIONS, as well as Pharrell Williams' OTHERTONE.
ABOUT MOLLY BLOOM
This show is hosted by former world-class athlete, author, storyteller, and motivational speaker, Molly Bloom. Molly is a world class skier who was gunning towards Olympic fame when she was injured during the Olympic qualifiers. Years later, she pled guilty to running a notorious illegal gambling operation, the headlines of her own story splashed across the country's top media outlets. In 2013, Molly was charged with running a high stakes poker game that attracted wealthy figures, celebrities, and athletes. Her memoir, Molly's Game, was then adapted into an Oscar-nominated film by Aaron Sorkin, starring Jessica Chastain. Molly's come-back is inherently inspiring; she now travels the country giving motivational talks about her story, business success, and personal growth.
ABOUT FILMNATION ENTERTAINMENT
FilmNation Entertainment is a leading producer, financier and distributor of film, television, theater and audio. The company most recently produced podcasts Hyper-Thetical and Murder on the Towpath for Luminary.
Since being founded in 2008, FilmNation has grown organically from its roots in independent film by leveraging its bold creative taste and experience entertaining global audiences. FilmNation has worked with many of the world's most renowned filmmakers and storytellers including Pedro Almodóvar, Rian Johnson, Armando Iannucci, Mindy Kaling, Pablo Larraín, Sean Baker, Emerald Fennell and Denis Villeneuve. The company has established itself as a home for specialty filmmaking with global appeal by focusing on a highly selective group of filmmakers and projects that emphasize both creative integrity and commercial potential.
Consistently ranked as one of the highest-grossing independent international film distributors, FilmNation has produced award-winning box office hits that include PROMISING YOUNG WOMAN, THE COURIER, THE PERSONAL HISTORY OF DAVID COPPERFIELD, ARRIVAL, and THE BIG SICK, and released THE KING'S SPEECH, ROOM and THE IMITATION GAME. Currently in release are Pablo Larraín's SPENCER starring Kristen Stewart, Pedro Almodóvar's MADRES PARALELAS starring Penélope Cruz and Sean Baker's RED ROCKET.
The studio's first television series I Know This Much Is True for HBO garnered Mark Ruffalo an Emmy Award for his lead role. The studio has a number of high-profile television projects lined up including adaptations of Isabel Allende's The House of the Spirits and Susan Choi's 2019 National Book Award winner Trust Exercise. FilmNation is also producing an adaptation of The Hidden Girl based on Ken Liu's science fiction short story. The company announced in early 2019 the launch of its UK-based television production company with Nordic Entertainment Group.
FilmNation has produced the Tony winning The Band's Visit and The Sound Inside and the West End's critically acclaimed True West.
ABOUT SXM MEDIA
SXM Media is the combined sales organization of Sirius XM Holdings Inc., spanning its SiriusXM, Pandora, and Stitcher audio entertainment platforms and services, including that of Midroll, the leading podcast advertising network representing over 300 of the world's largest podcasts. With a reach of more than 150 million listeners, SXM Media gives brands, creators, and publishers access to the largest digital audio advertising platform in North America. SXM Media also serves as the exclusive advertising and sales representative for other platforms and podcasters, including major entities such as SoundCloud (exclusive U.S. advertising representative) and the NBCUniversal News Group (exclusive advertising representative for NBC News and MSNBC podcasts, with additional sales rights to CNBC podcasts).
ABOUT SiriusXM
Sirius XM Holdings Inc. (NASDAQ: SIRI) is the leading audio entertainment company in North America, and the premier programmer and platform for subscription and digital advertising-supported audio products. Pandora, a subsidiary of SiriusXM, is the largest ad-supported audio entertainment streaming service in the U.S. SiriusXM and Pandora's properties reach more than 150 million listeners, the largest addressable audience in the U.S., across all categories of digital audio – music, sports, talk, and podcasts. SiriusXM's acquisitions of Stitcher and Simplecast, alongside industry-leading ad tech company AdsWizz, make it a leader in podcast hosting, production, distribution, analytics and monetization. SiriusXM, through Sirius XM Canada Holdings, Inc., also offers satellite radio and audio entertainment in Canada. In addition to its audio entertainment businesses, SiriusXM offers connected vehicle services to automakers. For more about SiriusXM, please go to: www.siriusxm.com.
Listen
This is a press release which we link to from our daily newsletter about podcasting and on-demand. This is reprinted verbatim; we may rewrite headlines and descriptions.
This page contains automated links to Apple Podcasts. We may receive a commission for any purchases made.