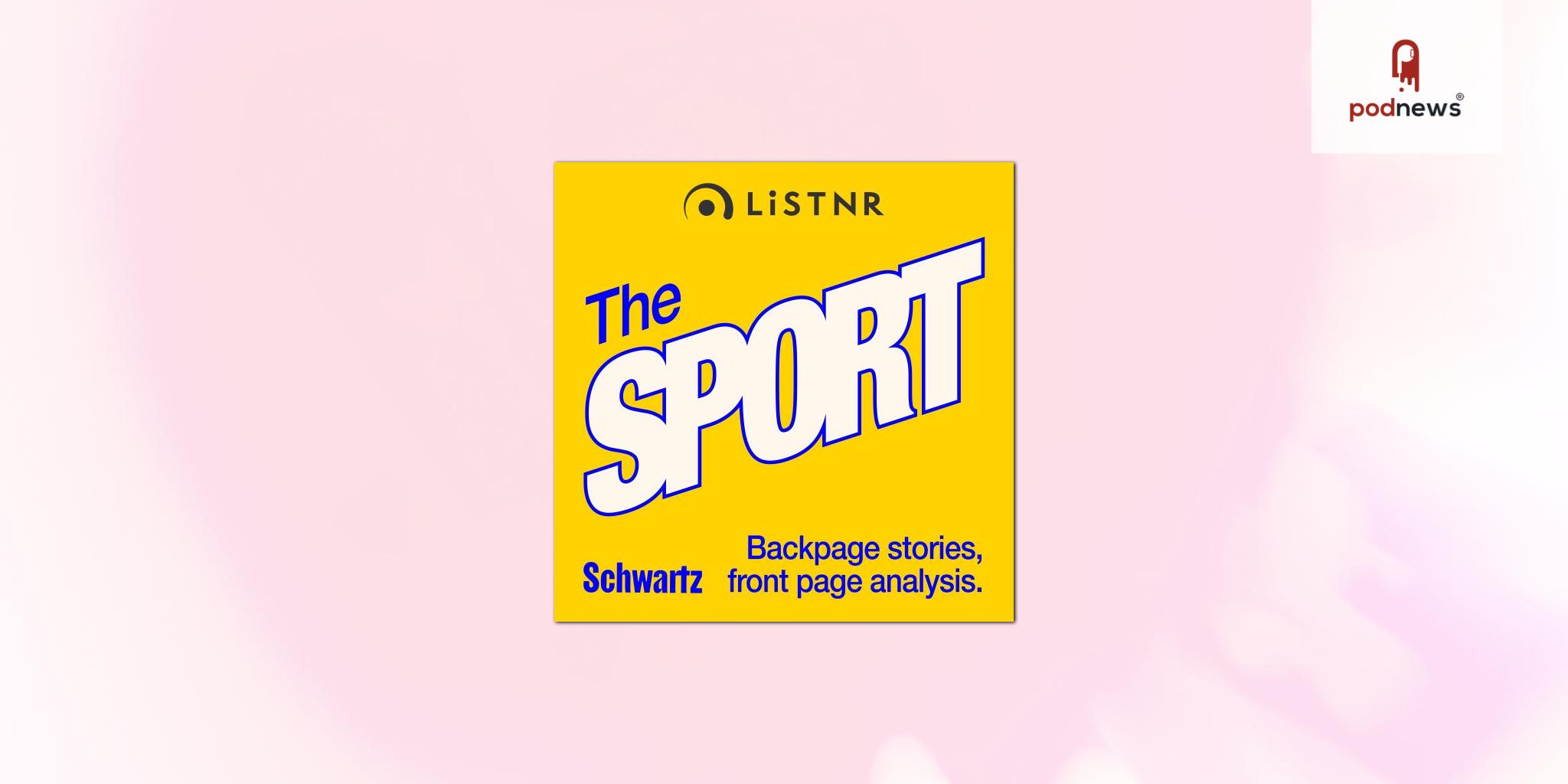 LiSTNR and Schwartz Media launch The Sport - a smart look at the biggest sports stories, every week
Press Release ·
LiSTNR and Schwartz Media today announced the launch of their first co-produced podcast, The Sport, a unique perspective on the way sport shapes society.
The Sport is co-hosted by award-winning sports presenter Sam Squiers and The Saturday Paper's associate editor Martin McKenzie-Murray who will delve into back page stories with front page analysis.
The Sport will take the big sports story of the week and break it open, investigating what it means, what is driving it, and what makes fans care so much. Covering all sports, it will put topics and people on the agenda and look deeper into the ways sport tells us about who we are.
"The Sport is an intelligent conversation between two people who know what a story is and how to break one, who know about sport and the characters that make it interesting. They are not afraid to draw analogies or conclusions, to ask hard questions, to treat sport like it really, really matters," SCA Head of News and Information, Melanie Withnall, said.
"It's for people who love sport but feel excluded from the usual conversations in the media. SCA's long history of sport broadcasting makes it the perfect partner for Schwartz Media as we take a fresh look at sport and society. It's been an exciting collaboration and we're delighted with the result."
Schwartz Media editor-in-chief, Erik Jensen, said: "Working on this show has a been pleasure. Sam and Marty approach sport with rigour and friendly insight. Listening to them, it's as if the best commentators in the sport have come home to sit next to you on the couch while you watch the game. They make the invisible visible and find the character and the complexity in everything they cover."
SCA and LiSTNR provide advertising sales representation for Schwartz Media's no. 1 news podcast 7am and LiSTNR has recently launched The Politics Podcast and news shortcast Post: News in Five based on Schwartz Media content.
The Sport is available from today and every Wednesday on LiSTNR and all podcast platforms.
About The Sport hosts
Sam Squiers is an award-winning sports journalist, a presenter for Fox Sports News and the host of the LiSTNR podcast On Her Game with Sam Squiers. Over the course of Sam's career she's been a strong advocate for women in sport. In 2014 she founded the platform Sportette, which grew to be a leading think tank on women's sports. In 2020, Sam's children's book Princesses Wear Sneakers was released in Australia and has since been published in the UK as Princesses Wear Trainers. Sam is also a Women's Professional Golfers Association (WPGA) Tour board director and a mum to her own little girls Imogen (Immi) and Elle.
Martin McKenzie-Murray is The Saturday Paper's associate editor, where he writes the sports page. He is a two-time Walkley Award finalist, and winner of the Melbourne Press Club's Quill award for commentary. Before joining Schwartz Media, he worked as a teacher, speechwriter, Age columnist, and adviser to the chief commissioner of Victoria Police. His first book, A Murder Without Motive: the Killing of Rebecca Ryle, was shortlisted in the Ned Kelly Awards for crime writing.
Listen
This is a press release which we link to from Podnews, our daily newsletter about podcasting and on-demand. This is reprinted verbatim; we may rewrite headlines and descriptions.
This page contains automated links to Apple Podcasts. We may receive a commission for any purchases made.