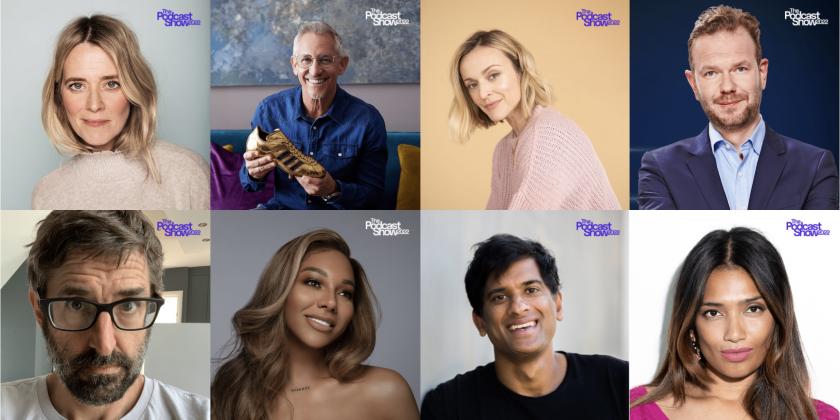 The Podcast Show London announces first wave of content sessions with industry giants and global talent
Press Release · London, UK ·
The Podcast Show 2022 is excited to announce its first wave of content sessions across two days at London's Business Design Centre on 25 & 26 May.
The new international breakthrough podcast festival is on a mission to bring together the audio and broadcast worlds to learn, do business and network with global industry leaders. The Podcast Show 2022's Lead Partners are Spotify and Amazon Music. YouTube is the latest Official Partner to join, sitting alongside Acast, BBC Sounds and Global. Full partner list available here.
Open to industry professionals, independent podcast creators, business leaders, emerging talent and fans alike, the event will host over 350 speakers, 150 in-person panels, brand activations and networking opportunities.
There will be a wide range of talks to fit attendees at every stage in their careers, whether just starting out or seasoned professionals. Panels include:
Wednesday 25th May
Creating an investigative hit with Amazon Music
Join Wondery, Tortoise and What's The Story Sounds for a panel discussion on how to create an investigative hit
Acast's 'Getting paid to podcast with Football Ramble'
How to make sure your podcast is set up for monetisation
Acast Keynote: Ross Adams (CEO) & Guests
'Open for Business & Open for Creators', followed by conversation with Fearne Cotton (Happy Place), Gary Lineker (Goalhanger Productions) and Lizzy Pollott (Acast's SVP Marketing Communications & Brand)
Sony Music Entertainment: Kermode & Mayo in conversation
Leading film critic Mark Kermode and iconic broadcaster Simon Mayo talk about their new twice-weekly podcast Kermode and Mayo's Take, as well as the secrets of their two decade partnership in sound
Representation in Podcasting with Amazon Music
In this session, Craig Strachan (Head of Podcasts, Europe/ANZ) will be joined by special guests to discuss the importance of diverse voices and representation in podcasting
The Evolution of Podcast Advertising
Join to hear how Spotify is reimagining what's possible for advertising in this uniquely powerful and intimate medium - through innovations such as Streaming Ad Insertion and much more
Global's The Power of Podcasts: How a spark of an idea ignites a new show with Best Friend Therapy's Elizabeth Day and Emma Reed **Turrell
The pair disuscss their new podcast, turning conversations into powerful podcasts with the help of Global and building a community around a conversation
In Conversation: Jonathan Wall (BBC Sounds, Controller) and Anya Grundmann (NPR, Senior Vice President for Programming and Audience Development)
Discussing the importance of public service content in the podcast space
Going Global with Amazon Music and Wondery
In this session, dive deep into how Wondery and Amazon Music are reaching global audiences and creating localized content
Empowering female voices in podcasting with Luanna and Mother Pukka
Featuring Anna and Luisa from LuAnna, Anna Whitehouse from Mother Pukka, this session will celebrate strong female voices in podcasting, explore how podcasting has empowered female voices – and what the world can do next
This year's inaugural guest curators are the award-winning My Dad Wrote A Porno trio, Alice Levine, Jamie Morton and James Cooper. Together, they have curated a special programme on 25th May, including:
Interview the Interviewer with Alice Levine & Louis Theroux
Alice Levine talks to legendary interviewer Louis Theroux who gives his experience on the great and the good he's had in conversation
What is it about this medium that has people sharing some of the most intimate moments of their life? with guests Marvyn Harrison from Dope Black Dads, _Griefcast's Cariad Lloyd and Lauren Mahon from You, Me and The Big C.
How the most successful news podcasts cover the biggest stories in unique ways
In conversation with Dino Sofos (Founder of Persephonica and Creator of BBC's _Brexitcast, Newscast and Americast) and Nicole Jackson (Head of Audio at Guardian)
The Story of Making My Dad Wrote A Porno a Household Name
From first airing in 2015 to live shows at the Sydney Opera House, Miranda Sawyer (The
Observer's audio critic) talks to the hosts about lessons learned along the way
Thursday 26th May
In Conversation with The Receipts
Exploring their exclusive partnership with Spotify and how they've continued to use their podcast to grow their loyal fanbase
Sangeeta Pillai (host of Masala Podcast and winner of Sound Up 2020, Spotify's long-running programme supporting underrepresented voices in podcasting) and Munroe Bergdorf (activist and host of Spotify Original podcast, The Way We Are with Munroe Bergdorf)
Keynote: A Conversation with Jen Sargent, CEO, Wondery Wondery CEO, Jen Sargent will discuss how podcasts are changing how we listen, learn, and connect with one another

Acast: Using spoken word to create universes with the Rusty Quill Network Learn how the power of spoken word and clever sound design can create a truly cinematic listening experience

The Power of Creative Collaboration: Giovanna Fletcher (Happy Mum, Happy Baby) and Gabby Logan (The Mid•Point) with Holly Bott (Managing Director, YMU Entertainment)

Global: Cutting through the noise with honest conversations with Full Disclosure's James O'Brien and Hunting Ghislane's John Sweeney James O'Brien interviews renowned investigative journalist John Sweeney about fuelling honest conversations with the freedom of commercial broadcasting and how Global was the perfect partner

Quality on a Budget Tips and tricks from experts on getting the best production values, even if you're starting out on a shoestring

Spotify: Reimagining the Future of Podcasting with Anchor Showcasing creation, engagement and monetisation tools to support creators and take their storytelling to the next level

Expand Your Brand Reach with Podcast Advertising Join Declan Moore (Head of International, Wondery), Ruth Fitzsimons (Podfront UK) and special guests in this session to hear the new ways podcast advertising can reach your audiences

Strategy and Creators with Clubhouse's Steph Simon

How to Build a Community Around Your Podcast with Patreon
Other podcast talent participating in the day time show includes The Rugby Pod, RedHanded, Brown Girls Do It Too and Fortunately… with Fi Glover & Jane Garvey.
The Podcast Show 2022 is thrilled to unveil YouTube as an Official Partner. As Official Partners, YouTube will present the 'Talking Podcasts' Stages at The Podcast Show 2022. YouTube will facilitate conversations with Podcasters who have found success on YouTube, while also leaning on other platform experts to help delegates understand best practices and the various podcast trends emerging on and off-YouTube.
The latest schedule is now available via thepodcastshowlondon.com with even more announcements coming soon.
The Podcast Show 2022 LIVE
In addition to the day time activities, The Podcast Show 2022 organisers have partnered with SJM Concerts to present The Podcast Show 2022 LIVE by night.
From 23 - 29 May, the public can enjoy their favourite podcasts in venues across London as part of a week-long series of 20+ live events.
Today, another wave of world-class shows have been announced, including:
Kermode and Mayo's **Take - Tuesday 24th May at London's Union Chapel

**_Exactly. with Florence Given - Thursday 26th May at London's Business Design Centre

BBC Sounds' PRESSED **with Mariam & Adeola -_ Wednesday 25th May at London's Business Design Centre
Tickets on sale 10am Friday 8th April at thepodcastshowlondon.com
These shows sit alongside the previously announced Fearne Cotton's _Happy Place which has only final tickets remaining, plus The Guardian's Comfort Eating with Grace Dent; RedHanded; Wondery's British Scandal; Spotify Exclusive podcast The Receipts; The Rick Shiels Golf Show & BBC Radio 5 Live's Elis James and John Robins**.
Introducing 'Brands Works' in association with Campaign Magazine
'Brands Works' in association with Campaign Magazine will be a networking centre-piece at The Podcast Show 2022 across 25 & 26 May. This will be space for brands and advertisers to meet with the podcasting industry, discuss the benefits of branded podcast content and help set up future business. More information on the line-up and activities to be released soon.
Attendees can also expect unrivalled international networking opportunities with executives and decision makers from the UK and across the globe, offering a chance to be face-to-face with some of the biggest global organisations in the podcasting world, all showcasing many aspects of their business at the show with activation stages and more. Brands confirmed include Spotify, Amazon Music, Acast, BBC Sounds, Global, Wondery, Sony Music Entertainment, Audioboom, Anchor, Megaphone, Podnews, IAB UK, Audible, Audioboom,The Guardian, Podfront, Simplecast, Adelicious, Crowd Network, PRX, Campaign Magazine and Broadcast.
The Podcast Show 2022's schedule and tickets available now
This is a press release which we link to from our daily newsletter about podcasting and on-demand. This is reprinted verbatim; we may rewrite headlines and descriptions.