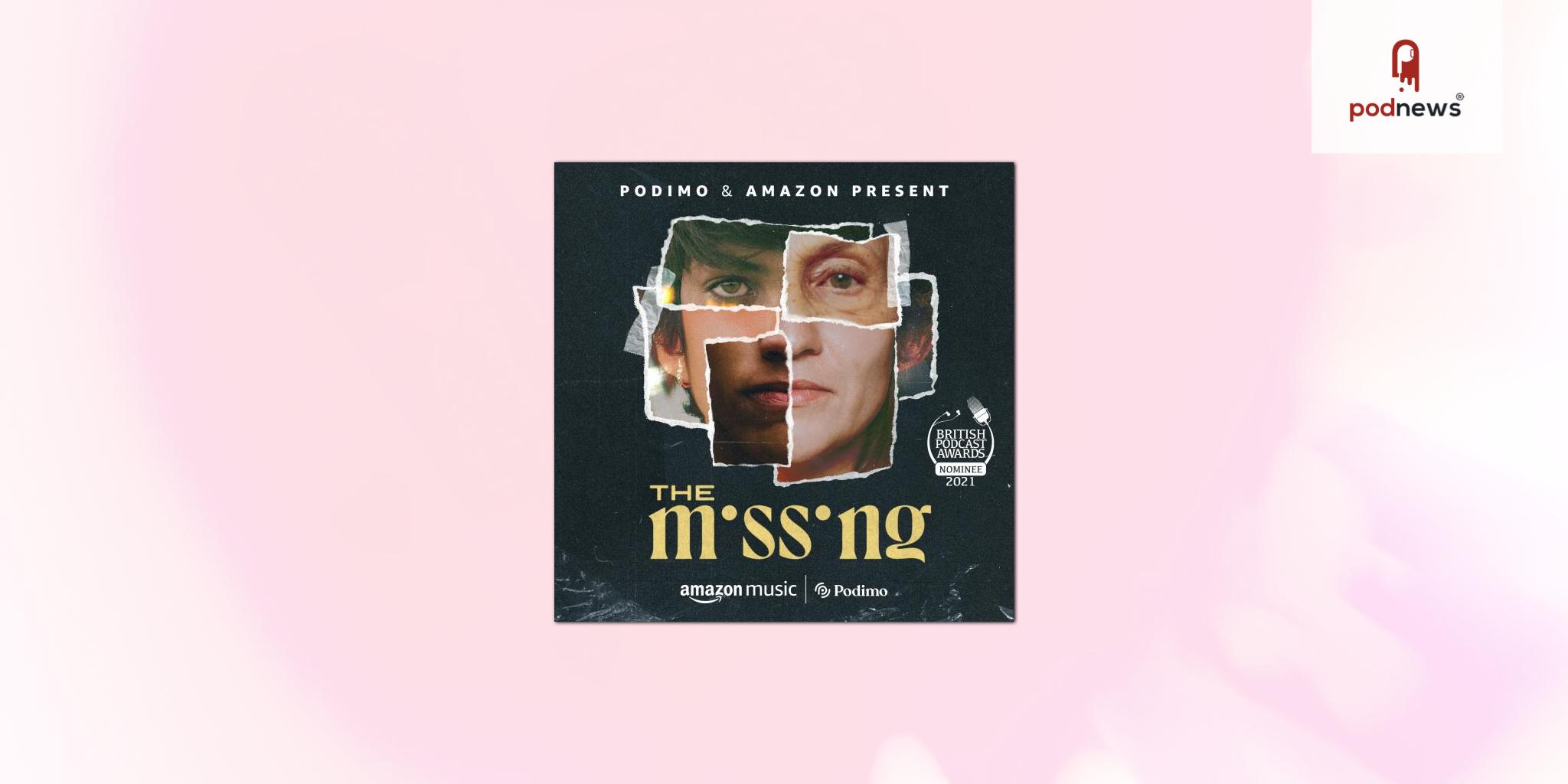 Third season of true crime podcast The Missing launches on Amazon Music
Press Release · · Updated
Amazon Music today announces the entire third season of The Missing, hosted by journalist and broadcaster Pandora Sykes, and supported by charities Locate International and Missing People, will be available to stream exclusively from Friday 14th January. Each episode in the 10-part series breaks down the case of a long-term missing person, and gives listeners the opportunity to join the conversation and offer new information to aid the search.
Following the critically-acclaimed first two seasons produced by Danish podcast subscription platform, Podimo, and What's The Story? Sounds, all episodes of season three will be available to binge exclusively on Amazon Music from Friday 14th January, with weekly episodes available on all other podcast services.
Nominated for Best True Crime Podcast at the 2021 British Podcast Awards, the series includes interviews with family and friends explaining the tough reality faced when a loved one goes missing; the unanswered questions, the fight to generate vital press coverage to drive awareness and the desire to keep hope alive for new information. Crucially, the podcast aims to appeal directly to listeners, encouraging them to join the search in the hope that someone listening has a missing piece of the puzzle.
The Missing is created in collaboration with two incredible organisations; Locate International and Missing People. Locate International is run by a team of ex-detectives and volunteers who re-investigate long-term missing person cases and run an online forum which podcast listeners can contribute to. Missing People is a charity which supports the families of those who go missing in the UK.
The first series of 'The Missing' entered the UK podcasting charts at Number One in true-crime and Number Two on the Apple UK podcast chart, receiving widespread critical acclaim from the likes of Harper's Bazaar, The Observer, The Sunday Times, The Daily Mirror and Stylist. As a result of awareness raised by the podcast, Goldsmith's University has now assigned a specialist team to investigate the case of missing mother Lana Purcell, and a former police detective is currently working with the police to explore a viable theory put forward by listeners in the case of Suzy Lamplugh.
Steve Shepherd, CO-Director of Locate International said; "Raising awareness of these cases is a crucial part of our work – there are over 5000 long-term missing people in the UK and many receive little or no publicity. This podcast allows us to give these cases a new push, and to deploy our specialist investigators into following up new leads. We really do believe that every one of these cases could still be solved."
Kate Graham, Communications and Campaign Director for Missing People added; "At the charity Missing People, we support thousands of people who have been affected by a disappearance. Sharing public appeals can be a really important way of getting sightings or information from the public to help bring a missing person back to their family. This podcast allows some of these stories to be told in detail – and to show the impact that these cases can have on the friends and loved ones who are left behind, searching for answers."
Podcast host, Pandora Sykes, added; "I'm so pleased that The Missing is returning for a third season, and more true stories can be featured. The cases are heartbreaking, and the stories told by the family members and loved ones are so important. It's an honour to be able to bring them to audiences and hopefully make a difference."
Craig Strachan, Head of Podcasts EU for Amazon Music said; "The Missing is not only a riveting podcast that takes listeners on the journey with family members and detectives as they search for answers, but an incredible tool that could help find the missing pieces of the puzzle to solve the case of a long-term missing person. I'm looking forward to listening to all of season three on Amazon Music from Friday 14th January."
Sophie Ellis, Creative Director for What's the Story? Said; "We're thrilled to be releasing a new season of The Missing with Amazon Music after our two-season run with Podimo. The opportunity to shine a light on these stories, many of which are under-reported and largely unknown, gives this series a real purpose. We're so grateful to the families who have shared their stories and look forward to them reaching an even larger audience in 2022."
Amazon Music listeners can find The Missing by saying, "Alexa, play The Missing podcast" in the Amazon Music app for iOS and Android and on Alexa-enabled devices. The Missing is the latest Amazon Original podcast from Amazon Music, following the launch of the Ask Ovie with Ovie Soko, +44 Podcast hosted by Zeze Millz and Sideman and Three Little Words with John Bishop and Tony Pitts. Podcast fans can listen for free on Amazon Music, all they need is an Amazon account and the Amazon Music app.
To learn more or if you have information on any of the cases covered in the podcast, please visit http://TheMissingPodcast.org
Listen
This is a press release which we link to from our daily newsletter about podcasting and on-demand. This is reprinted verbatim; we may rewrite headlines and descriptions.
This page contains automated links to Apple Podcasts. We may receive a commission for any purchases made.