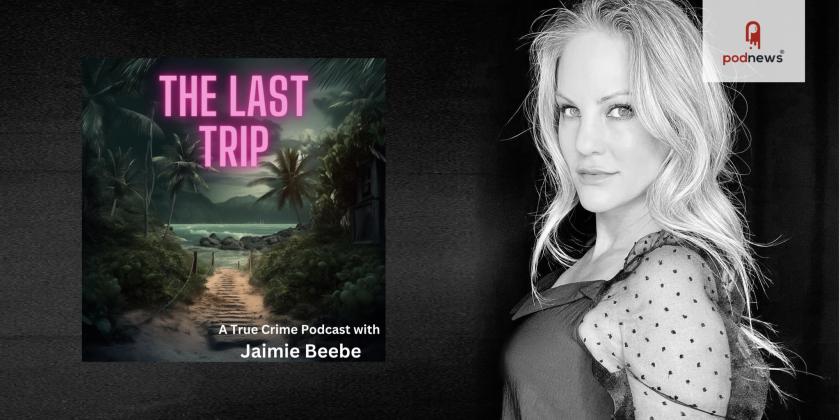 Jaimie Beebe, Co-Host of "Strictly Stalking," Unveils Riveting True Crime Travel Podcast, "The Last Trip"
Press Release · Los Angeles, CA, USA · via Jaimie Beebe ·
Jaimie Beebe, the dynamic co-host behind the wildly popular "Strictly Stalking" True Crime Podcast, is set to immerse listeners in a thrilling new venture: The Last Trip. This groundbreaking podcast dives into the chilling investigations of missing and murdered individuals who were living their best lives — while on vacation.
Embodying Beebe's dual passions for True Crime and Travel, "The Last Trip" offers a unique perspective shaped by her solo travels across the globe, providing valuable insights on staying safe in paradise.
In the gripping inaugural episode, "Oscar Suarez and Magdalena Devil: Barbados," listeners are transported to the serene beaches of Barbados, where a couple's dream vacation takes a haunting turn. Jaimie explores the mysterious disappearance of Oscar Suarez and Magdalena Devil, delving into captivating theories that surround this perplexing case.
Episode two, "Sister Eileen Christie: Austria," thrusts listeners into the heart of Austria's enigmatic landscape. Unpacking the perplexing case of Sister Eileen Christie, a nun who vanished without a trace, Beebe navigates through police theories and investigates whether foul play might be at the heart of this unsolved mystery.
Every Thursday, "The Last Trip" invites listeners to relive someone's final days in paradise, offering not only compelling true crime narratives but also travel tips, destination ideas, and how to stay alive on vacation.
To join the gripping investigations and discussions, listeners can follow "The Last Trip" on their preferred podcast platforms or join the conversation on Patreon.
About Jaimie Beebe
Jaimie grew up in the Midwest, eventually moving to Los Angeles to pursue a career in production working as a film & TV Casting Director. Making a name for herself in the entertainment industry, she's known for her fun personality, fashion statements, and walking red carpets like a pro. She's career driven and utilized her creativity to build her empire beyond the production world and into podcasting as well as creating a thriving bikini company called "The Boyfriend Bikini".
Being intrigued with True Crime from an early age, she uses her knowledge and voice to help victims and survivors tell their stories.
Jaimie currently hosts the extremely popular True Crime Podcast Series "Strictly Stalking", that she created and also produces. She splits her time between hanging out with her dog, traveling, and researching true crime. Making "The Last Trip" the perfect podcast to combine her favorite pastimes.
About "The Last Trip"
The Last Trip is a true crime podcast exclusively investigating missing and murdered victims that were living their best lives… on vacation.
Jaimie Beebe, co-host of the popular True Crime podcast "Strictly Stalking", brings together the two things she's most passionate about: True Crime & Travel. Through her own solo travels around the world she has a unique perspective on staying alive in paradise. Join Jaimie as she recreates someone's last days in paradise on The Last Trip.
Listen
This is a press release which we link to from Podnews, our daily newsletter about podcasting and on-demand. We may make small edits for editorial reasons.
This page contains automated links to Apple Podcasts. We may receive a commission for any purchases made.