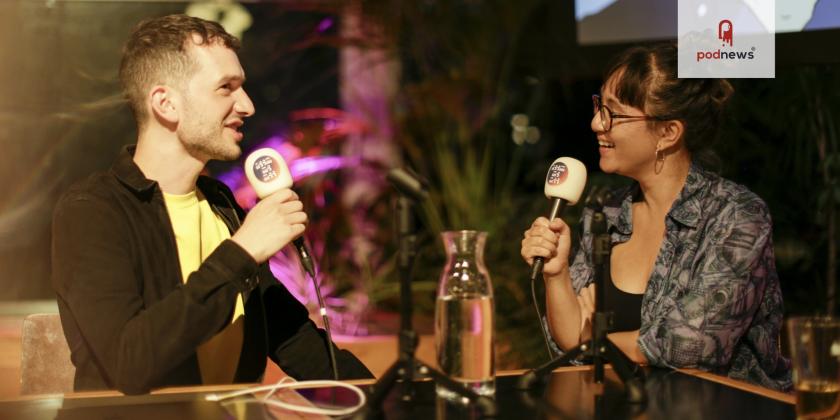 The Europeans: 5 years of the podcast spanning a continent
Press Release · Paris, France ·
The Europeans, the award-winning independent podcast about politics and culture around the continent, is celebrating its fifth birthday this November. Co-hosts Katy Lee and Dominic Kraemer will be marking the milestone with interviews with major European leaders.
"We started this podcast from our bedrooms in Paris and Amsterdam in 2017," says Lee. "Against the odds, we've managed to grow it into a home for underreported stories that don't get much oxygen in the media, especially in a world where coverage of Europe focuses on France, Germany, the UK and not much else."
"We started the show as a response to Brexit, really," says Kraemer. "As two Brits living in Europe, we felt like this image of Europe in the UK media as 'a place where boring things happen' had contributed to the result of the vote. Living on the continent, we knew that Europe was anything but boring. It's this amazing, complicated place with messy politics and wonderful culture."
"We also felt like it was very weird how many of us living here in Europe have a better understanding of US politics than what's happening in countries right nextdoor," adds Lee. "We wanted to fix that by helping to demystify European politics, which can sometimes seem quite intimidating and impenetrable."
Lee, a Paris-based reporter, and Kraemer, an opera singer living in Amsterdam, are available for interviews about how they built a loyal following for the podcast in Europe and beyond – and the lessons they've learned along the way.
The podcast now has a four-strong team of producers in Paris, Amsterdam and Warsaw. The show has won praise from the likes of the New York Times, the Financial Times, the Observer and Buzzfeed for its lighthearted approach to reporting seemingly dull European topics.
"Over the years, we've interviewed everyone from politicians and Olympic athletes to the voice of Donald Trump on German television," says Kraemer.
"But as the show has grown we've been producing much more ambitious narrative podcasts, reporting on everything from the Hungarian far-right to illegal pushbacks of asylum-seekers on the Greek-Turkish border."
The show has just been nominated for the prestigious Prix Europa for 'Josh and Franco', the story of a father and son in southern Italy both coming out as gay, produced in collaboration with Are We Europe.
Listen
This is a press release which we link to from Podnews, our daily newsletter about podcasting and on-demand. This is reprinted verbatim; we may rewrite headlines and descriptions.
This page contains automated links to Apple Podcasts. We may receive a commission for any purchases made.