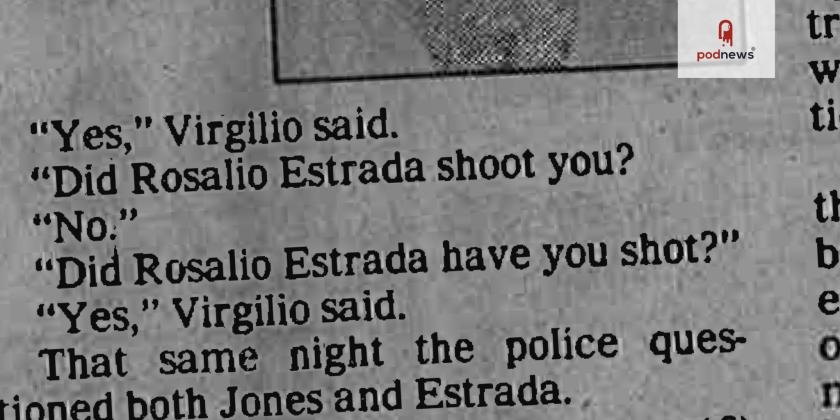 Sonoro and Tenderfoot TV release new podcast "The Estate" featuring unreported discoveries about murder case
Press Release · Stockton, CA, USA ·
Sonoro and Tenderfoot TV launch The Estate on September 13, 2023, a new true crime documentary podcast that follows host Alex Estrada as he tries to solve a family mystery: Was his dad involved in a murder?
In the early evening on New Year's Eve, in 1973, a 34-year-old man was found bleeding to death on a downtown street in Stockton, California. In his dying moments, he named the men behind his murder: Calvin Jones and Rosalio Estrada. 50 years later, Alex Estrada, Rosalio's son, sets off to find out if his father did it. "The Estate," which features seven episodes, is a podcast that blends true crime and family memoir to look at the complicated legacy we are left with when people die.
"Every family has a story like this: a dark chapter that goes unspoken or unsaid," said Estrada. "Though I created this show to learn more about my father, my journey led me to unsettling discoveries about the justice system in San Joaquin County and its consequences on Black and brown families. My dream is for The Estate to push others, particularly the federal government, to scrutinize police and prosecutorial practices from the 1970s and 1980s and revisit convictions from that era. At the very least, I hope it encourages listeners to explore their own complicated family histories before they are forgotten or lost."
This news follows the announcement of Tenderfoot TV's launch of 'Dear Alana' and the expansion of their slate of podcasts, including "The Estate."
"Telling powerful and profound stories will always be at the center of what we create, and this slate embodies the repertoire of content that focus on new innovative ways to tell these stories from narrative storytelling to talk format," Albright said in Deadline earlier this summer.
Similarly, Sonoro impresses upon the importance of telling real stories in this industry. "Sonoro's mission is to empower global Latinx creators around the world," adds Sonoro co-founder, Camila Victoriano. "We are proud to have worked with Alex to tell his family's story, and the story of 1970's Stockton, in The Estate, a poignant narrative series that furthers that mission."
With the help of journalist and producer Angelina Mosher Salazar (of Gimlet Media, The Futuro Media Group, and Sonoro), Estrada brings his years of experience as an attorney with the Office of Special Investigations at the New York City Department of Education to the project. Estrada is represented by Daniel Perry at Buchwald and is the story editor for Disney's Hamster & Gretel. His previous writing credits include Univision's Flama Digital Comedy Network and the Upright Citizens Brigade Theater in New York City. He resides in Brooklyn.
Listen to the trailer on August 30, 2023, followed by the first two episodes on September 13, 2023 on all streaming platforms. "The Estate" publishes once a week on Wednesdays through October 18, 2023.
Listen
This is a press release which we link to from Podnews, our daily newsletter about podcasting and on-demand. We may make small edits for editorial reasons.
This page contains automated links to Apple Podcasts. We may receive a commission for any purchases made.