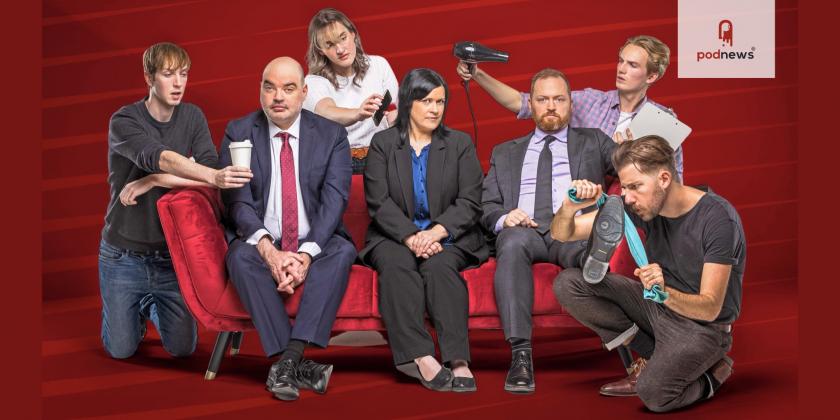 Industry hysteria over The Chaser Report podcast hits 3 million listens
Press Release · Sydney NSW, Australia ·
It's amazing what can happen in a year. In less than 12 months The Chaser Report delivered its 3 millionth listener and secured a place in the Top 30 Australian podcasts in all genres, and Top 10 for Australian comedy podcasts.
Hosted by Charles Firth, Dom Knight and Gabbi Bolt, The Chaser Report takes a review of the day in news. With a ruthless recording schedule, the team have been delivering an AM and PM show to meet listener demand.
"Oh, is that all?" Firth dismissed upon being told of the achievement. Knight agreed that the number is, "Hardly worth getting out of bed for." Bolt was unavailable for comment due to being preoccupied by selling out all tickets to her debut Melbourne comedy Festival show I Hope My Keyboard Doesn't Break.
Though this massive listenership is a result of tireless effort, The Chaser Report did receive a notable surge in listeners at the start of the year due to their international-headline-making stunt posing as The Joe Rogan Experience, and their War Stories series which saw the return of classic Chasers Andrew Hansen, Chris Taylor, Craig Reucassel, and Julien Morrow to reminisce on their days as Australian media's most wanted.
To celebrate hitting the same milestone Hamish & Andy achieve every hour, The Chaser Report team have decided to take a 2-week break while they recover from hangovers make preparations for their Election Edition limited-run, which will provide satiric coverage of the 2022 Australian Federal Election with stunts, sketches, and songs.
The Chaser Report will make their return to podcast feeds on April 26th, where they happily anticipate being listened to another 3-million times by Peter Dutton's lawyers.
Listen
This is a press release which we link to from our daily newsletter about podcasting and on-demand. This is reprinted verbatim; we may rewrite headlines and descriptions.
This page contains automated links to Apple Podcasts. We may receive a commission for any purchases made.