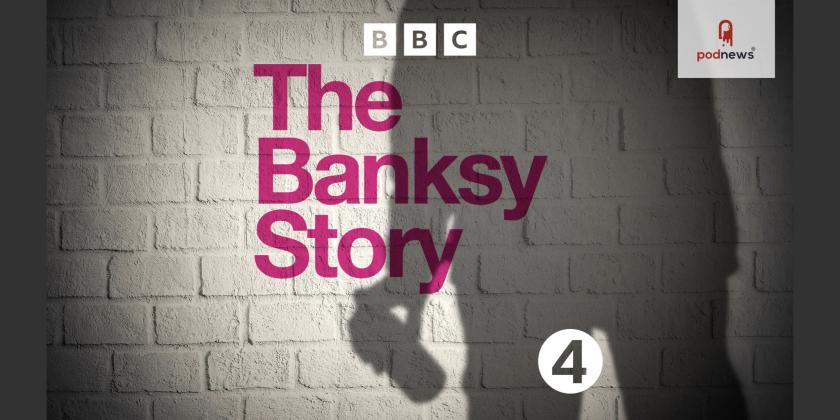 Ex Banksy employee reveals never heard before stories about the artist in new BBC podcast The Banksy Story
Press Release · London, UK · via BBC ·
With Banksy's first ever retrospective opening at the Glasgow Gallery of Modern Art last month, a new 10-part series for BBC Radio 4 and BBC Sounds, The Banksy Story, hears exclusively from an ex-employee of Banksy's infamous Picture On Walls print shop, who worked closely with the artist during a critical time in his career and recounts fascinating behind the scenes stories.
Producer and presenter James Peak isn't an art critic, or even a journalist. He's a Banksy super-fan, and in this series he gets closer than ever before to Banksy's secret world to tell the story of the graffiti kid who made spraying walls into high art, the anonymous figure who became a household name, the cultural phenomenon who bites the hand that feeds him.
After tracking down Steph Warren who worked at Pictures on Walls just as Banksy was about to explode into the mainstream, James spent a year convincing Steph to tell her story. Steph reveals behind the scenes stories from his tremendous rise, how he got the elite art world on his hook, how he dealt with the increasing pressure of his notoriety, his immense capacity for charity, the way he administrates this secret world, and much more.
For the launch of Banksy's landmark 2005 Crude Oils show in London, which featured live rats running around, Steph recalls seeing Banksy's father discover who his son was for the first time; "I remember this one guy stood away from the crowd, then one of the guys helping out in the background said that's actually Banksy's dad. I knew that Banksy had told his parents that he was a painter and decorator, because we'd laughed when they'd had to do a show in Vienna, his parents had asked 'did they not have painters and decorators in Vienna?'. And so for the Crude Oils show, he'd revealed himself to his parents. And his dad had come down to see, and was looking completely open mouthed at what his son had created. And I sort of brought him in and showed him the work… I think he was just completely astounded at what was transpiring, you know? It was a real buzz, you couldn't walk past that installation without being aware of it."
Between 2003 and 2005, Banksy walked into some of the world's most famous museums and galleries, placing some of his artworks on the walls. Following a string of stunts in New York including the Metropolitan Museum, someone claiming to be Banksy gave an interview with US radio during which we hear what could potentially be the artist's voice for the first time – a soft southern accent with an occasional Bristolian twang – describing themselves as a 'painter and decorator'. During the five minute recording, they display a mischievous sense of humour, explain why and how they pulled off the museum stunts and in doing so, subtly satirise the art world.
They say; "I think it's testament to the frame of mind most people are in when they're in a museum really. Most people don't really notice things and let the world go by… For instance in the Met, they hung a Henri Matisse painting upside down for 42 days I believe it was, until someone told them it was round the wrong way. I was aiming for at least 42 days, but unfortunately didn't get that far."
Whether it is Banksy's voice or just another in a long line of misdirection tactics, The Banksy Story charts the elusive artist's compelling journey from street artist to global phenomenon, speaking to contributors who were in the room where it happened and featuring analysis by connoisseurs including author and cultural historian John Higgs (The KLF: Chaos, Magic and the Band who Burned a Million Pounds).
The Banksy Story is available as a boxset on BBC Sounds from 17th July and broadcast week days at 13:45 on BBC Radio 4 from 17th July.
Written, Produced and Presented by James Peak
Sound & Commentary by Duncan Crowe.
Music by Alcatraz Swim Team & Lilium
Series Mixing by Neil Churchill
Executive Produced by Philip Abrams
Commissioned by Daniel Clarke for BBC Radio 4 and BBC Sounds
With special thanks to Hadrian Briggs, Pete Chinn, Keith Wickham, Harriet Carmichael, Patrick Nguyen, John Higgs and Steph Warren
Listen
This is a press release which we link to from Podnews, our daily newsletter about podcasting and on-demand. We may make small edits for editorial reasons.
This page contains automated links to Apple Podcasts. We may receive a commission for any purchases made.