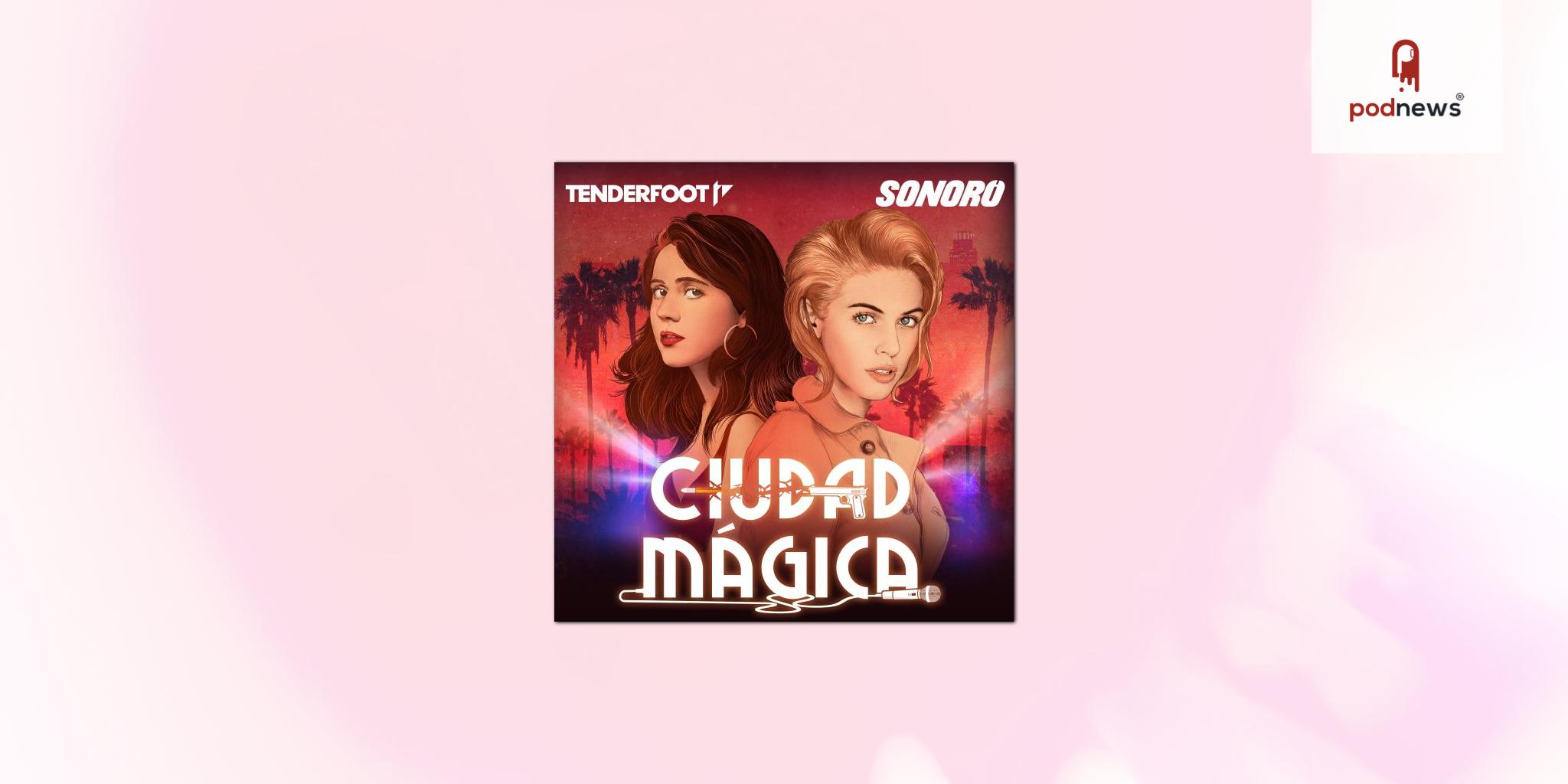 Tenderfoot TV and Sonoro Launch Multi-Language Slate of Shows for Global Audiences
Press Release · Atlanta, GA, USA ·
Tenderfoot TV ("Up And Vanished," "To Live and Die in LA") and Sonoro ("Toxicomanía," "Tejana") announce a multi-language slate of shows with the news of their first project, out today on all podcast platforms, titled "Ciudad Mágica," a scripted crime drama in Spanish starring actress Stephanie Cayo (Club de Cuervos) and actress/singer Tessa Ia (Narcos: Mexico).
Following Sonoro's success launching audio-first entertainment franchises and Tenderfoot TV's history of producing blockbuster true crime podcasts, the Sonoro and Tenderfoot TV partnership aims to deliver world-class content to Latinx audiences and beyond. The content will be a mix of fiction and nonfiction series – all focusing on the Latinx experience, both locally and globally.
With over 700 million downloads, Tenderfoot continues to expand their massive reach into Latin America alongside Sonoro, which has built the region's #1 podcast network.
"'Ciudad Mágica' is a great milestone because it's our first non-English podcast for Tenderfoot TV," says Tenderfoot Co-founder and President Donald Albright. "We're expanding the way we deliver content internationally and partnering with Sonoro allows us to elevate that content and work with diverse talent while breaking through language barriers to reach new markets."
Sonoro Co-founder Camila Victoriano also noted, "At Sonoro, we are producing award-winning global content, in fiction and nonfiction. Our partnership with Tenderfoot extends the reach of our nonfiction projects while also experimenting with new ways to tell stories anchored in true events. Our first project together, 'Ciudad Mágica,' is a noir-inspired and music-driven crime drama that audiences will enjoy around the world."
"Audio is a global medium and this unique alliance between these two incredible companies, Tenderfoot and Sonoro, will result in highest quality content that will be embraced by audiences everywhere," said Oren Rosenbaum, Partner and Head of Audio, UTA.
Next up on the slate is "The Estate," an investigative nonfiction series that offers a uniquely Latinx perspective on global issues of incarceration and political corruption. Additional show titles for 2023 will be announced at a later date.
"Ciudad Mágica" (August 8)
"Ciudad Mágica" is a six-episode Spanish-language noir thriller set in the vibrant city of Miami. It follows the story of a young woman who goes missing after moving there to pursue a singing career, and the journalist who will stop at nothing to find the truth. Featuring an all-star cast led by Stephanie Cayo and Tessa Ia.
"The Estate" (Early 2023)
A serialized true-crime documentary podcast following host Alex Estrada as he tries to solve a family mystery: Was his dad involved in a murder? Equal parts murder mystery, political conspiracy and family memoir, "The Estate" is an expansive and timely investigative series that gets to the heart of the most hot button issues affecting America's Latinx and Black communities.
UTA represents Sonoro and Tenderfoot.
Listen
This is a press release which we link to from Podnews, our daily newsletter about podcasting and on-demand. This is reprinted verbatim; we may rewrite headlines and descriptions.
This page contains automated links to Apple Podcasts. We may receive a commission for any purchases made.