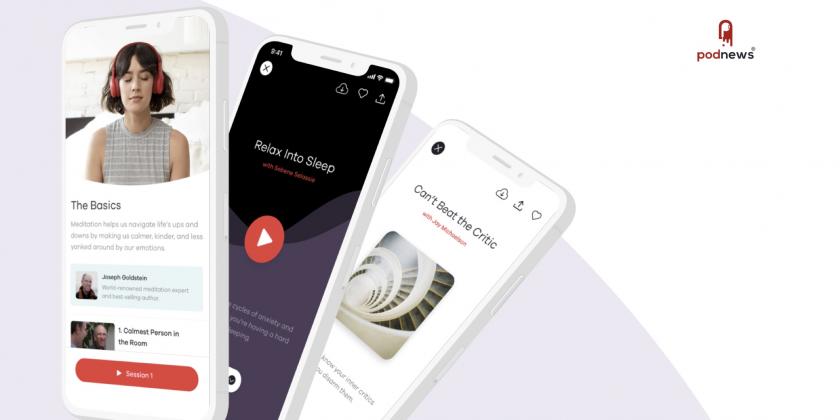 Ten Percent Happier expands to launch its own podcast studio
Press Release ·
Building on the momentum of its current platforms and success reaching various audiences during times of need throughout the pandemic, Ten Percent Happier is expanding to launch its own podcast studio, developing a wide range of shows that will explore the intersection of everyday life and mindfulness.
With the overwhelming success of the Ten Percent Happier Podcast throughout COVID-19, the brand saw an opportunity to expand and better serve its audience while reaching new consumers with the benefits of meditation. Under the leadership of Jen Poyant, formerly of WNYC Studios and Stable Genius Productions and Kimmie Regler, formerly of Gimlet Media, the shows launched under Ten Percent Happier will continue the brand's work of helping consumers "do life better," providing listeners with a set of proven tools to help shift their perspective and improve their relationships. The new Podcast studio will include a team of 10 producers and editors, who will bring the shows to life.
"The podcast network at Ten Percent Happier will become a key component of the overall success of the brand. Our podcasts attract a diverse audience and cater to folks looking for more tools in their overall approach to their health and wellness. The shows will serve as a landing place for people curious about how meditation and mindfulness might help with the ups and downs that we all experience in our day to day lives. Our listeners then have the benefit of incorporating what they've learned with guided meditations and courses in Ten Percent Happier App," said Jen Poyant.
Childproof, one of the first shows launched by Ten Percent Happier's podcast studio, just released its inaugural episode. Hosted by Yasmeen Khan, the show will explore stories of the foundational relationships between parents and children and how to learn the skills of mindful parenting. Prior to joining Ten Percent Happier, Yasmeen was a public radio journalist for almost 15 years, serving successful stints at WNYC Radio in New York City, and North Carolina Public Radio. While at WNYC, her award-winning work included coverage of the New York City schools; youth and family life; and policing.
Ten Percent Happier's podcast studio will launch three new shows featuring a diverse range of hosts over the next six months. Show topics will touch many areas from emotions, to parenting, and meditation coaching, and will feature a number of different guests, and experts in various fields including psychology, science, meditation, sleep wisdom and history. In Spring of 2022, Ten Percent Happier will be launching More Than A Feeling, a new podcast hosted by Saleem Reshamwala that explores the stories and science behind the emotions we all experience, available on Apple and Spotify.
On what's next for Ten Percent Happier's podcast studio, Poyant shared, "the new slate of podcasts will feature beautifully crafted audio storytelling with original music by artists including Andrew VanWyngarden, Carolyn Packer Riggs and El Michaels Affair. Our goal is to partner with artists in order to create a fun, collaborative creative environment. We're seeking to serve a community of listeners interested in hearing meaningful and entertaining stories that relate to a desire to grow and create authentic connection."
Listen
This is a press release which we link to from our daily newsletter about podcasting and on-demand. This is reprinted verbatim; we may rewrite headlines and descriptions.
This page contains automated links to Apple Podcasts. We may receive a commission for any purchases made.