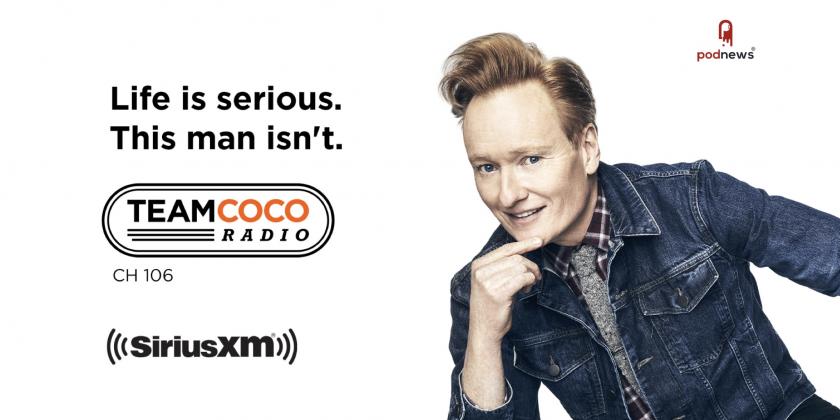 "Team Coco Radio," a New Comedy Channel Executive Produced by Conan O'Brien, to Launch Exclusively on SiriusXM
Press Release · New York, NY, USA · via SiriusXM ·
Today SiriusXM announced the launch of a new original comedy channel, Team Coco Radio. Executive produced by Conan O'Brien, the channel will feature exclusive audio content as well as select Team Coco podcasts, including the tremendously popular Conan O'Brien Needs a Friend. Team Coco Radio will debut on November 15 exclusively on SiriusXM channel 106.
Available 24/7, Team Coco Radio will be the home to Conan's unique combination of smart and silly comedy. All day long listeners will hear the biggest interviews and the funniest stand-up moments from Conan's iconic TBS show, as well as select Team Coco podcasts, including Conan O'Brien Needs A Friend, plus Inside Conan and Conan O'Brien Needs a Fan. Fresh commentary from Conan will also be weaved throughout the programming, as he recalls funny behind-the-scenes stories and other entertaining and insightful anecdotes.
"Finally, a use of satellite technology that in no way benefits mankind," said Conan O'Brien.
"Conan's wit and wisdom at a time when laughter is at a premium has never been more important. Conan 24/7 on Team Coco Radio is a 6-foot-4 boost to your day," said Scott Greenstein, SiriusXM's President and Chief Content Officer.
Team Coco Radio is also expected to roll out original programs, as well as events hosted by Conan, including musical performances.
In May SiriusXM announced that it had acquired Team Coco. As part of the transaction, Conan entered into a five-year talent agreement with SiriusXM under which he will remain host of his namesake podcast, which continues to be available widely and is produced by Team Coco staff.
Team Coco Radio (channel 106) is available to subscribers nationwide in their car and on the SXM App. The SXM App is available to subscribers on mobile devices and a wide variety of connected platforms in the home including smart speakers, smart TVs and streaming media players. Streaming access is included with all of SiriusXM's audio trials and most popular plans.
Listen
This is a press release from SiriusXM which we link to from Podnews, our daily newsletter about podcasting and on-demand. This is reprinted verbatim; we may rewrite headlines and descriptions.
This page contains automated links to Apple Podcasts. We may receive a commission for any purchases made.