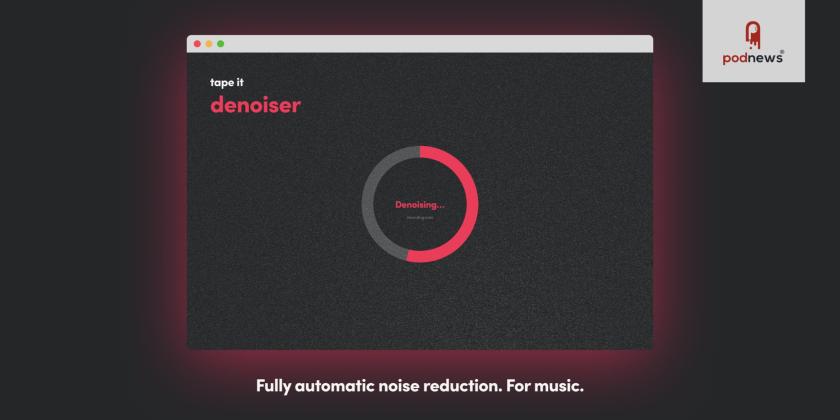 Tape It launches automated studio quality noise reduction AI for music
Press Release · Berlin, Germany · via Tape It ·
Background noise is one of the biggest headaches in audio recording: anyone who has ever used a microphone knows how difficult it is to deal with environmental noise and electrical interference. Before, you had to record in an expensive studio or use complex software that is time-consuming and difficult to use. This is about to change.
Today, music software developer Tape It released their free AI-powered Denoiser that automatically removes background noise such as hums and hisses. It produces studio-quality results on full songs, single instrument tracks, and field recordings — not just on spoken word. Tape It launched its Denoiser as a free web app and will later implement it into the company's flagship product, the Tape It iOS app, which helps musicians organize and record song ideas. This tool is part of a bigger strategy to develop tools that simplify recording for musicians.
"Everyone is excited about AI being creative," says Thomas Walther, CEO of Tape It. "We are excited about AI solving boring problems. We take care of background noise, so you can entirely focus on the creative parts and write more songs!"
Together with the launch, the company released an academic study with a comprehensive scientific listening test which has shown that the software's quality competes with - and sometimes even outperforms - industry-leading denoisers that usually require hours of adjustment and tweaking.
"Other denoisers either sound bad on music, or require expensive software that takes time and a lot of expert knowledge to use. Tape It just works."
The denoiser's main areas of focus are:
Immediate results that would otherwise require expertise and complex software
Accessibility by making it as simple as possible with just one slider to set the strength of reduction
Protecting the original sound by keeping instruments' and vocals' unique character with no harsh processing
Tape It Denoiser will be officially presented at the Audio Engineering Convention in New York from October 25th to 27th, and is available for free today on the website.
This is a press release which we link to from Podnews, our daily newsletter about podcasting and on-demand. We may make small edits for editorial reasons.