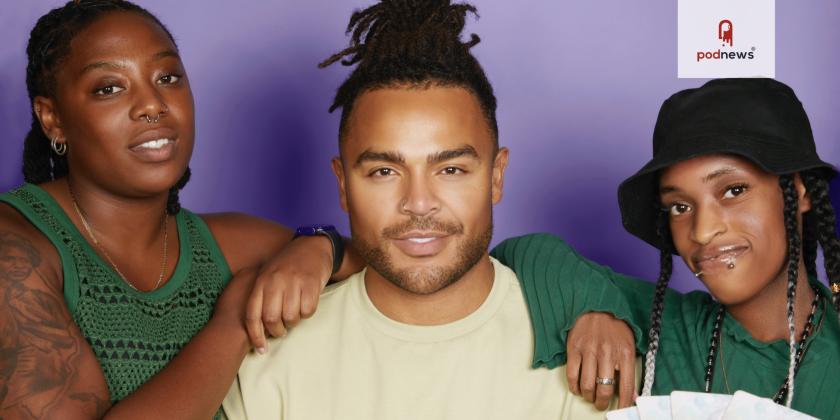 BBC announces first of its kind, astrology-based black queer dating podcast 'Swipe Your Sign'
Press Release · London, UK · via BBC ·
This morning (14th August) the BBC have announced a brand new and first of its kind, Black, queer dating podcast called Swipe Your Sign. The BBC 1Xtra podcast will see Geordie Shore's Nathan Henry and his Swipe Your Sign co-host, Ro Frimpong from the Two Two's Podcast, put their love lives into the hands of renowned Astrologist, Celestial Tree. Celestial will pair them with potential partners based on their star sign and astrological chart, and the podcast will launch on BBC Sounds on 19th August to coincide with UK Black Pride 2023.
Love knows no bounds, and now, with the launch of BBC 1Xtra's Swipe Your Sign Nathan and Ro are embarking on a cosmic journey to find their perfect match. Never before has there been a Black, queer focused dating podcast and this ground-breaking 12 episode series invites listeners to explore the intersection of astrology and dating by following the pair's series of blind dates with a diverse mix of potential partners, carefully chosen based on their zodiac signs. The personal stories and experiences from this group of young Black queer individuals from across the UK and beyond are also interwoven throughout.
Before each date, Nathan and Ro will sit down with astrology expert, Celestial Tree, to get an oracle card reading along with some expert analysis of their astrological charts before stepping into their blind date with a cosmic 'match'.
The paired couples will then be given 'getting to know you' style questions to ask each other as well some hypothetical dilemmas and dares. Everything from challenging heteronormative roles in queer relationships to whether you would ever date a friend's ex and biggest 'icks' will be covered. Following the dates, Nathan and Ro will break down their experiences with Celestial who will share feedback before sending them on to meet their next 'match'.
Born and raised in Darlington, Nathan Henry is an English television personality best known for his time on Geordie Shore. Since starting Geordie Shore back in 2015, Nathan has appeared in a variety of other reality shows including; The Challenge, Celebs GoDating, I'm a Celebrity…Get Me Out of Here Australia.
Ro Frimpong is the co-host and co-creator of the Two Two's podcast, which aims to bridge the gap between the queer community and cis gendered straight people. Ro hosted the main stage of UK Black Pride in 2022 and is well-known as a positive and impactful figure in the Black Queer community.
The first episode of Swipe Your Sign will launch on August 19th on BBC Sounds and then drop each week on Mondays for 12 weeks. Confirmed guest 'matches' include R&B singer Emmavie, rapper Mista Strange and I Kissed a Boy's Subomi Onanug.
BBC 1Xtra is also taking over the main stage at UK Black Pride on August 19th at 4pm with a live version of Swipe Your Sign. Ro and the Swipe Your Sign team will be looking for audience participants to take part in live 'dates' and challenges on stage.
Nathan Henry said: "I'm actually honoured to have been a part of something so exciting and something so new and refreshing. It's the first podcast of its kind and it's going to be really interesting hear what people think of it. I know this may sound bias but out of all the podcasts I've ever done, this was the most fun to record! It's so authentic and the topics we discuss are things I am genuinely so passionate about".
Ro Frimpong said: "'What star sign are you?' Is the starting dialogue for many queer love stories! I am so honoured to be co-hosting a podcast that has a theme that has never been done before but loads of people would heavily relate to. It's giving SAUCY!"
Celestial Tree: "Astrology has become such an integral part of the queer dating experience. That's why Swipe Your Sign has definitely come at just the right time! I've absolutely loved bringing my knowledge and passion for astrology to this brand-new podcast, it's a dream come true!"
Listen
This is a press release which we link to from Podnews, our daily newsletter about podcasting and on-demand. We may make small edits for editorial reasons.
This page contains automated links to Apple Podcasts. We may receive a commission for any purchases made.