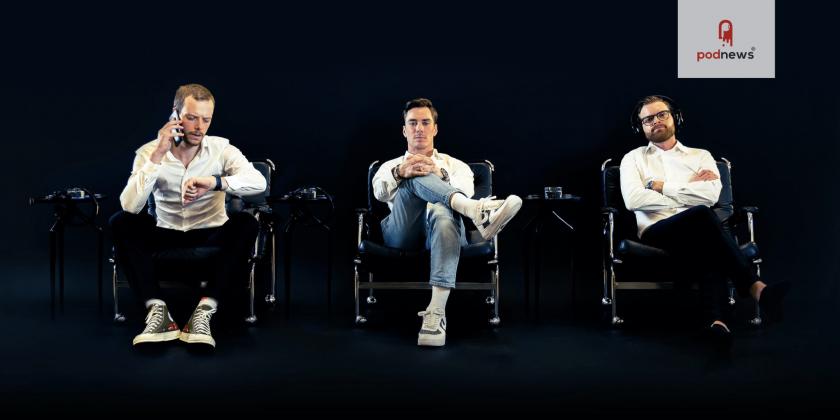 Acast reveals the winner of Sweden's biggest podcast competition, Poddnästet
Press Release · Stockholm, Sverige ·
Podcast company Acast and comedy trio JLC from Mellan Himmel och Jord, teamed up for Sweden's biggest podcast competition Poddnästet which saw them search far and wide for the next big podcast sensation at the end of last year. Open to all Swedes, anyone with a great idea was encouraged to compete for the chance to win production and marketing of their own podcast – worth a quarter of a million Swedish crowns.
The submission that caught the jury's eye, and ultimately ended up winning was by Axel Hietanen Ingman, a 26-year-old social worker and hobby musician from Älvsjö. With strong pop cultural roots, his, still to be named, podcast aims to both entertain and educate and is based on the idea that small, seemingly trivial events may ultimately lead to something with much bigger consequences. The concept is termed the butterfly effect and stems from chaos theory.
More than 18,000 people visited the Poddnästet website. Whilst, during the competition period, Acast saw a significant increase in traffic to its own podcast hosting and distribution platform. Between September 6th and October 29th, Swedish traffic increased by a whopping 48%, while the number of new podcast creators to join the platform increased by 18%.
"We were proud to see Poddnästet grow to be such a huge success – we received hundreds of submissions from all over the country and were presented with so many incredible ideas. We truly hope that many of those who sent in their ideas will follow through and actually choose to launch their podcasts, despite the fact that they didn't win this time," says jury member Lucas Simonsson from the podcast Mellan Himmel och jord.
"It's inspiring to see the amount of creativity and unexplored talent that is out there! The incredible results that came out of the first edition of Poddnästet have led us to start planning for an even wider initiative to be launched later this year. We want to encourage even more creators to make their podcast dreams come true together with us at Acast," says Frida Klevemark, Content Director at Acast.
Now the real work begins – Acast and Axel and are teaming up with Clara Wallin, star producer and former podcast director at Perfect Day Media. She's worked on several highly successful productions, developing a handful of Svenska Dagbladet's podcast formats including Politiken and Dagens Story as well as producing hit shows such as Dumma människor with Lina Thomsgård and Björn Hedensjö and Värvet with Kristoffer Triumf. Now it's Axel's turn to be blessed with her experience – the podcast is scheduled to launch in Summer 2022.
This is a press release which we link to from our daily newsletter about podcasting and on-demand. This is reprinted verbatim; we may rewrite headlines and descriptions.