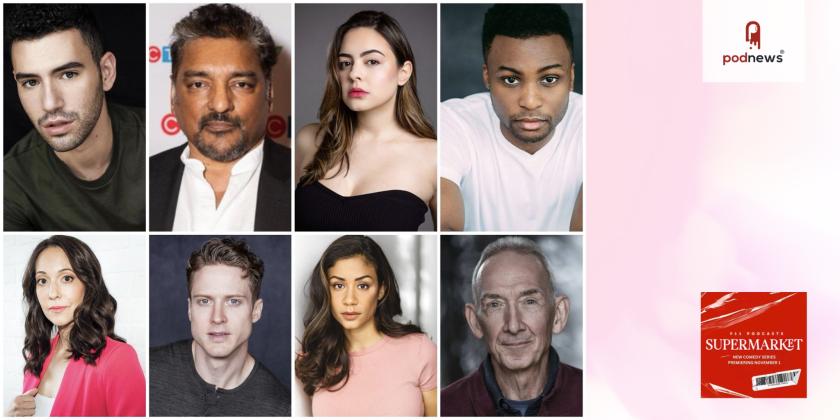 911 Podcasts Releases Trailer + First Episode Of New Ensemble Fiction Podcast Sitcom: 'Supermarket'
Press Release · Toronto, ON, Canada · via 911 Podcasts ·
(ROW 1, L-R) Adam Murciano, Sugith Varughese, Alexandria Benoit, Ryan Rosery. (ROW 2, L-R)Robyn Deverett, Graham Parkhurst, Janelle Heron, Douglas E. Hughes.
911 Podcasts, the production house that produced last year's breakout shows 'Cascadia' & 'ICE-CREAM', has released the trailer & first episode of their 3rd fiction podcast series, a workplace comedy, titled Supermarket - featuring an ensemble cast.
'Supermarket' follows sitcom superstar Carson Carson, who gets blacklisted in Hollywood (and society) from his grotesque sextape leak. Now, with his tail between his legs, he is forced to head back to his small town and attempt to reboot his life, by working at the local supermarket. Throughout the series, Carson will have to unlearn his Hollywood ways and come back down to earth, while simultaneously, his supermarket co-workers will have to learn how to work with an out-of-touch actor, at the peak of an international scandal.
Adam Murciano ('Cascadia', 'ICE-CREAM'), will star as the leading role of Carson Carson. Sugith Varughese, ('Kim's Convenience'), Alexandria Benoit ('Degrassi'), Ryan Rosery ('Riverdale'), Robyn Deverett ('Let's Get Fingered'), Graham Parkhurst ('Glamorous'), Douglas E. Hughes ('Good Sam'), Janelle Heron ('The Handmaid's Tale'), Chris Burton ('Teenagers') and Angela Maiorano-Thurston ('Odd Squad') are all set to lead opposite Murciano, as his character's co-workers at the supermarket.
'Supermarket' is co-directed by Adam Murciano, Alexandria Benoit & Antonio Cordero. It was created and written by Adam Murciano, Antonio Cordero, Alexandria Benoit, Adam Blanford and Joe Diaco. Murciano will also serve as Executive Producer.
Listen
This is a press release which we link to from Podnews, our daily newsletter about podcasting and on-demand. We may make small edits for editorial reasons.
This page contains automated links to Apple Podcasts. We may receive a commission for any purchases made.