Supercast Opens Direct Access to Spotify for All Subscription Podcasters
PRESS RELEASE · Victoria BC, Canada ·
Subscription podcasters now have a centralized way to reach listeners on every major podcast player with the addition of Spotify to Supercast's integration roster.
Supercast has built its new integration using Spotify Open Access, which enables publishers to offer gated content on Spotify using the publisher's existing subscription framework.
Supercast is the first subscription platform to offer the Spotify Open Access integration to all its users.
More than 28 million Americans use Spotify as their primary podcast player. Now, with an easy way to access those listeners, subscription podcasters on Supercast can access a larger audience while managing their subscriber base all in one place.
"We've heard time and again from our Spotify listeners about wanting to access our paid Get Sleepy feed in their Spotify account," said Michael Brandon, creator of the Get Sleepy podcast. "The integration of Spotify into Supercast means we can now serve our audience better—and that makes both them and us very happy."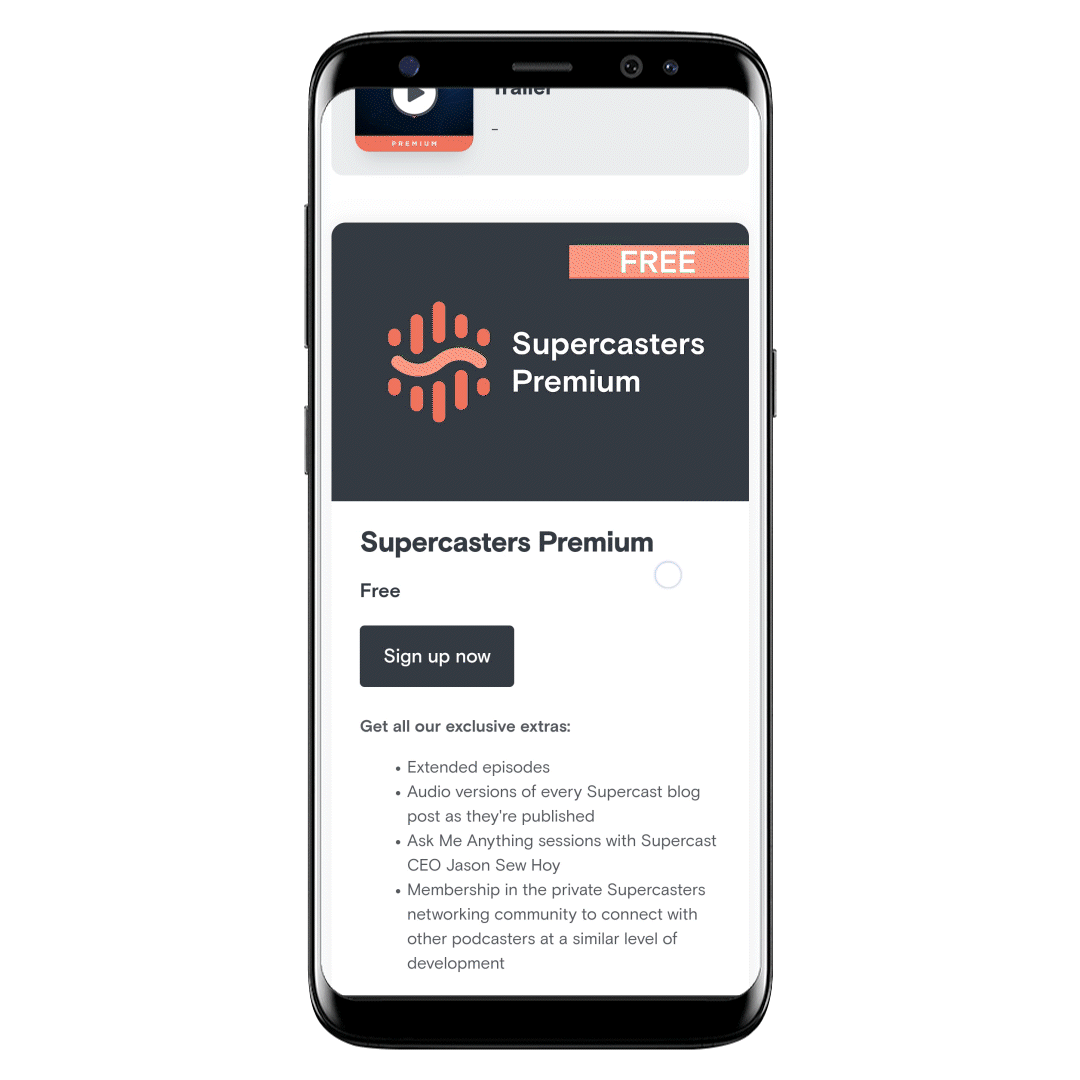 With the new Supercast - Spotify subscription integration, podcasters can enjoy multiple benefits:
A single place to upload paid content that delivers across all podcast players
A great experience for their Spotify audience, who can now link their podcast subscription to their Spotify account to listen
Easier to convert Spotify listeners to a paid subscription with a fast and easy signup process
No additional cost to include Spotify as an option for subscribers
"It's so important to serve listeners on whatever podcast player they already use. That's why Supercast has always been an ardent supporter of the open podcast ecosystem and making things work together," said Supercast CEO Jason Sew Hoy. "Now, thanks to Supercast's integration with Spotify, our podcasters can serve 100% of their audience with a seamless subscription experience."
"We believe creators, from independent podcasters to publishers and platforms, should have control over how they approach their business and have access to audiences everywhere they listen to audio," said Nir Zicherman, Head of Future Formats for Spotify. "Bringing Spotify Open Access to all Supercast users marks a breakthrough for innovation in subscription audio content, and we're very excited to see creators succeed."
Amid a boom in subscription podcasting, Supercast has been growing rapidly. The company's top 10 podcasters now earn more than USD$10 million in annual recurring revenue from the paid subscribers they have on the platform.
About Supercast
Supercast is an audio subscription platform powering millions in revenue for independent podcasters and content networks. The platform works seamlessly with any podcast player, delivering content to listeners wherever they want it with a simple two-tap subscription process. Supercast podcasters retain full ownership of their show and audience data, and with the platform's flexible features, can build their subscription program exactly as they want. For more information or to open a free account, visit https://www.supercast.com/
Listen
This is a press release which we link to from our daily newsletter about podcasting and on-demand. This is reprinted verbatim; we may rewrite headlines and descriptions.
Affiliate links: This page links to Apple Podcasts. We may receive a commission for purchases made using them. Affiliate links are added automatically.