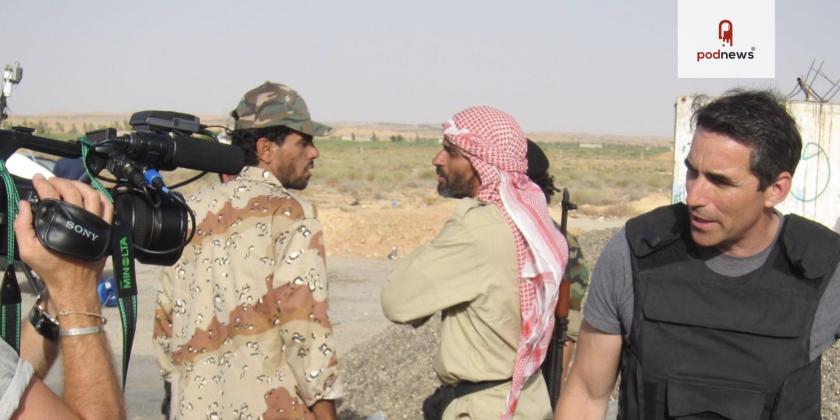 New podcast with award-winning reporter Jeff Kofman explores how tech has dramatically changed storytelling
Press Release ·
From news to fiction to film to photography to podcasts to social media and even the human voice, technological innovation has inspired and enabled new paradigms in storytelling.
"We've seen so many technological changes come at us, so fast," says host Jeff Kofman, "The idea behind this podcast is to explore how those changes have shaped what we watch, what we read, what we look at and what we listen to."
StoryTech asks: how do technology and innovation shape the way stories are told?
Our starting point is journalism because those are the roots of host Jeff Kofman. Jeff brings deep experience in broadcast journalism and in tech innovation. In his first career Jeff spent 30+ years as an Emmy-winning broadcast journalist, foreign correspondent and war correspondent with ABC News, CBS News and CBC News. He reported from the Americas, Africa, Europe, and the Middle East. In 2014 he launched his second career, as Founder and CEO of Trint, a disruptive speech-to-text platform now used in newsrooms and by production companies worldwide.
For Jeff, StoryTech is a personal journey reflecting his own passion for journalism and his curiosity about the influence of technology and innovation.
StoryTech aims to decode media, storytelling and technology and help listeners understand how they shape each other. The podcast's intriguing stories appeal to the curious, but they also help better inform the audience. We hope to lift the curtain on how the tools of the crafts of storytelling shape what we see, hear, look at and listen to. The goal is to entertain, inform and educate: creating a more critical audience and more informed debate.
We all know that the media ecosystem has been transformed by powerful, cheap, production methods, A.I. and the unseen algorithms of the new gatekeepers. All of this is radically changing the ways stories are told, and how they reach their audiences.
But "stories" and "storytelling" go far beyond journalism. StoryTech looks at the role of innovation in social media, film, computer games, theater, music, literature, art and more.
StoryTech also takes a historical perspective, showing how technological change has shaped stories through the ages. Marshall McLuhan's enduring words inform StoryTech's mantra: the medium is the message.
StoryTech isa produced by Antica Productions, Trint and Newhouse School of Public Communications at Syracuse University, in association with WAER, an NPR member station. It is distributed on all major podcast platforms and distributed in the US and on PRX by WAER, a National Public Radio member station
Listen
This is a press release which we link to from Podnews, our daily newsletter about podcasting and on-demand. This is reprinted verbatim; we may rewrite headlines and descriptions.
This page contains automated links to Apple Podcasts. We may receive a commission for any purchases made.