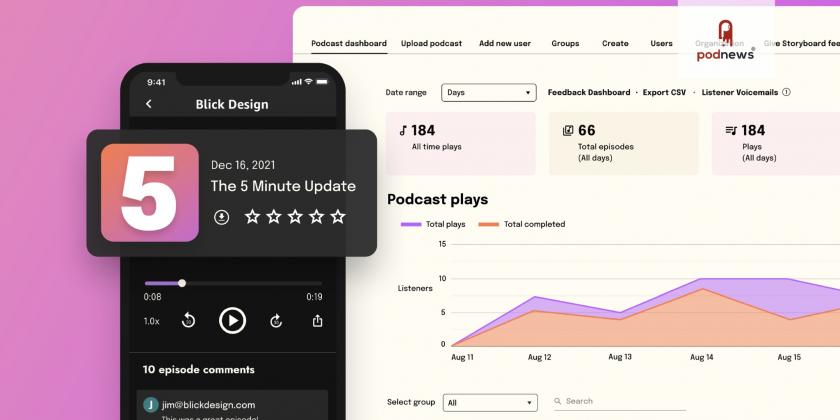 A new era of Storyboard: full rebrand, new capabilities, and much more
Press Release · Santa Monica, CA, USA ·
Storyboard, the leading audio platform for internal and private podcasting, is announcing the biggest update in the company's history: a new era of Storyboard with a fully redesigned web platform for users, listeners, and creators.
With an elevated look and feel, never-before-seen features, and a completely rebranded experience, this release is designed to help organizations around the world harness the power of audio to transform the way their teams work.
Storyboard is placing a focus on enhancing the listener and creator experiences and delivering the best platform for anyone to easily record, publish, and create impactful audio content. "We're moving faster than we ever have before," says JP Gooderham, CEO of Storyboard. "We've built our platform for the future and are focusing on releasing amazing and powerful tools for all of our users, and especially for creators. "
Here's what to expect from the new era of Storyboard.
New features and capabilities
A revamped login experience, an improved web platform for listeners, an upgraded audio player, and expanded analytics for administrators are just some of the groundbreaking features available in the new era of Storyboard.
A rebranded platform
Storyboard's redesigned platform and website were built with the end-user in mind and offer an inviting environment where every individual, whether a leader or team member, feels comfortable with creating and sharing impactful audio.
Introducing the Help Center
Designed to be the leading resource for Storyboard users and creators, the new Help Center includes articles on how to get started with the platform, how to navigate the audio tools, tips and tricks on becoming a creator, and much more.
Whether deskless, work from home, in-office, or something else, Storyboard has something for every team. The new era of Storyboard offers added flexibility and transformative opportunities to help teams stay engaged and connected.
For enterprise customers, Storyboard's security features—such as Single Sign-On—are available across all devices (iPhone, iPad, Android, web, etc.), making it the best platform for protected internal workplace communication.
If you have never used Storyboard, now is the time! Simply visit the website, create a free account (which allows creators to create channels at no cost for up to 50 listeners), and get ready to listen and create audio like never before.
This is a press release which we link to from our daily newsletter about podcasting and on-demand. This is reprinted verbatim; we may rewrite headlines and descriptions.