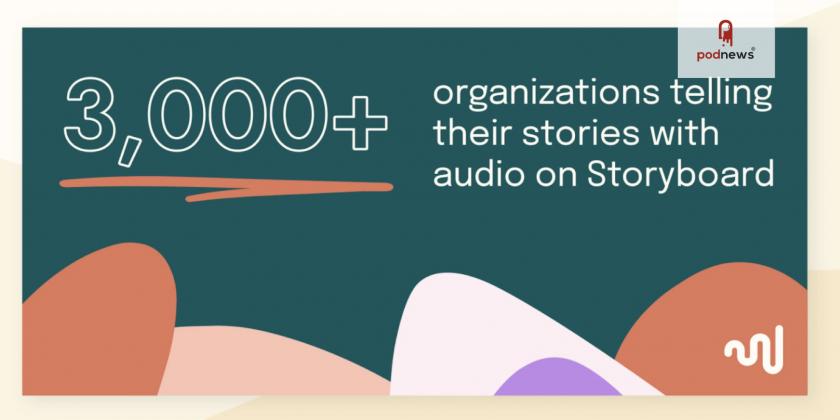 Storyboard announces over 3,000 podcasters have launched private podcast channels
Press Release · Santa Monica, United States ·
Storyboard, a best-in-class audio platform where companies can release private podcasts to their internal audiences, announced today that over 3,000 organizations have now launched podcast channels on the platform. With Storyboard, creators can build their own groups of listeners, such as employees or teams at their company. These selected listeners can access the creator's private podcast channels after logging in from Storyboard's website and mobile apps.
"This is a massive milestone for our creators," says JP Gooderham, CEO of Storyboard. "Storyboard podcasters have used our platform for so many creative ideas, including training a sales team that is constantly on the road, visiting clients, a CEO connecting with their company through a virtual town hall that someone can listen to in any time zone, or a family recording their stories and sharing across the country."
Storyboard's suite of apps allows access across all devices, including iPhone, iPad, Android, and the web. Creators can either record and upload their own content, or use Storyboard's tools, like in-app recording, to share their audio.
"Audio in the workplace is really taking hold, especially as so many companies explore remote or hybrid strategies," Gooderham said. "Many of the most innovative companies are thinking about how to get key messages across time zones and working from home. Audio absolutely should be a key part of that toolbox."
The 3,000 creator channels include Storyboard's Enterprise customers who use the platform's secure features—like Single Sign-On (SSO)—to enable podcasting to be used as a workplace communication channel. It also includes Storyboard Free, which allows creators to create channels at no cost for up to 50 listeners, including small teams and hobby-focused podcasts.
About Storyboard
Storyboard was founded by podcasters in early 2019 to help organizations replace low-engagement content with podcast-style audio shows, which are available on all devices through their iPhone, Android, and web apps.
Over 3,000 organizations now rely on Storyboard to share internal news, town halls, training, and more including companies like HelloFresh, Rocket Mortgage, DHL, and CarFax. Podcasters can get started by contacting our sales team through the Storyboard website or opening a free account for up to 50 listeners.
This is a press release which we link to from our daily newsletter about podcasting and on-demand. This is reprinted verbatim; we may rewrite headlines and descriptions.