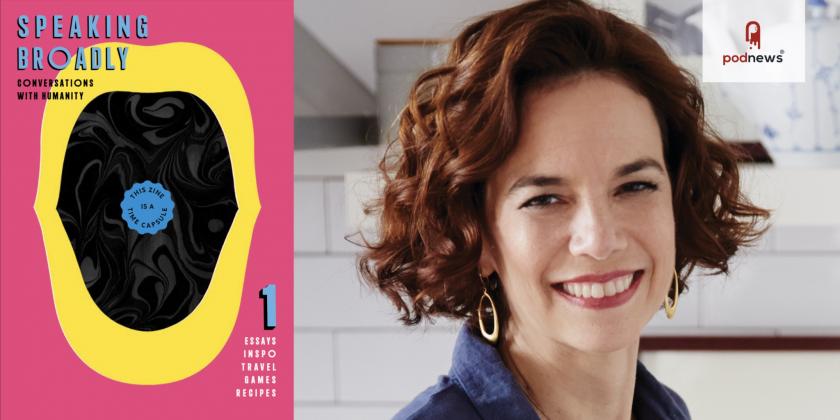 Dana Cowin debuts her first zine, Speaking Broadly: Conversations with Humanity, inspired by her podcast
Press Release ·
Published by the former long-time Editor-in-Chief of Food & Wine magazine Dana Cowin, the zine shares the wisdom of extraordinary women in hospitality who have appeared on the Speaking Broadly podcast, and amplifies the voices of those who aren't always represented in the mainstream. With a mix of first time writers and published authors, the zine addresses an audience that wants entertainment (recipes, wine and travel suggestions) and uplift (mantras & personal essays) all in one place.
The legacy podcast Speaking Broadly presented by Heritage Radio Network (HRN) is now available in a readable, touchable, 84-page zine with rich recipes, essays, games and page-popping graphics.
In its first issue, the zine captures the readers' attention with stories that explore the meaning of memory, heartache, perseverance, and love through food. Signature sections include "Meals with Meaning" (featuring Zahra Tangorra's "Love, Loss & My Father's Last Meal") and "Get Going" (including "A Locals' Guide to Mexico City"). The zine is for anyone who considers the meaning of life, often while snacking on or sipping something delicious. Every author in the zine has been a guest on the Speaking Broadly podcast, an interview show highlighting the brilliant, curious, game-changing women in the food world. The contributing crew of trailblazers includes - Zahra Tangorra, Nini Nguyen, Cheetie Kumar, Julia Coney, Reem Kassis, Evan Funke, Victoria James, Vallery Lomas, Tara Gomez, Claudette Zepeda, Taylor Lanzet, and HRN's very own Executive Director, Caity Moseman Wadler.
Originally slated to debut in 2020, the highly anticipated zine dropped this June, and is available at retailers in New York, California, South Carolina and more. It's also available at speaking-broadly.com.
About her first independent print project after leaving traditional media, Dana Cowin says, "At the heart of Speaking Broadly is the generosity of women and awe of the whole human experience, bringing together in one place everything from heartbreak and humor to recipes and empowerment."
Contributor Taylor Lanzet says, "Speaking Broadly has consistently created a space to remind everyone that your voice matters and your story deserves to be heard. While honored and humbled to be a part of the zine, I am forever amazed by Dana's ability to bring such incredible women together."
HRN's Executive Director Caity Moseman Wadler says: "Dana's exquisite editorial vision, insightfully probing interview style, and the remarkable women she selects as guests have made the Speaking Broadly podcast essential listening on the HRN airwaves. We're thrilled to see the podcast come to life in a new way through this print zine! My own story in the zine is about uncovering my own capabilities and learning where to find support as I transitioned from intern to Executive Director of HRN in the space of a year. I met Dana around the same time I became ED, when she was first pitching the show, and she's been an incredible colleague and mentor ever since. It's such an honor to be included."
Listen
This is a press release which we link to from our daily newsletter about podcasting and on-demand. This is reprinted verbatim; we may rewrite headlines and descriptions.
This page contains automated links to Apple Podcasts. We may receive a commission for any purchases made.