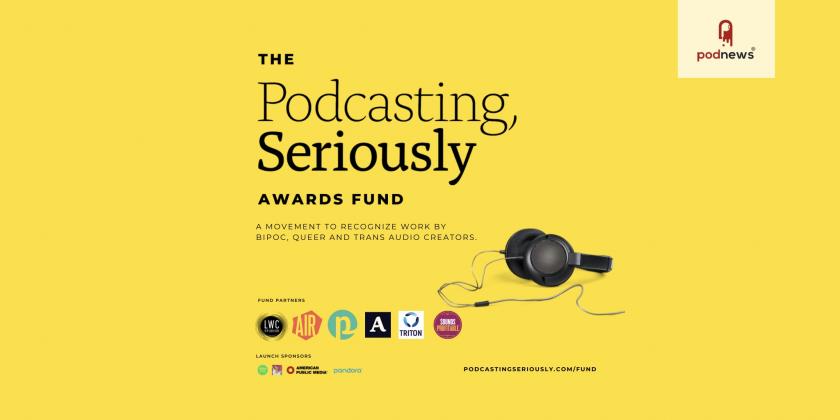 The Podcasting, Seriously Awards Fund Welcomes Sounds Profitable as New Fund Partner
Press Release ·
LWC Studios today announced Sounds Profitable, a premier source for podcast advertising and ad tech education and news, as a new The Podcasting, Seriously Awards Fund partner. With Sounds Profitable's support, the Fund furthers its commitment to expand and support the talent pool in podcasting, while creating pathways for independent and early-career BIPOC, Queer, and Trans producers to have their work considered for awards and competitions.
Bryan Barletta, founder of Sounds Profitable says, "I could not be more proud to participate in the Podcasting, Seriously Awards Fund. When it was first announced, I understood clearly the line between 'helping through education' and 'supporting financially'. The Podcasting, Seriously Awards Fund enables some of the best creators in our industry to receive the recognition they deserve without the financial barriers associated with the award process. I count this fund as something that truly differentiates the podcast industry from many other creative spaces."
LWC Studios, the Fund's pro bono operator, with AIR, Pacific Content, Acast, and Triton Digital as fund partners, launched The Podcasting, Seriously Awards Fund to support independent BIPOC, Queer and Trans audio professionals in submitting their work to key media and journalism awards. The Fund covers submission fees for producers, editors, and others.
The Fund aims to make prestige awards and competitions more inclusive, elevate the work of creators who may not have yet achieved the recognition they deserve, and help create opportunities for underrepresented communities, independent producers and early-career aspirants.
"Sounds Profitable, and Bryan specifically, understands and reflects the values of collective stewardship and creative collaboration that make podcasting such fertile ground for raw talent and hard work. It is the Fund's purpose to support creators who also embody those traits," says Juleyka Lantigua, Founder and CEO of LWC Studios.
The Fund has so far raised over $40,000 and is committed to supporting 200+ award submissions each year, disbursing at least $20,000 annually. The Fund accepts reimbursement applications year-round, and qualifying independent producers must be based in Canada, the United Kingdom, United States, or Australia.
Those interested in applying can submit their information here. Those interested in contributing to the Fund can donate via Patreon, AIR, and Buy Me a Coffee.
--
LWC Studios is an award-winning digital production studio founded in 2017 that seeks out storytellers working in digital audio and film. With its creative and business partners, the company produces podcasts, documentaries, films, and other types of original narrative-driven works with a social-justice vein. Podcasting, Seriously is the production company's learning platform for podcasters and audio producers. The Podcasting, Seriously Awards Fund was created with a mission to highlight work from underrepresented communities and bring diversity into the podcasting and audio space. LWCStudios.com
Sounds Profitable is your weekly source for podcast advertising and ad tech education and news. From analytics to dynamic ad insertion, get in-depth detail from the experts every week in newsletter, podcast, and video form. SoundsProfitable.com
This is a press release which we link to from our daily newsletter about podcasting and on-demand. This is reprinted verbatim; we may rewrite headlines and descriptions.