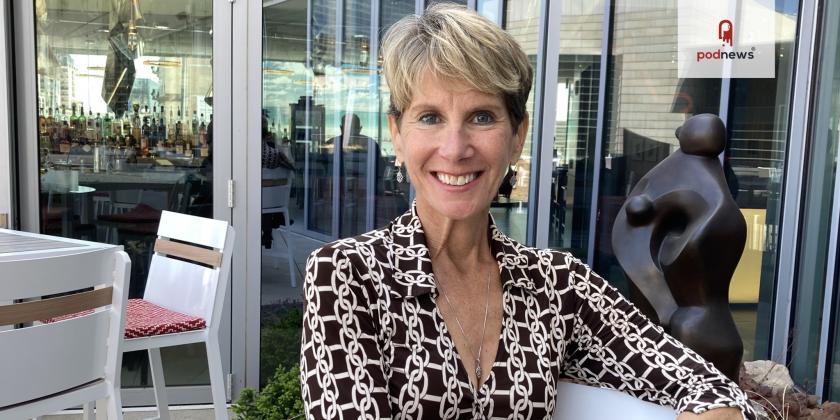 Snap Judgment Host Glynn Washington Kicks Off Season 2 of Sound Judgment
Press Release · Denver, CO, USA ·
The least well understood skill in podcasting has its own show. Sound Judgment explores the craft of hosting, asking, "What does it take to become a beloved podcast host?" Veteran public radio producer Elaine Appleton Grant (above) goes behind the scenes to dissect one episode at a time with today's most compelling hosts.
Together, Grant and her guests unpack the creative choices that shape storytelling and sound, such as authenticity, point of view, scripting, performance, field reporting, interview skills, revisions, co-hosting dynamics, and more.
Season 2 kicks off January 12 with revered storyteller and host, Glynn Washington of Snap Judgment; National Speaker Association Hall of Famer and podcast host Jay Baer; a conversation with Juleyka Lantigua about How to talk with [Mami and Papi] about Anything, and a collaborative episode with award-winning host Jodi Krangle of Audio Branding.
Season 1 featured Lemonada's Stephanie Wittels Wachs, host of Last Day; former PRX chief content officer and founder of Marketplace, John Barth; Pantsuit Politics hosts Beth Silvers and Sarah Stewart Holland; Emma Courtland, host of Gimlet's Crime Show; and Anne Bogel of What Should I Read Next.
A lifelong journalist and former reporter, producer and on-air talent, Grant says, "We study podcast growth and monetization relentlessly. We can get trained on the basics of audio production at the drop of a hat. But there's a dearth of knowledge about the skill and producing support it takes to be a great host. And that's a huge gap, because listeners return again and again to the same show when they fall in love with the host."
Sound Judgment is available everywhere podcasts are found. New episodes are released every two weeks.
Listeners are responding:
Laura Joyce Davis, managing editor of the Stanford Storytelling Project, is building Sound Judgment into her graduate student curriculum.
"I just ate this up and can't wait for more. As a producer working in somewhat of a bubble, all of the questions about HOW and WHY are like water to me." — Brooke Peterson, independent audio producer
"It's exceptionally good. I'm learning so much." — Jen Singer, speaker coach, TEDx Cambridge
"As a podcast host and the owner of a podcast production company, I look to Elaine as an industry expert. This podcast is such a helpful resource and each episode is carefully and beautifully produced."
Elaine Appleton Grant worked for Boston's WBUR, New Hampshire Public Radio and led Colorado Public Radio's award-winning statewide program, Colorado Matters, before turning to podcasting in 2015. She wrote and produced almost 600 episodes of Wondery's Business Wars Daily and wrote for American History Tellers and American Scandal, both Wondery shows. She founded training and production company Podcast Allies in 2019; credits include podcasts for the Environmental Defense Fund, the American Academy of Pediatrics, the University of Colorado, and the Center for Religion, Politics and Culture at Iliff School of Theology. She lives in Denver and drinks too much coffee.
Listen
This is a press release which we link to from Podnews, our daily newsletter about podcasting and on-demand. This is reprinted verbatim; we may rewrite headlines and descriptions.
This page contains automated links to Apple Podcasts. We may receive a commission for any purchases made.