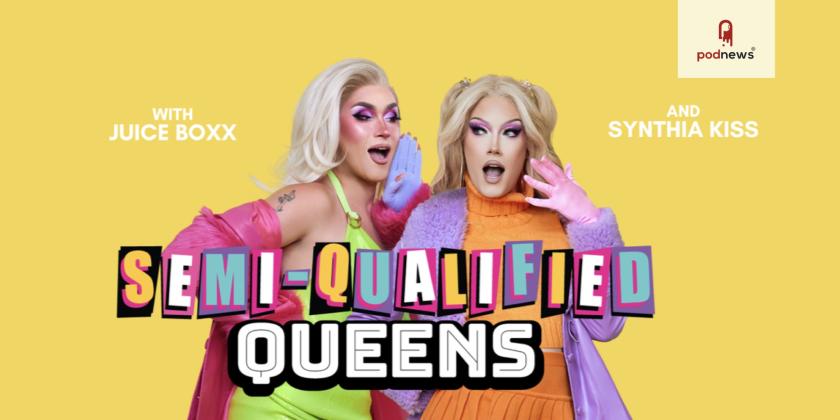 The Sonar Network proudly welcomes Semi-Qualified Queens
Press Release ·
Have you ever wondered whatever happens to Drag Queens after Reality TV?
They start a podcast, silly!
The Sonar Network, Canada's award-winning independent podcast network, is thrilled to welcome the addition of Semi-Qualified Queens, a podcast by former Canada's Drag Race contestants Juice Boxx and Synthia Kiss. The show launched as part of the Sonar Network on Tuesday, February 7.
While hosting a viewing party for a reunion episode of Drag Race, Juice and Synthia's irresistible chemistry made it clear they were meant to become podcast co-hosts. On Semi-Qualified Queens, which first premiered in January 2022, Juice and Synthia recap episodes of Drag Race and welcome the most recently eliminated queens on the show to spill the tea and the trauma. The podcast showcases this charming duo's scintillating wit as they battle their imposter syndrome and swap lascivious puns, to the delight of their devoted fan base, the SQQ cuties. Past notable guests on the podcast include Brooke Lynne Hytes, Brad Goreski, Cheryl Hole, Priyanka, Jimbo, and Kendall Gender.
Semi-Qualified Queens joins the Sonar Network and is now available on SONAR+. Subscribers to SONAR+ can access ad-free episodes and bonus content.
ABOUT JUICE BOXX
Juice Boxx's smart hosting style perfectly balances her fun and flirty performances, which serve a blend of Top 40s pop princess and enticing burlesque vixen. Juice began her career in the fast-paced drag scene of Toronto, where she excelled for years before being cast on the first season of Canada's Drag Race. Along with the stage, Juice Boxx spends much of her time streaming on Twitch. She has collaborated with companies like Dead by Daylight, McDonald's and It Gets Better for a variety of different online events. Although her status as "Canada's Porkchop" (or first eliminated) on the show cut her time short, her cute and quirky personality won viewers over as she tripped, snagged, and fell her way to becoming a fan-favourite.
ABOUT SYNTHIA KISS
Synthia Kiss: A Drag Queen built like a 90's supermodel, in equal parts fashion and funny. As a media darling, Synthia has worked with a variety of brands including Shoppers Drug Mart, Mountain Equipment Company, Our Place Cookware, Somersby Cider, and was the face of a Metro Vancouver recycling campaign in 2022. You might also recognize her as the loveable fan-favourite contestant of Canada's Drag Race Season 2. Whether it's singing, dancing, acting, crafting, podcasting, or crying on cue – this Queen does it all!
ABOUT THE SONAR NETWORK
THE SONAR NETWORK is a podcast network showcasing a curated selection of original comedy & arts podcasts, featuring the funny and the fascinating. The network, which has garnered a total of 34 Canadian Podcast Awards since launching in 2017, features unique voices such as the award-winning On a Dark, Cold Night, Self Esteem Party, Belief it or Not, and Evil Men. The network's mission is to provide a platform for outstanding independent creators and to help build and foster a community of podcasters and their fans. Listeners can enjoy thousands of hours of content on thesonarnetwork.com as well as every major podcasting platform. THE SONAR NETWORK also proudly features a database of over 1,500 guests including beloved comedians, artists, musicians, academics, and everything in between. If they've appeared on the network in any way, you can find them at www.thesonarnetwork.com/people/.
Listen
This is a press release which we link to from Podnews, our daily newsletter about podcasting and on-demand. This is reprinted verbatim; we may rewrite headlines and descriptions.
This page contains automated links to Apple Podcasts. We may receive a commission for any purchases made.