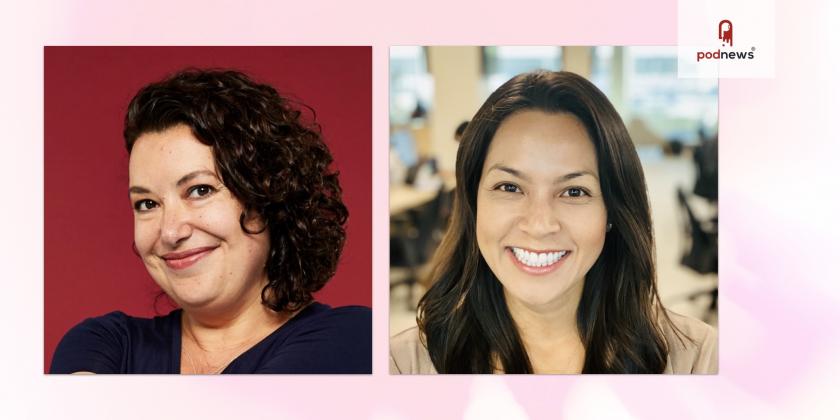 Southern California Public Radio bolsters management team with key hires from leading LA media organizations
Press Release · Pasadena, CA, USA ·
Southern California Public Radio (SCPR) today announced two new hires, bolstering the organization's management team. Shana Naomi Krochmal (she/her, above left) has been appointed as vice president of LAist Studios, SCPR's podcast development and production studio. Sophie Chap (she/her, above right) is joining SCPR as director of marketing & communications, overseeing activities for all SCPR platforms.
"SCPR has long been a pillar of the Los Angeles community, and, as we look to the future, expanding our team with respected media professionals such as Shana and Sophie who have their pulse on what makes this region tick is key," said Herb Scannell, president and chief executive officer, SCPR. "Shana has an impressive background successfully leading entertainment media brands in the digital space and is an asset as the LAist Studios team continues to grow and refine its podcast strategy. Sophie brings a great wealth of experience crafting effective brand-building tactics, media strategies, and overall brand messaging that will allow us to further build awareness among the communities that SCPR serves."
LAist Studios, SCPR's podcast development and production studio, is the latest addition to the organization. Founded in 2019 to tell "LA stories to the world" and champion the diverse voices of the region, LAist Studios has received recognition from the Webby Awards, Ambie Awards, Adweek's Podcast of the Year Awards, LA Press Club's National A&E Journalism Awards, and New York Festival Radio Awards for shows that include audio memoir "California Love"; investigative series "California City"; "Norco '80," which told the story of the robbery that changed policing in America. Other shows such as "The Big One: Your Survival Guide," "WILD," and "Snooze" have received critical acclaim from The Atlantic, Vulture, The New Yorker, The Guardian, and more.
Krochmal joins LAist Studios from Entertainment Weekly (EW), where as editorial director she created award-winning digital covers, oversaw a site relaunch, and executive produced podcasts, video content, and social media projects. During her time at EW, she also co-hosted a Schitt's Creek companion show with exclusive access during the show's sixth and final season. Prior to that, she was the editor in chief of Entertainment Tonight online, where she scaled the show's microsite into a top-tier 24-7 digital video and news operation, and has also worked at Current TV and was a longtime contributing editor at OUT magazine. Krochmal and her wife live in Pasadena with their dog, Miss Thing.
Chap comes to SCPR from the Los Angeles Times, where she was most recently senior manager, media and marketing partnerships. During the eight years she spent with the Los Angeles Times, she helped lead the brand messaging to improve brand visibility within the local LA market. She created, executed, and managed all media campaigns that leveraged the Los Angeles Times' owned and operated communications channels, external partnership relationships, and media buys helping to drive awareness and results. Prior to that, Chap also held roles at Beachfront Media, Tribune Publishing, and KABC-TV.
This is a press release which we link to from Podnews, our daily newsletter about podcasting and on-demand. This is reprinted verbatim; we may rewrite headlines and descriptions.